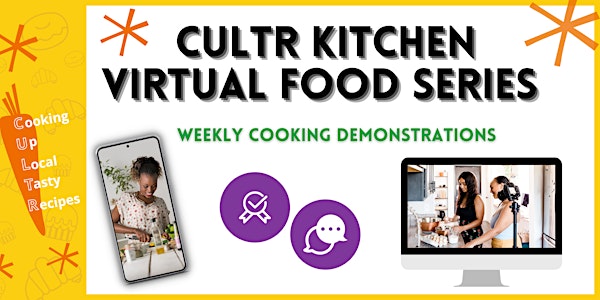 CULTR Kitchen Virtual Food Series, Weekly Cooking Demonstrations
Virtual food cooking demonstration series features cultural dishes, recipes from all over the world are showcased and celebrated.
About this event
What to Expect:
Free interactive and inclusive virtual food cooking demonstration series offers cost effective recipes and many useful tips & ideas you can only get from watching someone make their recipes.
Each week, a new Guest Home Chef showcases their cultural dishes right from their own kitchen, in front of a live virtual audience. Recipes from all over the world are featured and shared with participants.
Participants can join on zoom, sit back and enjoy the live session with no preparation ahead. Great opportunity to connect socially online, meet new people, learn new recipes and cooking techniques and tips.
Weekly cooking contests for participants with 2-3 chances to win a monetary prize in the form of a gift card.