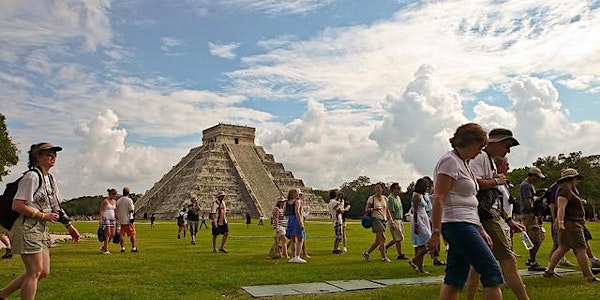 Cultural Heritage Diplomacy: How Nations use Historic Sites for Political Ends
When and where
Location
York Amphitheatre (EV 1.605) 1515 Sainte-Catherine street West EV Building, Main Floor Montreal, Québec H3H 2L5 Canada
Description


2015-2016 series on HERITAGE AND SOCIAL JUSTICE


Why exactly are ISIS destroying the cultural past of Iraq and Syria, and why is finding a resolution so difficult? How does the funding of maritime archaeology off the coast of Sri Lanka and Kenya connect with the disputes now brewing in the South China Sea? And why is Japan investing hundreds of millions of dollars in heritage conservation projects around the world? In what ways are such examples linked? Are we seeing the emergence of a new arena of international relations, one that uses the past in new and unfamiliar ways?
Cultural Heritage Diplomacy: How Nations use Historic Sites for Political Ends
Tim Winter
Research Professor in Cultural Heritage, Deakin University, Melbourne, Australia, President of Association of Critical Heritage Studies
Followed by a round-table and public conversation with Concordia University's
Frank Chalk, Director, Montreal Institute for Genocide and Human Rights Studies
Erica Lehrer, Canada Research Chair, Museum and Heritage Studies
Alison Rowley, Associate Professor and Undergraduate Program Director, History
and
Moderated by Nadine Blumer, SSHRC Postdoctoral Fellow, Centre for Ethnographic Research and Exhibition in the Aftermath of Violence
Photo credit: Mike Stenhouse
---------------------------------------------------------------------

Cycle de conférences 2015-2016 sur
LE PATRIMOINE ET LA JUSTICE SOCIALE

Pourquoi des millions de touristes se rendent-il en Inde, au Mexique et au Cambodge pour contempler les ruines antiques, ou encore en Europe pour faire un pèlerinage sur les lieux de l'Holocauste? Quels messages ces sites historiques monumentaux renvoient-ils aux visiteurs? Quels souvenirs ces derniers gardent‑ils de leur expérience? À quelles fins politiques les gouvernements et les mouvements populaires dans les différents pays du monde se servent‑ils des sites historiques situés sur leur territoire?
Pour en savoir plus, venez assister à la conférence intitulée :
Cultural Heritage Diplomacy: How Nations use Historic Sites for Political Ends
« Patrimoine culturel et diplomatie : l'utilisation des sites historiques à des fins politiques »
Tim Winter
Professeur-chercheur, spécialiste du patrimoine culturel
Université Deakin, Melbourne, Australie
Président de l'Association of Critical Heritage Studies
La conférence sera suivie d'une table ronde et d'une conversation publique en compagnie de :
Frank Chalk, directeur de l'Institut montréalais d'études sur le génocide et les droits de la personne de l'Université Concordia; et

Erica Lehrer, titulaire de la chaire de recherche du Canada en études muséales et patrimoniales, également de Concordia.

Alison Rowley, Professeur Associée et Directrice des programmes de 1er cycle, Département d'Histoire
et
Modéré par Nadine Blumer, boursière post-doctorante SSHRC, Centre for Ethnographic Research and Exhibition in the Aftermath of Violence
Veuillez prendre note que la conférence se déroulera en anglais