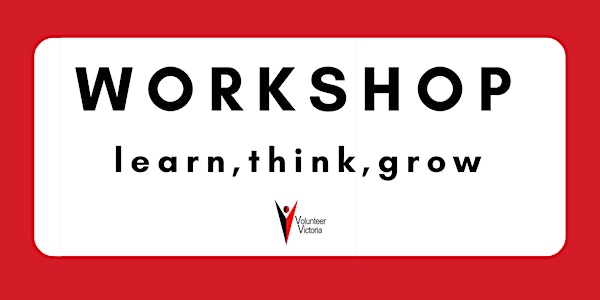 Culturally Welcoming Volunteer Program: Lessons Learned & Best Practices
Sales Have Ended
Registrations are closed
Sorry. Ticket sales have ended for this workshop.
Sales Have Ended
Registrations are closed
Sorry. Ticket sales have ended for this workshop.
Justice, Equity, Diversity, Inclusion -- our responsibility as human beings towards each other.
About this event
THANKS TO THE GENEROSITY OF THE VICTORIA FOUNDATION, WE ARE PLEASED TO OFFER THIS WORKSHOP AT NO CHARGE.
Creating a culturally welcoming volunteer program involves more than just implementing a sound volunteer cycle management. Culturally welcoming volunteer programs are embedded in a clear understanding of the cross-cultural adjustment processes newcomers often experience in a new culture and an in-depth application of the principles of EDI and Anti-Racism at all stages of your strategic planning process.
This 2 hour remote ZOOM session is a hand-on practice where participants will be invited to reflect on a case study and apply the culturally welcoming volunteer program tool which is summarized by the following premise: "A culturally welcoming organization is an outcome. Cultural competency is a skill set: A set of behaviors, attributes and policies enabling an agency (or individual) to work effectively in cross cultural situations".
ABOUT YOUR TRAINER:
Dr. Moussa Magassa is a specialist in justice, equity, diversity, inclusion, anti-racism, human rights, social justice, intercultural communication, conflict resolution, and volunteer program development and evaluation.
Dr. Magassa works as the UVic Principal Strategist justice, equity, diversity, inclusion, and anti-racism. He also is an associate faculty in the UVic Social Justice Diploma program and the M.A in Global Leadership program at Royal Roads University; and an instructor in the UVic diploma program in intercultural studies & practice and at the UBC Centre for intercultural communication.
He holds a PhD in Curriculum and Instruction (UVic) with special focus on critical race theory, Anti-racism education, Islamophobia, human rights education, diversity, equity & inclusion, and immigrants and refugees' integration and adaptation in host communities; An MA in human security & peacebuilding (Royal Roads University, Canada); a BA (Hons) in conflict resolution and peace studies (Kwazulu Natal University, South Africa); and various academic and professional certification in forced migration and refugee studies, in human rights and humanitarian law, conflict mediation, and intercultural communication and development.
Currently, Dr. Magassa is an advisor to various organizations: Resilience BC (anti-racism advisory and strategic planning committee); the academic and practitioner advisory committee for the Simon Fraser University's Migrant Systems Change Leadership Certificate program; and also, as the co-chair of the Greater Victoria Police Diversity Advisory Committee; and a board director on the Victoria Multifaith Society. Formerly, Moussa was an advisor to the National Immigration Table of Community Cooperation in Francophone immigration; former president of the francophone society of Victoria; and the Vancouver Island board director for the BC Francophone Federation.
Previously, Dr. Magassa worked as an integration program coordinator for immigrants and refugees in Vancouver; and as a specialist in non-violence peace education in many parts of Africa. Moussa has extensive experience researching, designing and facilitating training curriculums, courses and workshops in Anti-racism awareness and intervention training; intercultural competency development; intercultural conflict resolution; human rights discrimination and harassment; social justice and anti-oppression education; and training in immigrants and refugee integration.
Moussa is also the CEO/owner of the consulting company: The Intercultural Capacity Building Inc. (www.magassa.ca), specialized in EDI, Intercultural capacity development and anti-racism education.
Dr. Moussa Magassa was born in Senegal and speaks many languages in addition to English and French.