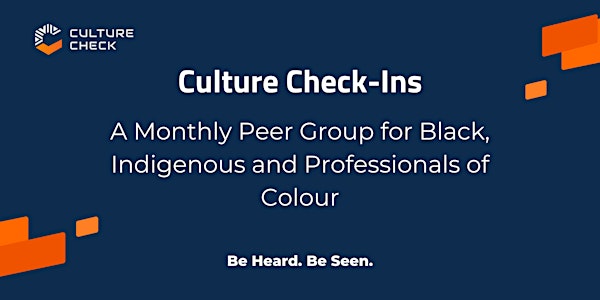 Culture Check-In's: A Peer Group for Racialized Professionals
A safe space for professionals who identify as Black, Indigenous or as People of Colour (BIPOC) to find community and support.
About this event
80% of racialized employees have the expectation of experiencing racial discrimination or microaggressions at work. The numbers jump even higher if we talk about general feelings of discomfort as a result of being "one of a few" in the building.
Culture Check-in's are designed to create a safe space where individuals are free to openly discuss their true feelings, concerns and thoughts with other racialized professionals who get it.
OUR VISION: For all workplaces to work for all people.
Confidential
Multicultural
Cross-industry
Professional Peer Community
BE HEARD - BE SEEN - BE ENCOURAGED - BE SUPPORTED - BE EMBOLDENED