Curator's Exhibition Tour of CodeX: playable & disruptive futurist eArt
Join Tom Barker for a curatorial tour of CodeX: playable & disruptive futurist eArt.
About this event

Curator's Exhibition Tour: CodeX: playable & disruptive futurist eArt
Wednesday, January 29
6:30 p.m.
Onsite Gallery
199 Richmond St. West
Free event as part of Onsite Gallery's public event program for CodeX: playable & disruptive futurist eArt.
Join Tom Barker for a tour of CodeX, as he shares his perspective on digital art and insight on the themes in the exhibition.
Tom Barker has worked internationally as a multidisciplinary creative in the fields of design, art, and technology for many years. Tom's diverse and ground-breaking collaborations have included the capsule and boarding design for the London Eye ferris wheel with David Marks Julia Barfield Architects; creating the world's first Bluetooth headset for Emkay; and projects with the late architect Zaha Hadid for buildings, dance and opera stage sets. He curated The Art of Shopping for the Arts Council of England in 2002. Tom contributed an interactive futuristic 3D walkthrough entitled Masterplanners of the Universe: Brick Lane for the Barbican Arts Centre's blockbuster global touring show Game On: 2002-2016. Tom collaborated with Langlands & Bell on the digital interactive artwork entitled The House of Osama Bin Laden which won a BAFTA and was shortlisted for the Turner Prize in 2004. He was the Founding Chair of the Digital Future programme at OCAD University 2012-2015. An author of many book chapters and papers, Tom's book on Web App design was published by McGrawHill in 2019. A British citizen and permanent resident of Canada, Tom has lived and worked in the UK, Australia and Canada. He is currently the President and Chief technology Officer of Six Trends, a Toronto-based creative digital agency.
CodeX: playable & disruptive futurist eArt
January 22 to April 25, 2020
Jason Baerg
Tom Barker
Rob Elsworthy
Samantha Fickel
Dennis Kavelman
Nick Puckett
Six Trends Inc.
Jane Tingley, Cindy Poremba and Marius Kintel
Curated by Tom Barker
CodeX is an exhibition of playable and disruptive digital artworks that explore human-machine relationships, and how society is influenced by technology, innovation and design.
Since the 1950s, digital and technological art has evolved and diversified into a broad range of almost magical art forms with many labels, such as: video art, internet art, post-internet art, hacktivist art, cybernetic art, algorithmic art, and information visualization art. CodeX places its artworks under the collective term, "eArt", which embraces all of these sub-categories.
In our rapidly evolving digital age, artists and designers continue to apply creative ideas using new technologies. CodeX brings together eight recent and engaging eArt pieces. The diverse technologies and interactions raise questions about the human condition, exploring our attitudes, differences and similarities with machines. The exhibition proposes three themes to codify eArt: Algorithms, Identity, and The Nature of Reality.
The art machines in CodeX offer spontaneous carnival-like excitement while prompting visitors to reflect on the nature of being human - through sometimes playful, other times uncomfortable interactions with the works.
All art is ultimately defined by its audience. In CodeX the artworks go a stage further: they are incomplete as creative pieces without you as a player or participant.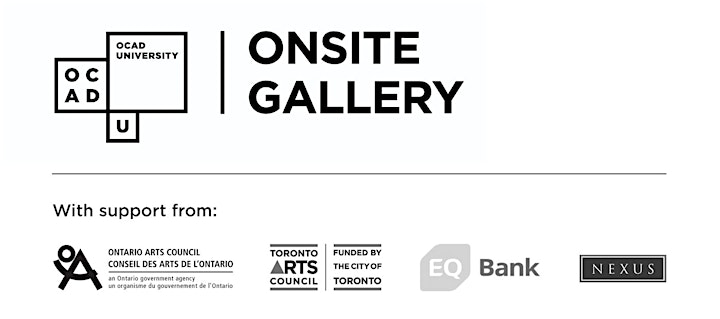 Onsite Gallery is the flagship professional gallery of OCAD U and an experimental curatorial platform for art, design and new media. Visit our website for upcoming public events. The gallery is located at 199 Richmond St. W, Toronto, ON, M5V 0H4. Telephone: 416-977-6000, ext. 265. Opening hours are: Wednesdays to Fridays from noon to 7 p.m.; Saturdays from noon to 5 p.m. Free admission.
Onsite Gallery acknowledges that the new gallery construction project is funded in part by the Government of Canada's Canada Cultural Spaces Fund at Canadian Heritage, the City of Toronto through a Section 37 agreement and Aspen Ridge Homes; with gallery furniture by Nienkämper. Onsite Gallery logo by Dean Martin Design.
Image: Tom Barker, The Last of You (still), 2020, computer game.