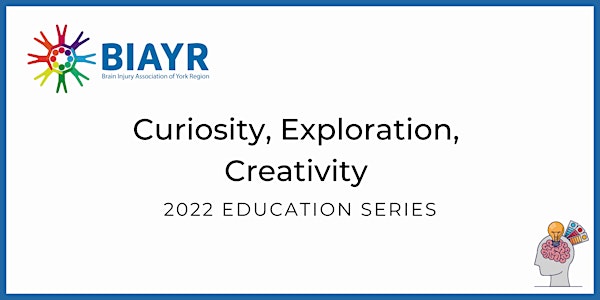 Curiosity Exploration Creativity - 2022 BIAYR Educational Talk
Join France Theriault as she shares her story and the components she discovered and used to creatively design her post-concussion life
About this event
Join France Theriault as she shares her story and the components she discovered and used to creatively design her post-concussion life.
Explore the components she discovered and used to creatively design her post-concussion life
Discover reflection and exploration inspired by the book, Big Magic from Elizabeth Gilbert
Bring cue cards, a small brown paper bag, marker, glue and other basic art materials for creative explorations!
--
Please note the Q&A component is included in the 1-hour Educational Talk, running from 1:00pm until 2:00pm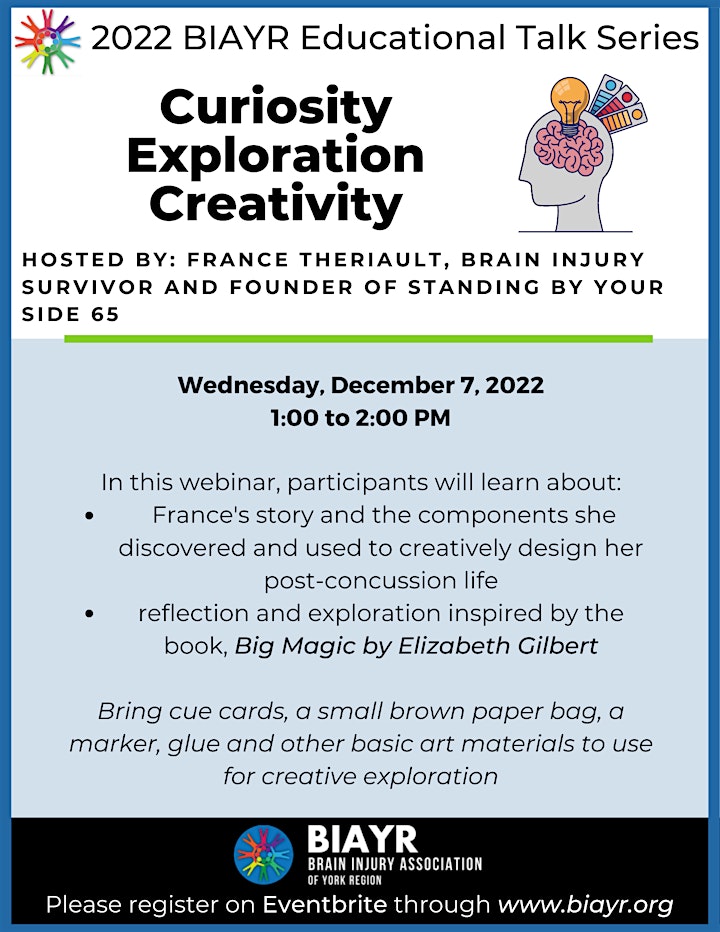 About France Theriault:
France Theriault is the founder of Standing By Your Side 65, where she uses her life experiences to guide, coach and support people who had their lives altered by unexpected events, especially Traumatic Brain Injury.
Concussion Support Services was founded in 2017 in Oakville, ON, Canada. France is a passionate advocate for Traumatic Brain Injury as well as an educator. One of her contributions is to offer in-person or online gatherings to assist, guide and help concuss people and their families transition into this new chapter of the recovery healing process.
France is a Traumatic Brain Injury Transformational Speaker who is giving educational talks to various organizations. She also loves sharing her healing process of resiliency, courage, and hope.
France has a degree in Education from the University of Montreal. She then worked as a remedial teacher for a 10-year period before moving to Ontario.
She is a restorative yoga teacher whose focus is on helping and supporting people with physical, emotional and mental wounds, finding solace in practicing yoga in a non-invasive and gentle way.
In 2020, France completed her Life and Health Coach Accreditation with the Health Coach Institute.
France is a writer, blogger, abstract artist and beauty seeker who regularly informs, educates and shares her own experiences about living with post-concussion syndrome. Her inspirational messages attract many followers on social media, especially Instagram. You can find it on IG at standingbyourside65.