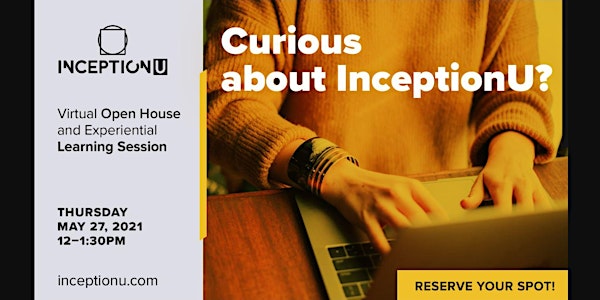 Curious about InceptionU?
Curious about InceptionU? Join us for a Virtual Open House & Experiential Learning Session
About this event
InceptionU.
Understand Anything. Build Something. Change Everything.
Join us Thursday, May 27th, 12 - 1:30 for a virtual open house and experiential learning session. Come and see for yourself how we are nurturing the next generation of future-fit talent for Calgary's growing innovation ecosystem.
Learn about our Evolve Full Stack Developer program, the application process, funding support and our exciting future plans at InceptionU.
We'll break out into 15-minute Zoom Rooms so you can participate in various essential skills and technical workshops followed by a Q&A session with some of our previous learners.
Share this link with someone who you think might be interested in starting their career in tech. Cohort 7 starts mid-Sept 2021.
______________________________________________________________________________________________________
Join Zoom Meeting --> https://us06web.zoom.us/j/89365806112