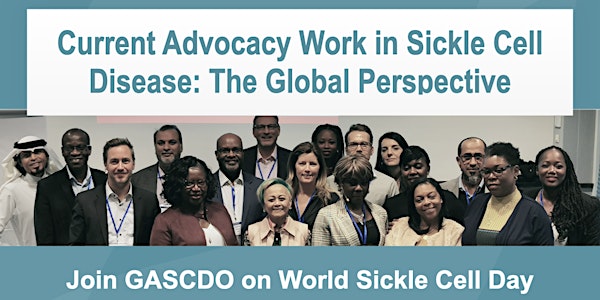 Current Advocacy Work in Sickle Cell Disease: The Global Perspective
Join us to hear from global sickle cell advocates from Africa, Europe, North America, Latin/South America, South Asia and the Middle East.
About this event
About this event
Join the Global Alliance of Sickle Cell Disease Organizations (GASCDO) and global advocates on World Sickle Cell Day (June 19th) to learn more about the current sickle cell disease advocacy work from across the world. Panelists will be presenting from Africa, South/Latin America, Middle East, South Asia, Europe and North America.
Purpose of webinar:
To spotlight the current state of sickle cell disease (SCD) advocacy globally and GASCDO's role as the global SCD patient organization.
Raise global awareness of SCD.
Join the many voices coming together to raise awareness and impact the global community on #WorldSickleCellDay.
Hashtags: #sicklecell #scdglobal #GASCDO #WSCD2020 #sicklecellawareness #scdadvocacy
Time: 8:00am EST to 10:00am EST
Follow us for updates:
Instagram: @scd.global
Twitter: @scdglobal
Website: scdglobal.org