Description
How to build and optimize Customer Success processes for startups
Customer Success has become a critical component to the growth and expansion of startups. SaaS companies have seen the massive rewards that come from nurturing their customers, and the severe problems that arise when they don't.
The Customer Success Manager role was rated by

LinkedIn

as the 3rd hottest job in 2017
Totango's

2018 report

showed that Customer Success teams are growing and increasingly moving into larger enterprises
A

McKinsey report

showed that Customer Success is proven to lower churn and empower companies to grow faster

In such a rapidly growing field, it's important to connect, share ideas, and work together to build a strong community of Customer Success professionals.
This event will feature:
A panel of Customer Success & Sales experts

Lightning talks

The launch of a new eBook: The Beginner's Guide to Customer Success


Networking opportunities with CS, Sales, and Operations leaders

Complimentary food & drinks (alcoholic and non-alcoholic)

Fun & games (ping pong, pool, and fuss-ball)
Who should attend:
Customer Success professionals

Sales professionals

Operations leads

Founders
What you'll learn:
Customer Success best practices

Processes for optimizing your CS & Sales teams

New strategies for building relationships with customers

How best to leverage your CS team
Agenda (subject to change):
6:00pm - Networking, food, drinks, games
7:00pm - Opening remarks
7:15pm - Panel discussion: Optimizing Customer Success & Sales
(see below for panelists)

7:50pm - Lightning talk: Maheen Memon,
Director of Customer Success, Nulogy
8:05pm - Lightning talk: Sarah Beatty
Customer Success Manager, PostBeyond
8:20pm - Lightning talk: Melissa Machnik
Director of Customer Success, Ideal
8:30pm - Lightning talk: Ben Winn
8:45: Closing remarks
9:00pm - End of event
Panel:
How to optimize your Customer Success and Sales teams and processes
Featuring:
Rory Hochman, VP Success, Uberflip
Karen Eisen, SVP Customer Success, Vision Critical
Taylor Bond, VP Client Experience, Mindsea & Head of Growth, SalesRight
Gina Stead, Lead Account Manager, Ample Organics
About the host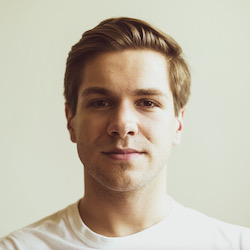 Ben Winn originated the Customer Success team at SeamlessMD, a health venture working with large hospital systems to optimize surgical outcomes for patients. He is now the Special Project Manager at SeamlessMD and works directly with the company's C-Suite, coordinating multi-disciplinary teams to complete high-value projects.
A Venture for Canada fellow and BetaKit contributor, Ben is also a co-founder of Venture Out, Canada's first ever-summit for LGBTQA+ inclusion in tech and entrepreneurship.
Ben frequently speaks and conducts workshops on customer success and relationship building, always focused on helping companies drive revenue, retention and growth.
Testimonials
"We booked Ben to speak and run workshops on Customer Success & Relationship-Building for MaRS Grow Camp, and he was absolutely exceptional! His energy and enthusiasm for tech startups and customer success is matched only by his detailed knowledge of this rapidly growing field. Needless to say, we will be having him back very soon."
— Nathan Monk, Director of Growth Programming at MaRS
"I really didn't know much about Customer Success when I went to Ben's talk, but I left with both a strong foundational understanding and a desire to begin work on launching a Customer Success team at Carrot. His talk was well-organized, engaging, and provided strategies we could implement immediately. I subsequently wrote to Ben to enlist his help further, and he has become an invaluable advisor on all things Customer Success."
— Nicole Peirce, Director of Partnerships, Carrot Rewards
Ben's talks and workshops were informative, entertaining, and received outstanding reviews from all who attended. In fact, he managed to convince many in the audience to apply for customer success roles! We look forward to having Ben back in the future.
— Scott Stirrett, Founder & CEO, Venture for Canada
Speaker Bios
Karen Eisen is the SVP of Customer Success at Vision Critical, an industry-leading customer intelligence platform. She works with a large, diverse team to help hundreds of customers all across North America Karen achieve success with their platform. Karen has over 23 years of experience in both B2B and B2C marketing, customer experience and customer success roles. She began her career in Brand Management at Procter & Gamble and has subsequently worked in the tech and financial services sectors in both Canada and abroad, including companies such as Autodesk, American Express, Alias and World First. The last several years were spent as the Chief Customer Officer at the SaaS Start-Up Pressly, which was acquired by Vision Critical last year. Karen's wide breadth of experience across various verticals in companies both very large and extremely small have provided her with a unique perspective on how to scale effectively, no matter what size company you work in.
Rory Hochman leads Uberflip's customer engagement strategy, overseeing a Customer Success organization that encompasses Implementation Services, Training & Education, Support and of course, Customer Success. Prior to joining Uberflip, Rory held posts as VP Customer Operations & Services at BlueCat, where he also served as VP Customer Care as part of the executive management team. Rory also previously served as Director of Client Support at both Varicent, prior to its acquisition by IBM, and Workbrain, prior to its acquisition by Infor. Rory holds a BA from McGill University in Montreal.
Taylor Bond is the Head of Growth at SalesRight. He has worked in sales and management roles at high-growth tech companies including Influitive, Dialogue, and MindSea. Taylor is a founding team member and currently leads Venture Out - Canada's largest community dedicated to LGBTQ+ advancement in the tech industry.

Gina Stead is the Lead Account Manager at Ample Organics, representing the ancillary sector within the cannabis space. Ample Organic's seed-to-sale software solution is Canada's most trusted business platform for Licensed Producers. Prior to joining Ample Organics, Gina spent 6 years in Sales and Account Management at Southwire Canada.
Maheen Memon joined Nulogy, a cloud-based supply chain management solutions provider, in July 2013 as a Technical Account Manager and has helped the team evolve into a true Customer Success focused organization over the past 4 years. She has been integral to the evolution of Customer Success at Nulogy and instrumental in working with various Nulogy teams to improve our customers' overall journey and experience. Maheen has over 7 years in supply chain, operations, and project management experience from her previous roles at UPS, Hudson's Bay Company, and Walmart Canada. She has a Bachelor of Engineering in Systems Engineering from the University of Guelph and an MBA from the Ivey Business School at Western University. Outside of work, she is an active member of Toronto's Tech community, enjoys running and walking her dog, Bernie.
Sarah Beatty is a Customer Success Manager at PostBeyond and takes on the additional role of Customer Marketer. She's passionate about employee engagement and advocacy. Throughout her CS career, she's focused on empowering her customers and scaling customer education to help programs see value faster.
Melissa Machnik is a Customer Success leader with experience in MarTech, HRTech and RetailTech, working directly with customers and the teams that support them, at companies including Ideal, ScribbleLive, LinkedIn, and Askuity. She's built her own small business on the side, Maple Tree Films, and can be found most summer weekends shooting weddings.
Questions?
Ben Winn, ben@playtowinn.com, (647) 995 - 0594
Powered by:

Supported by: