CXO Rendezvous with Mr.Sanjay Tugnait, CEO at Capgemini Canada
Description
CXO Rendezvous is a monthly series that is intended to connect the professional community to the business community, listen to inspiring talks from industry leaders, experienced entrepreneurs, visionaries, and innovators.

Join us for our next CXO Rendezvous: Sanjay Tugnait, CEO at Capgemini Canada
Sanjay brings enriched global experience as a CEO of a French multi-national company in Canada.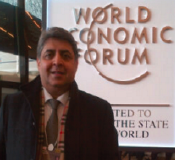 Join us as he shares his perspectives and insights on emerging technologies and key industry trends.
AGENDA
5:30 - 6:00 p.m.: Registration and light refreshment
6:00 - 7:00 p.m.: Presentation and Q&A
About Sanjay
Sanjay is the CEO of Capgemini Canada and Chairman of Canada Country Board. He is also a key member of Capgemini's Financial Services Executive Leadership Team and the North America Executive Council. Under his leadership, Capgemini Canada has grown successfully in multiple industry verticals; he also pioneered the launch of Applied Innovation Discover (Digital Lab) in Toronto; an innovation discovery zone for rapid prototyping to help organizations to transform ideas into business results by leveraging Blockchain, AI, digital, cloud and other innovative solutions in a secure environment. The digital lab works with a premium partner ecosystem that includes MaRS, Blockchain Research Institute, DMZ, Salesforce, Amazon AWS and Toronto Board of Trade etc. His leadership efforts ensured Capgemini's recognition among Canada's Best Diversity Employers and the Top Employer for Young People in 2017.
About Capgemini
A global leader in consulting, technology services and digital transformation, Capgemini is at the forefront of innovation to address the entire breadth of clients' opportunities in the evolving world of cloud, digital and platforms. Building on its strong 50-year heritage and deep industry-specific expertise, Capgemini enables organizations to realize their business ambitions through an array of services from strategy to operations. Capgemini is driven by the conviction that the business value of technology comes from and through people. It is a multicultural company of 200,000 team members in over 40 countries. The Group reported 2017 global revenues of EUR 12.8 billion.