Join us in the sun to make captivating collages with cyanotypes!
About this event
Cyanotype is an early photographic process developed in 1842 by Sir John Herschel that can be used to create striking photographic images. Paper painted with light-sensitive iron salts change to a bright blue when exposed to the sun; any area not exposed to the sun remains white – you'll combine and expose natural objects, overhead transparencies, and found objects to create striking collage art. Join us in using the sun to develop these captivating blue and white photographs!
Danielle Dumelie is a Canadian artist, educator, and gallery administrator based in Regina, Saskatchewan, Treaty 4 Territory.
Danielle lives and works in Regina, Sask. She received a BEd Art Education in 2007 with a Major in visual art and a minor in dance from the University of Regina. In 2020, Danielle received a Master of Art Education focusing on studio art from the University of Victoria.
Danielle currently works as a director of The Woods Artspace.
Danielle works mainly in painting and drawing. Raised on a small farm on the outskirts of the city, Danielle reflects the contrasts of rural and urban Saskatchewan in her artwork. Danielle's work uses bright colours and patterns to create quirky contemporary portraits to explore the concept of memory, personal history, and community interconnection.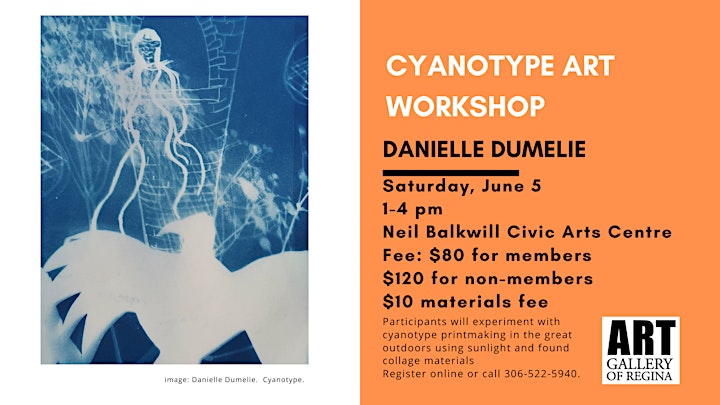 Organizer of Cyanotypes with Danielle Dumelie
Located on Treaty 4, traditional territory of the Cree, Saulteaux, Nakota, Lakota and Dakota peoples, and the homeland of the Métis people, the Art Gallery of Regina is a dynamic cultural hub, promoting the development and appreciation of contemporary art, with an emphasis on Saskatchewan artists. AGR programming includes a diverse range of exhibitions, educational programing, publishing, workshops and artists talks.
​
​
The Art Gallery of Regina is an autonomous, independent public art gallery with non-profit and charitable status. We are a tenant in the Neil Balkwill Civic Arts Centre located within the vibrant Cathedral Village neighborhood in Regina, Saskatchewan, Canada.
​
Our Story:
The Gallery opened as an experimental satellite of the Norman Mackenzie Gallery in 1974 under the name Rosemont Art Gallery. The Rosemont's objective was to reach new audiences and respond to community demands for more local and regional programming. In 1976 an independent organization formed and incorporated as a non-profit society to take over the gallery.
In 2005, after 30 years in operation, the name was changed to the Art Gallery of Regina to better reflect the scope of the organization and its role in the community.
The Art Gallery of Regina is at 2420 Elphinstone Street inside the Neil Balkwill Civic Art Centre .  The facility is entirely wheelchair accessible.
​
Email: AGR@sasktel.net
Phone: 306.522.5940
Mailing Address:
Art Gallery of Regina
c/o Neil Balkwill Civic Arts Centre
2420 Elphinstone Street, PO Box 1790
Regina, Saskatchewan S4P 3C8
​
SHIPPING ADDRESS:
Art Gallery of Regina
Neil Balkwill Civic Arts Centre
2420 Elphinstone Street
Regina, SK S4T 7S7
Regular Hours:
Monday to Thursday 11:00 am to 7:00 pm
Friday, Saturday, Sunday 1-5 pm