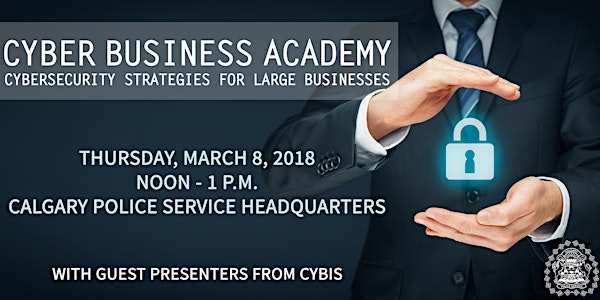 Cyber Business Academy – Developing Cyber Strategies for Large Businesses
Event Information
Location
Calgary Police Service Headquarters, East Building
5111 47 Street N.E.
Calgary, Alberta T3J 3R2
Canada
Description
The Calgary Police Service is pleased to be hosting another Cyber Business Academy, this time targeting large to enterprise level businesses. Officers from the Cyber/Forensics Unit will be partnering with cyber experts from Cybis, a cybersecurity firm that works with businesses across all industries. This session is intended for businesses that have implemented a cybersecurity strategy for their business or are in the process of developing one.
When: Thursday, March 8, 2018, 12 p.m. to 1 p.m.
Where: Calgary Police Service Headquarters, East Building, 5111 47 St. N.E.
Who can attend: Representatives from large and enterprise level businesses (more than 50 employees). If possible, businesses should send representatives with IT or cybersecurity knowledge.
How to Register: This seminar is free to attend, however, attendees must register in advance through Eventbrite.
What: Guest speakers Ray Watts and David Reed, Principal Consultants from Cybis will address:
Modern companies have access to vast amounts of critical information making them prime targets for cyberattacks. To properly defend against these attacks, organizations need to "Think Like an Attacker". While physical, information, and cyber security groups are usually segregated, attackers do not operate within the same limiting silos. Cybis will cover an integrated approach to security that makes an organization more resilient to the ever-increasing cyber threat.
This is the second Cyber Business Academy session hosted by CPS and the first targeted to large businesses. The first session, which was hosted in October 2017, was targeted to small businesses in Calgary.
If you have any questions about this event, please email CyberAcademy@calgarypolice.ca.
Date and time
Location
Calgary Police Service Headquarters, East Building
5111 47 Street N.E.
Calgary, Alberta T3J 3R2
Canada