Réservez dès maintenant votre place à la première conférence en cybersécurité organisée par Cybereco.
About this event
Vous êtes un professionnel de la cybersécurité et vous cherchez à parfaire vos connaissances et à rester informé sur des sujets d'actualité en cyber ?
Vous êtes un gestionnaire d'entreprise désirant approfondir sa compréhension des enjeux et tendances en cybersécurité ?
Contre les cybermenaces, nous faisons tous partie de la solution!
Joignez-vous à la Cyberconférence organisée par Cybereco et présentée par la Banque Nationale et Desjardins.
CONFÉRENCIERS VEDETTES :
Louis Vachon, Président et Chef de la direction de la Banque Nationale et Président d'honneur de la Cyberconférence
Luc Sirois, Innovateur en Chef du Québec, Conseil de l'innovation du Québec
Kelvin Coleman, Directeur général, National Cyber Security Alliance (En anglais)
Roberto G. Mazzolin, Stratège en chef de la cybersécurité, RHEA Group (En anglais)
PROGRAMMATION : 4 THÉMATIQUES
Public cible : Praticiens en cybersécurité
Sécurité opérationnelle : Dans un contexte d'externalisation de la sécurité, découvrez les techniques de défenses efficaces adaptées à nos nouvelles réalités.
Transformation numérique: Alors que les transformations numériques s'accélèrent, comment considérer la convergence TI / TO, le 'blockchain' et les défis reliés à la sécurité?
Public cible : Gestionnaires d'entreprise
Gouvernance: L'objectif principal de cette thématique est d'aider les gestionnaires d'entreprises à mieux comprendre les risques reliés aux cybermenaces et ainsi à mieux y faire face.
Protections des données : Alors que les menaces de vols d'identité et de fraudes numériques augmentent, comment réduire l'impact sur les tiers en investissant dans la sécurité ?
Découvrez tous nos conférenciers en consultant l'agenda détaillé!
COMMANDITAIRES :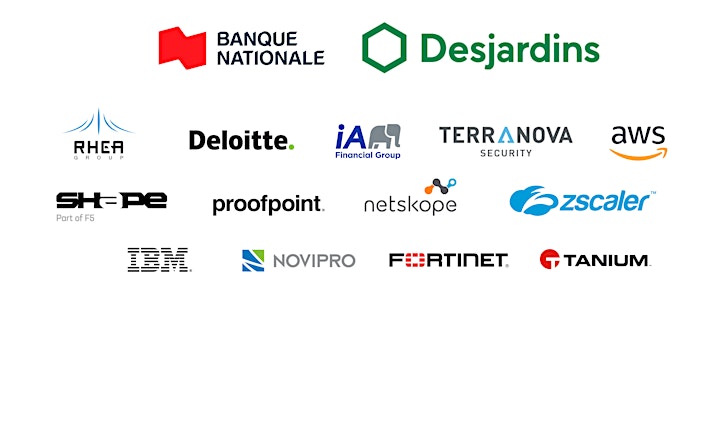 Are you a cybersecurity professional looking to expand your knowledge and stay informed on current cyber topics?
Are you a business manager looking to deepen your understanding of cybersecurity issues and trends?
Against cyber threats, we are all part of the solution!
Join the Cyberconference organized by Cybereco and presented by the National Bank and Desjardins.
FEATURED SPEAKERS:
Louis Vachon, President and Chief Executive Officer, National Bank and Honorary President of the conference
Luc Sirois, Quebec's Chief Innovator, Quebec Innovation Council
Kelvin Coleman, Executive Director, National Cyber Security Alliance
Roberto G. Mazzolin, Chief Cyber Strategist, RHEA Group
PROGRAMMING: 4 THEMES
Target audience: Cybersecurity practitioners
Operational Security : In a context of security outsourcing, discover effective defense techniques adapted to our new realities.
Digital Transformation : As digital transformations accelerate, how do you consider IT / TO convergence, blockchain and security challenges?
Target audience: Business Managers
Governance : The main objective of this topic is to help business managers better understand the risks associated with cyberthreats and thus better cope with them.
Data Protections : As the threats of identity theft and digital fraud increase, how can you reduce the impact on third parties by investing in security?
Discover all our speakers by consulting the detailed agenda.
SPONSORS: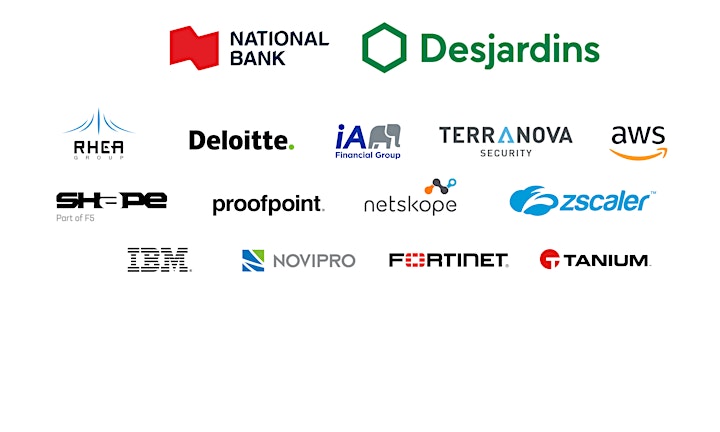 Date and time
Location
Refund policy