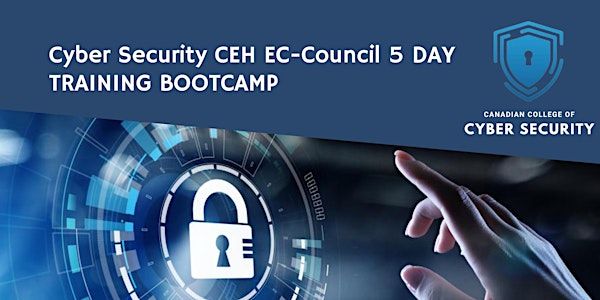 Cyber Security 5 Day Training in Melbourne
This bootcamp is in collaboration with lead industry expert EC-Council.
Refund Policy
Contact the organizer to request a refund.
About this event
Course Description:
The CEH certification training course from Canadian College of Cyber Security gives you the hands-on experience you need to grasp the ways hackers use to get into network systems and defend your system against them. Canadian College of Cyber Security is a proud ATC EC-Council partner. This ethical hacking course is compliant with EC-current Council's CEH v11 and will fully equip you to take on the 312-50 CEH exam.
5-DAY BOOTCAMP Accredited Training Centers (ATC) a global training centre that offer up-to-date training, testing, and credentialing services, accredited by EC-Council, to meet international training and credentialing standards.
SKILLS COVERED
Identify potential security weaknesses,
Respond to malicious activity with experiential knowledge, and
Secure systems with the best methods
Sit for the EC Council Certified Ethical Hacker Examination
What are the prerequisites for this Ethical Hacking certification?
There are no particular qualifying requirements for the (CEH) Certified ethical hacking certification, however we do recommend that you have a basic understanding of TCP/IP.
What job can I get after acquiring this CEH Certification?
Ethical Hacker: Average Annual Salary = $118k
Network Security Engineer: Average Annual Salary = $80k
Computer Forensic Engineer: Average Annual Salary = $72k
Data Security Analysis: Average Annual Salary = $80k
Blended learning delivery model (self-paced eLearning and/or instructor-led options)
Enterprise grade Learning Management System (LMS)
24×7 learner assistance and support
Canadian College of Cyber Security certification upon completion
Virtual/in-person classes available
Who can Attend?
The Certified Ethical Hacking training course will significantly benefit:
security officers, auditors, security professionals, site administrators, and anyone who is interested in the integrity of the network infrastructure and want to advance in their career.
This course and certification is recommended for all workers and individuals in a company, especially those who operate in security IT, cloud, networking environment.