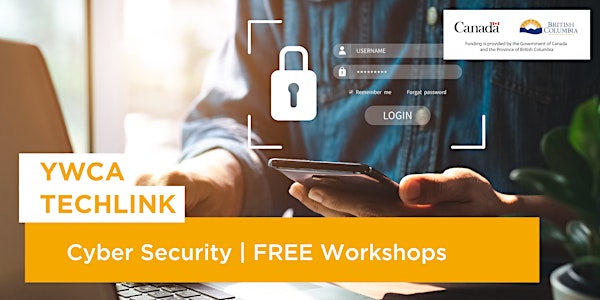 Cyber Security | December 9 | Free Online Workshop
Curious about how to protect yourself from online thieves? Join us at this free online workshop to learn how.
About this event
At this 1-hour virtual workshop, presented by IT Helpdesk Analysts from YWCA Metro Vancouver's TechLink program, we'll cover a few important ways to defend yourself against cyber criminals, by securing your online accounts, computers, and smartphones.
Quick overview of Zoom controls
Tips for safer browsing on the Internet
Tips for sharing safely on social media
Creating strong passwords
Two-factor authentication
Keeping device systems up to date
Scanning to get rid of malware
Common scams to watch out for
Funding provided by the Government of Canada and the Province of British Columbia
Register Now!

YWCA TechLink is a program for internationally-trained professionals or Canadians who want to pursue careers in tech but have limited Canadian work experience. Our IT Helpdesk Analysts are gaining local experience to build their careers in tech, while providing free IT support and technical assistance to community members who face challenges accessing online services during COVID-19. To request support, visit ywcavan.org/techlink-support.
Stay in the know by signing up for our newsletter!