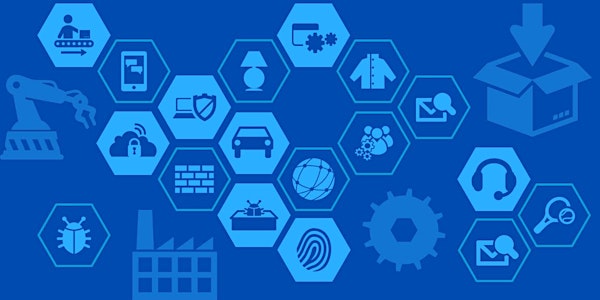 Cyber Security Workshop for Manufacturers
Join the NMA in collaboration with Netmechanics for a workshop focused on cyber security in the manufacturing sector.
By The Northumberland Manufacturers' Association
Date and time
Thu, Nov 28, 2019 8:30 AM - 10:00 AM EST
Location
Venture13 739 D'Arcy Street Cobourg, ON K9A 0H6 Canada
About this event
During this workshop manufacturing and cybersecurity will intersect to explore threats faced by manufacturing companies of all sizes and discover low cost efforts to measurably improve cyber security practices.
Today's connected technologies can increase cyber risks, so it's more important than ever for manufacturers to stay secure, vigilant, and resilient. Join us as we delve deeper into what cyber security means to manufacturing and learn how you can start to protect your most valuable assets.
Presenter:
GRAEME BARRIE
With more than 20 year's experience in security and enterprise information technology, Graeme is an expert in translating complex security issues in to easy to understand and relatable objectives for business owners to leverage in their own organizations. He believes that awareness is key for business owners to protect their businesses and their clients.
As the President and Founder of Netmechanics, Graeme is taking his experience in enterprise information security and delivering solutions to small and medium businesses, including an affordable software as a service that helps businesses measure and manage cyber risks through education and awareness.
About the organizer
PHOTO & VIDEO DISCLAIMER
The Northumberland Manufacturers' Association (NMA) reserves the right to use any photograph/video taken at any event sponsored by the NMA without the expressed written permission of those included within the photograph/video. NMA may use the photograph/video in publications or other media material produced, used or contracted by NMA including but not limited to: brochures, invitations, books, newspapers, magazines, television, websites, etc. To ensure the privacy of individuals, images will not be identified using full names or personal identifying information without written approval from the photographed subject. A person attending a NMA event who does not wish to have their image recorded for distribution should make their wishes known to the photographer, and/or the event organizers, and/or contact NMA 739 D'Arcy St. Suite 110 Cobourg, ON K9A 0H6 in writing of his/her intentions and include a photograph. NMA will use the photo for identification purposes and will hold it in confidence. By participating in a NMA event or by failing to notify NMA, in writing, your desire to not have your photograph used by NMA, you are agreeing to release, defend, hold harmless and indemnify NMA from any and all claims involving the use of your picture or likeness. Any person or organization not affiliated with NMA may not use, copy, alter or modify NMA photographs, graphics, videography or other, similar reproductions or recordings without the advance written permission of an authorized designee from NMA. Thank you for your understanding and cooperation.