Description
About the Event
AI is a game-changing technology for almost everything in your life. There are big demands and opportunities when you apply AI to the hot fields such as Cyber Risk, Cyber Security, and Cyber Talents. It is pressing for you to understand the latest industry trend and see how to accelerate your business and career by leveraging AI.

Cyber Tech & Risk is proud to bring you a high-profile "Cyber Tech & Risk - AI" event in RBC WaterPark Place Auditorium on Aug 16 (6 PM - 9 PM)!
Featured Speakers

1. Applying AI to cyber... detangling hype from reality
The session will focus on discussing first what AI is, what it means for cybersecurity, most promising use cases, and what it takes to make cyber AI work in an organization.

Dina Kamal, Partner, Risk Artificial Intelligence, Deloitte Canada
Dina is the Risk-AI leader in Omnia, Deloitte's Artificial intelligence practice. Dina also leads Deloitte' cyber threat intelligence service globally. Dina has 20 years of experience covering various aspects of risk related to technology, cyber security, financial crime and enterprise risk management. While Dina focuses mainly on the banking sector in Canada and globally, Dina has served clients in the public sector and energy industries.
2. No Silver Bullets – Cybersecurity in the AI Era

We'll talk about the threats in more detail, the growing migration from compliance to risk-focused security, and how security is fundamentally an information management problem. We'll investigate how AI is being applied in real organizations today and try to get beyond the marketing and hype to understand this fundamental shift coming our way.

Doug Lhotka, Executive Security Architect, IBM Security
Doug leads the Security Architects for IBM North America, coaching that talented team as they mature and grow their skills in an evolving and dynamic field. As a practicing architect, he helps security and business executives across many industries manage risk and secure strategic initiatives. Doug has authored patents, papers, and books on subjects ranging from photographic lighting and human factors to architecture governance and 3D printing for fine art. Doug is in demand as a speaker on cybersecurity for executive, business, security and end-user audiences.

3. Panel Discussion - AI in Cybersecurity

We have two groups in this special panel:
- Cybersecurity professionals who face various challenges/concerns in their practices. They wonder how AI can help them for things such as false alarms, manual investigation, talent shortage etc.
- Founders of AI startup companies who bring their unique solutions to mitigate the cybersecurity challenges.
We will let the cybersecurity team raise real-world questions to the AI team. It will be very interesting to see how they bring the different perspectives to the table and collaboratively come up with some answers.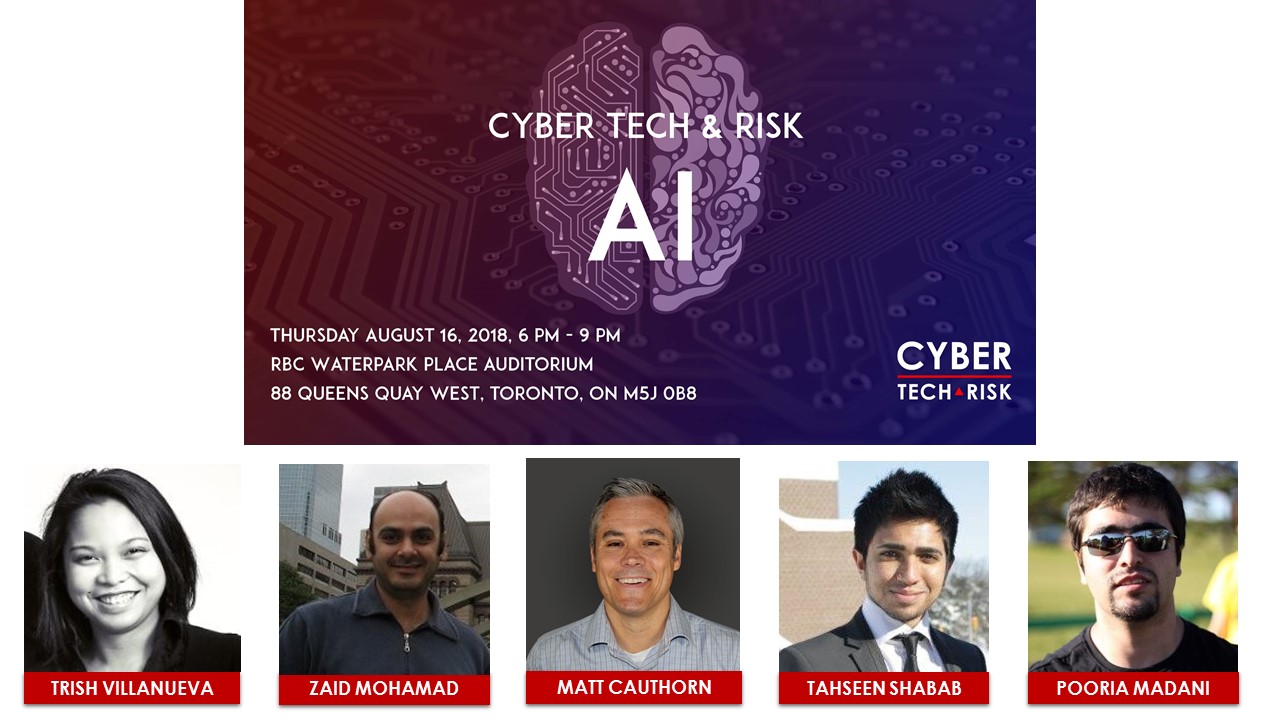 Trish Villanueva, Security Operation Center (SOC) Manager, Herjavec Group
Trish is leading and managing Herjavec Group's global SOCs (shared and on-prem). She introduces new and efficient processes and policies which would eventually translate to the regional SOCs as they opened in Los Angeles, USA, and Reading, UK.
Zaid Mohamad, Security Solutions Architect, Thales
Zaid Mohamad has over 15 years of experience in the IT industry including experience in managing Information Systems, Datacenters virtualization, and consolidation, developing windows/Linux HA solutions, Architecting PCI DSS compliant infrastructure, automation and conducting proof of concept projects.
Matt Cauthorn, VP of Security, ExtraHop Networks Inc.
Matt Cauthorn is responsible for all security implementations and leads a team of technical security engineers who work directly with customers and prospects. A passionate technologist and evangelist, Matt is often on site with customers working to solve the complex and mission-critical business problems that Fortune 1,000 and global 2,000 companies face. After years spent helping customers tap into the value offered by network-based analytics, Matt has been able to bring fresh thinking to security threat detection. Matt's collaborated with companies across various industries including banking, healthcare, energy, and retail.
Tahseen Shabab, Founder at Bibu Labs
Tahseen is the Founder Bibu Labs - A Cybersecurity Analytics startup leveraging AI algorithms to pinpoint obscure attacks while lowering false positives. Tahseen has many years' cybersecurity consulting experience at the firms like IBM, RBC, Cisco, Government of Canada and more.
Pooria Madani, CEO/
Founder at AlecTech Inc.
Pooria Madani is CEO and Co-Founder of AlecTech Cybersecurity providing specialized services in the development of intelligent systems for insider threat risk management. He is also a Ph.D. candidate in Adversarial Machine Learning at York University with numerous peered reviewed publications in machine learning and cybersecurity reputable scientific journals and magazines such as IEEE Security & Privacy and ACM.
Lead Sponsors



Royal Bank of Canada (https://www.rbc.com)


Event Sponsors

ExtraHops (http://www.extrahop.com/)
Food/Drink
Complimentary food and drink will be provided at the event.
Keywords
#AI, #ArtificialIntelligence, #MachineLearning, #Cybersecurity, #CyberRisk, #CyberTechRisk, #IBM, #Deloitte, #RBC, #Herjavec, #RiskManagement
Refund policy: Tickets are non-refundable.
Disclaimer: By signing up for this event, you agree that the organizers may record or photograph the event, (including you, your likeness, voice and any guest you bring), and use it publicly or privately in any form of media, including for commercial purposes. By attending, you consent to the recording and photographing and grant the organizers an unrestricted, perpetual, non-exclusive and sublicensable license, to take, use, display, perform, or distribute for any lawful and commercial purpose any recordings or photographs.
Organizer of Cyber Tech & Risk - AI