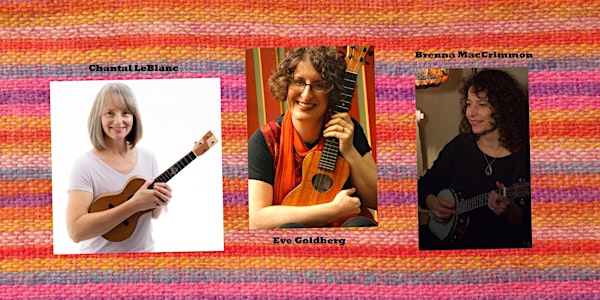 Cyberlele Concert with Chantal LeBlanc, Brenna MacCrimmon & Eve Goldberg
Eve Goldberg, Brenna MacCrimmon and Chantal LeBlanc treat us to songs and tunes!
About this event
To kick off the Cyberlele Orchestra Weekend taking place August 21 - 23, our teaching staff of Eve, Brenna, and Chantal will treat us to an informal concert.
You will hear original songs and traditional tunes,mostly accompanied ukulele but you might see a baritone, a guitar, or even a tambura!
Brenna MacCrimmon is an exquisite singer with an extensive background in Turkish and Balkan music, a keen interest in traditional music of England, Scotland, and Ireland, and a love for early jazz and blues. She helps organize the popular "Storefront Ukulele Sessions" as well as the bi-annual "Ukulele Wang Dang Doodle" gatherings on Toronto Island. A member of the Juno-nominated vocal quartet Turkwaz, she has a long and stellar career in the Turkish and Balkan music communities in addition to her ukulele teaching and performing.
Known for her watercolour voice and solid instrumental style (guitar, ukulele), Eve Goldberg is a compelling writer and interpreter whose music spans folk, blues, country, swing, bluegrass, and gospel. A favourite at festivals, folk clubs and concert series across Canada and the U.S, she has released three albums to widespread acclaim and is part of the folk/roots duo Gathering Sparks.
Chantal LeBlanc brings us many years of ukulele teaching experience and her passion for music education. She enjoys teaching private lessons, learning, arranging and playing all styles of music on the ukulele as well as crafting and selling handmade ukulele accessories.
----------------------------------------
The concert is FREE but if you feel inclined to make a DONATION here's a way to do it:
https://paypal.me/pools/c/8rQ6YPfYIM
The concert takes place on Zoom. Once you register, you will receive the Zoom link in a confirmation email. Be sure to save the confirmation email because you will need to use the link to access the concert when it's time! Feel free to "arrive" a few minutes before the show and we'll let you in.