Event Information
Location
ventureLAB
Online Webinar
Canada
Description
Cybersecurity and Privacy trends in Canada
The use of Information Technology (IT) has been significantly evolving over time. The massive use of data all around the world, including personal information, has created new risks and challenges and has also encouraged regulators on defining new and stricter rules in different jurisdictions.
Join this webinar on Friday, June 19 at 12:00 pm to understand what cybersecurity and privacy are, comprehend the challenges we are going through today and why these concepts are relevant. You will learn where Canada is on these topics and identifying actions your organization can take now in light of the most recent challenges imposed by the different tactics deployed to prevent the spread of COVID-19.
____________________
This session is part of a collaboration series. You won't want to miss these other ones:
June 16: HR and Labour Considerations During the COVID-19 Crisis (Innovation Factory) REGISTER HERE

June 18: Navigating through turbulent times: managing finances, overheads and lean operations (RIC Centre) REGISTER HERE

June 24: Leveraging e-Commerce Channels to Generate Revenue (Haltech) REGISTER HERE
Agenda:
12:00 - 12:45 pm: Cybersecurity Presentation
12:45 - 1:00 pm: Q&A and Discussion


Speaker: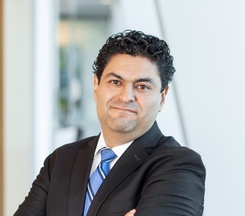 Carlos Chalico
CISA, CISSP, CISM, CGEIT, CRISC, CDPSE, ISO 27001LA, PbDA
Cybersecurity and Privacy Leader for the Private Sector, EY
Carlos has been a cybersecurity, privacy and IT risk specialist for almost 25 years. He started his career with EY in Mexico in 1996 and he is now part of the cybersecurity and privacy practice at EY Canada. Based in Toronto, in addition to helping EY build a better working world, Carlos is the Membership Director for the ISACA Toronto chapter and is also a member of the board with the IAPP. He is an instructor for the University of Toronto School of Continuing Studies on cybersecurity and privacy matters. He is a creative writer in Spanish and he is counting the days for this COVID 19 confinement to be over to go out and ride his bicycle.
---
About ventureLAB
ventureLAB is a leading technology hub that supports tech entrepreneurs and small businesses. Located in York Region, Canada's densest technology cluster, ventureLAB has supported over 2,000 entrepreneurs in a region that is home to over 4,300 technology companies and 65,000 tech jobs. ventureLAB operates a 50,000 square-foot innovation hub that is home to over 45 tech companies and innovation partners. At ventureLAB, we support tech entrepreneurs through programs focused on capital, talent, and technology to grow and scale their businesses locally, nationally, and globally.
About Haltech
Through education, advisory services and strategic connections, Haltech enables start-up and scaleup technology innovators and entrepreneurs to accelerate their growth and navigate the path to profit. Haltech is a non-profit corporation supported by Ontario Government and our valued Corporate Sponsors.

About RIC Centre
RIC Centre is a not-for-profit innovation hub and business incubator for Mississauga, Brampton, Caledon and other communities in Southern Ontario. RIC Centres' focus is to be a dynamic catalyst for tech companies. We help our companies grow faster and stronger. Our team consists of more than 100 expert advisors, industry, academic, government partners. The team helps companies in Advanced Manufacturing, Internet of Things, Hardware & Software, Cleantech and Life Sciences to commercialize their products and get them to market faster.

About Innovation Factory
Innovation Factory is a non-profit business accelerator, serving as the catalyst for tech innovation in the greater Hamilton area since 2011. Innovation Factory provides business services, training and mentorship to help entrepreneurs with advanced manufacturing, clean tech, information tech, life science and social innovations to bring their ideas to market, increase revenues, attract investment and create jobs.
Date and Time
Location
ventureLAB
Online Webinar
Canada