Multiple Dates
CYCAA Provincial Child and Youth Care Conference: May 30-June 1, 2018
Description


---
Tickets are bought separately for the preconference day (May 30) and the general conference (May 31 - June 1)

Presenters/Speakers, please register under "Presenters & Speakers only" so we know you're coming. If you're not presenting on May 30th, please purchase a ticket for this day.

Tickets are limited.

Early bird ticket sales have been extended until May 30 (this is the last day to buy tickets online).

If available, additional tickets will be sold at the registration desk starting May 30, 2018.
---
Speakers Information:
(subject to change)
May 30, 2018 (Preconference Day: 7:30 a.m. - 10:00 p.m)
Presenting the preconference day and closing keynote:
Zeni Thumbadoo & Merle Allsopp, South Africa
Presenting: ISIBINDI Creating Circles of Care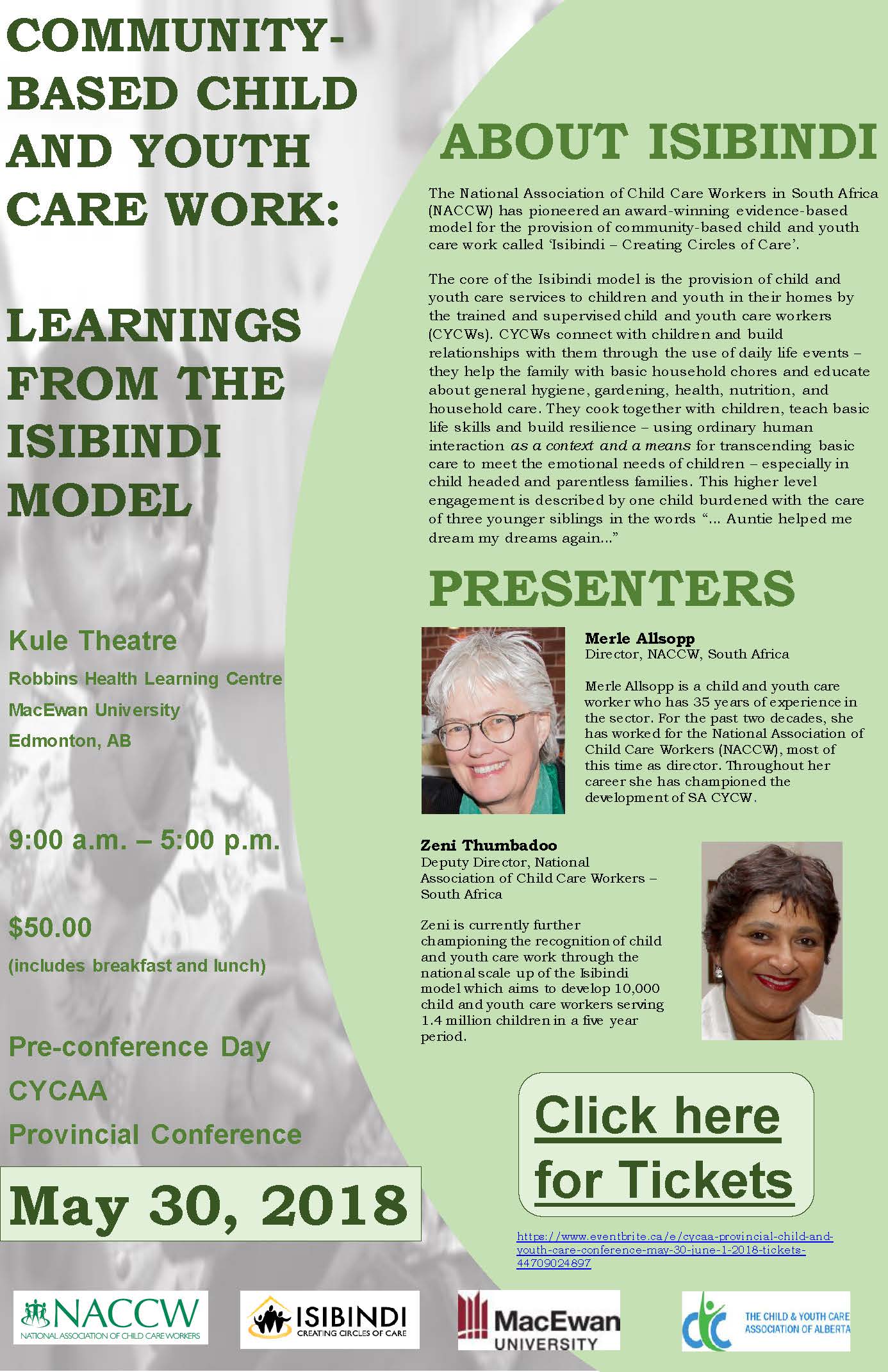 CYCAA AGM & Wine and Cheese Banquet
May 31, 2018 (Conference Day #1: 7:30 a.m. - 5:00 p.m.)

Keynote Speaker: Frank Delano, New York, USA
Also presenting a workshop on: Supervision of Millennials

Frank is the owner of Professional Package Consulting, Inc. and most recently was the Director of the JBFCS Markus Training Institute. He also has been Director of the Herschel Alt Day Treatment Center and the Associate Director at Hawthorne Cedar Knolls residential treatment center. Frank was an adjunct faculty member at the Fordham University Graduate School of Social Service for 20 years and is currently a regular contract trainer with the University of Oklahoma. He has served on a National Task Force that revised the Child Welfare League of America Standards of Excellence for children in residential group care in America, and the CWLA National Residential Advisory Board. He is currently a member of the Board of the Association of Child and Youth Care Practice and also served on the Board of Directors of the American Board of Examiners of Clinical Social Work. He, along with Jill Shah, is the co-creator of the "professional package" concept. Frank has published numerous journal articles on supervision and relational practice. He has presented extensively nationally and internationally including in India, the Czech Republic, Ireland, Austria, Israel, Scotland, Canada, and France and at every Canadian National, International and World CYC Conference since 1997.
Sarah Fodchuck, AB.
Presenting: Renewing our self-care strategies
Christine Pope and Kerry Heaney Dalton, AB.
Presenting: Creative interventions
Jacqueline Dagneau & Lisa Stern, AB.
Presenting: Developing a research responsive youth permanency program
Jack Phelan, AB
Presenting: International CYC supervision: A developmental approach
Ahna Berikoff & Kelsey Reed, AB.
Presenting: Decolonization: Loosening the colonial grip on pedagogy and methodology in child and youth care
Cathrine Hedlin & Parker Pothier, AB.
Presenting: Grief and loss
Andy Leggett, ONT (Kuhl Theatre)
Presenting: The other side of behaviour
Audrey Luchianov, Mackenzie Brouillette, Danielle Milicevic, and Taur'ean Adekunle, AB
Presenting: Are we prepared for the workforce? Presenting the course-based research of two MacEwan student groups: Conflict in group work & The relationship between CYC practicums and personal agency
June 1, 2018 (Conference Day#2: 8:30 a.m. - 1:00 p.m.)
Ashley Marlowe and Christina Pelster, AB.
Presenting: Exploring the space between
Pat Kosturos, AB.
Presenting: Using the Compassion Fatigue Scale (ProQol) in supervision
Michele Brigel, AB.
Presenting: Relational supervision
Brenda Thompson & Patricia Kostouros, AB.
Presenting: Mental health: Beyond the DSM!
Lucian Crazyboy & Kathy McKinnon, AB.
Presenting: Blanket Exercise - An experiental learning journey into the impact of colonization upon Indigenous Peoples
Donna Jamieson, AB (Kuhl Theatre)
Arlene Eaton-Erikson &
Erin Jamieson

, AB.
Presenting: Speaking OUT: A special report on LGBTQ2S+ young people in the child welfare and youth justice systems
---
Accommodations available through MacEwan Residence.
Bachelor Suite (1 double bed) $77.50/night* (Max Occupancy: 2)
Two Bedroom Suite (2 double beds) $106.93/night* (Max Occupancy: 4)
Four Bedroom Suite (4 double beds) $234.46/night* (Max Occupancy: 8)
Tax Applied: 5% GST & 4% Provincial Tourism Levy

Each Standard Suite includes:
Private bedroom furnished with closet organizer and desk

Double bed (mattresses replaced in December)

Kitchenette equipped with stove top, fridge, and microwave

Dishes, cookware, coffee maker, and toaster available to rent from Front Desk ($5 / night)

Private bathroom with shower

Bed linen, towels, and bathroom amenities provided

The Four Bedroom Suite includes a sitting area with couch and armchairs

Access to TV common area on each floor equipped with satellite service and DVD player

Access to hair dryer, iron, and ironing board from the Front Desk

Complimentary high-speed WIFI in all areas

Other Amenities:
MacEwan Residence also offers the following for guest convenience:
Front Desk staffed 24 hours/day

Discounted parking ($15.00 / night)

Smoke-free environment

Access to common areas with whiteboard walls

Access to laundry facilities with cash card system (Wash $2.00 and Dry $1.75)

Access to pool table, ping pong, and foosball ($2.00 / game)

Bank machine (ATM) in the lobby

Cold-beverage and snack vending machines

Edmonton Sky Shuttle offers service directly from the Edmonton International Airport to MacEwan Residence (29 km). Visit

http://www.edmontonskyshuttle.ca/

.

Virtual Tour & Photo Gallery
Please visit our website for a virtual tour and photo gallery of our suites.


http://www.macewan.ca/wcm/CampusServices/GuestAccommodationServices/Gallery/index.htm
Find the link for the form below (Payment will be made directly to MacEwan Residence):
http://www.cycaa.com/wp-content/uploads/2018/03/2018-Notice-CYCAA-Conference-Accommodation-Reservation-Form-180315.pdf
---
If you have any questions or concerns, please contact us through:
Email: cycaa@telus.net
Phone: 780 809-0890