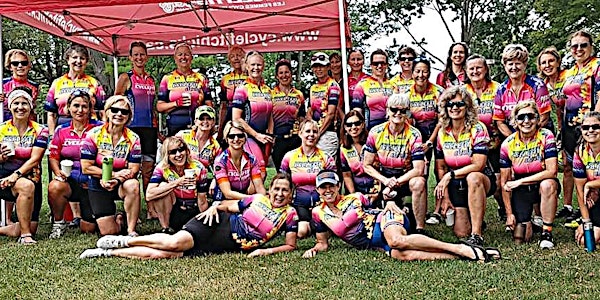 CycleFitCHICKS 2022 EARLY BIRD Club Membership
2022 EARLY BIRD Membership $200
About this event
2022 CycleFitCHICKS Club Registration Details: READ CAREFULLY and save the dates
CFC has decided to require proof of vaccination as part of the 2022 membership registration.
This is consistent with the current policies (January 25, 2022) of many sports clubs and organizations in both Ontario and Quebec and will help ensure the health and safety of all CFC members and their families. "Proof of vaccination" will be based on the requirements to obtain a Quebec or Ontario vaccine passport, which may evolve over the next few months.
2022 Early Bird Membership $200 til Feb 28
Feb 28-April 25: Membership fees are $225
DEADLINE: April 25.
NEW for this year: It's important to note that our Early Bird membership will be following the CURRENT Covid Policies.
Should they change by April and YOU DO NOT feel comfortable with the policies, you will be able to collect a FULL REFUND. It's important to note that this refund is only available til the April 25 registration deadline. NO REFUND will be issued after April 25.
After the April 25 Deadline, we will expect that you are comfortable with the present Covid policies for the club.
Between April 25 and May 2: We hope to be able to try on Sample Jerseys before the official jersey order is submitted May 1, for the entire club membership.
ONLINE Spring Social: Thursday, April 14 @ 6:30pm REGISTER: https://cfc-springsocial2022.eventbrite.ca
Welcome to our 14th Year. We are so excited about this year. In light of last year's experience, our club was able to offer our members a full club season that has not stopped. In light of this, we now are offering Summer rides, into winter training.
Go to the website for all club details: www.cyclefitchicks.ca
FREE Learn to Group Ride Clinics for members only. A seperate email will be sent in March with Learn To RIde Dates.
JERSEY ORDER: May 1. Delivery in 8 weeks.
We will be going with the BIemme Brand. 2 jersey options. Technical Classic (Loose fitting) & Technical Race(Tighter fit)