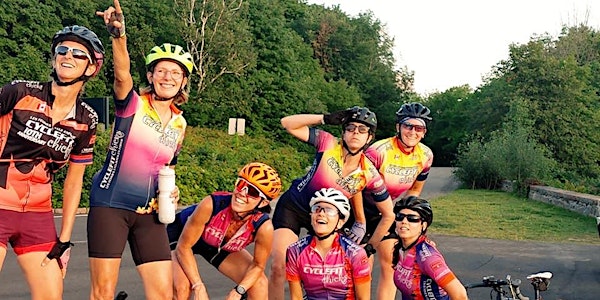 CycleFitCHICKS 2022 - ONLINE Spring Social & Information Session: April 14
CycleFitCHICKS 2022: ONLINE Spring Social & Information Session April 14
About this event
CycleFitCHICKS: ONLINE Spring Social & Information Session April 14
Where BEGINNERS are welcome and the EXPERIENCED cyclist are challenged
Register, show up, and you could WIN Door Prizes and the GRAND PRIZE of winning back your 2022 registration.
Current 2022 members and anyone who registers during the Spring Social presentation. The Draw will happen at 8:15 pm and someone will win back their membership.
The current policies of many sports clubs and organizations in both Ontario and Quebec will help ensure the health and safety of all CFC members and their families. "Proof of vaccination" will be based on the requirements to obtain a Quebec or Ontario vaccine passport, which may evolve over the next few months.
The thing about our club is that we are ORGANIZED and FOCUSED on being the best Women's Club in the Region.
Please share with the friends you know who are new to cycling.