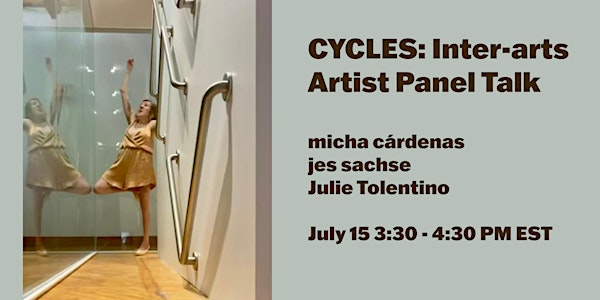 CYCLES: Inter-arts Artist Panel Talk
Join us for an artist talk with jes sachse, Julie Tolentino, and micha cardenas, as they discuss how inter-arts practices help them thrive.
About this event
This is a programming event for "CYCLES of the longed for and the grasped: ILGBTAR Retrospective (2013-2021)," curated by Tobaron Waxman, on now at Tangled Art + Disability until July 22nd, 2022.
This artist talk comes out of the idea that ILGBTAR (Intergenerational LGBT Artist Residency) alumnx have been gathered because of their inter-arts practices. The impetus for this was born out of something jes sachse posted online a few years ago: the struggle of chronically not fitting into funding, genre, or media categories, and conceiving works that brought objects together, but squeezed them out of opportunities. The premise of inter-arts came out of the idea of creating an opportunity for those people to thrive.
ASL interpretation and live captioning will be provided on Zoom. ASL interpreters are Cindy Muskat and Kimberley Johnson.