Description
DAAN Summit Toronto – AGENDA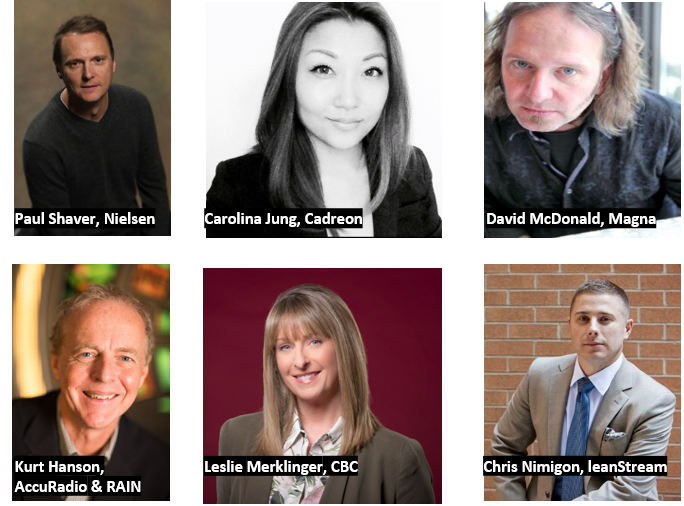 1:00pm-1:15pm Welcome & Registration
1:15pm-1:45pm KEYNOTE: State of the Industry Address
Sponsored by leanStream
With Kurt Hanson, Publisher & Founding Editor of "RAIN: Radio And Internet News" (www.rainnews.com). RAIN hosts several conferences ("RAIN Summits Europe, NYC, Austin, Nashville, Las Vegas") on the subject of Internet radio and online audio. Hanson is also CEO of AccuRadio, one of the world's leading brands of personalizable Internet radio. As such, Hanson is considered one of the world's leading experts in the field of online radio.
1:45pm-2:00pm RESEARCH: Music 360 Canada & Growing Your Brand With Music
Sponsored by TargetSpot
With Paul Shaver, Head of Nielsen Music Canada. As a dynamic music executive for 25+ years, Shaver's career is the combination of expertise as a leading figure in the music business, fueled by a love of music, knowledge and a desire to learn. He has held various positions in the music industry and record label business during his career ascent including Vice President, Virgin Music Canada, Vice President, Marketing, Promotion and International, EMI Music Canada and Vice President, Artist Marketing, Universal Music Canada, SVP & General Manager & Open Road Records/RGK Entertainment.
2:00pm-2:15pm Coffee & Tea Networking Break
Sponsored by CBC
2:15pm-3:00pm PANEL: The Programmatic Audio Opportunity & Advertiser Perspective
Sponsored by Adswizz & Adwave Canada
With Carolina Jung, an accomplished digital media executive who has spent her online career in cross-functional leadership roles encompassing sales, marketing, and ad operations. She is currently the Director, Digital Growth and Innovation for Cadreon, IPG Mediabrand's Ad Tech unit, responsible for fostering strategic partnerships leveraging the best-in-class programmatic solutions, and the current Co-Chair for IAB Canada's Data & Analytics Committee, committed to advocating best practices and identifying key challenges and growth opportunities that will help drive the digital advertising industry forward. Prior to Cadreon, Carolina dabbled in the start-up world, co-founding Fetchpad, a hyper-local product search engine. She was also Director of Sales for Adconion (now Amobee), Digital Strategist for Samsung Canada, Head of Ad Operations for Suite 66, and a key member of Microsoft Advertising's executive sales team responsible for launching MSN.ca in Canada.
With David McDonald,VP, Director, Radio Investments at Magna, a division of IPG Mediabrands, one of, if not the largest purchaser of radio commercial time in Canada. The group is responsible for corporate negotiations, radio planning consultation and guidelines, promotional and custom platform development and execution as well as purchasing and managing commercial campaigns. With providers other than radio now delivering audio messaging to consumers, Dave and the team have expanded their scope of expertise to address consumers' dynamic use of media and ability to be served audio ads across a spectrum of newer tech and web driven platforms. David has over 33 years of agency experience with 30+ focusing on radio.
With Tina Preussner, Media Manager at Vovia. Tina has over 12 years of agency experience, having worked across a variety of Ad agencies in Toronto, ranging from large extensions of Global media holding companies such as Omnicom, PHD to Canadian independent shops like henderson bas kohn (kenna), Venture Communications and most recently Vovia. She has planned and executed campaigns for Canadian banks, large automotive companies, telecommunication conglomerates, Canadian retail and local charities to name a few. Specializing in Media Research, Digital Strategy and Analytics, Tina teaches Interactive Marketing and Digital Communications in both Sheridan and Centennial College's Advertising programs. She is currently pursuing her HBA in Communications from UTM and holds a Masters Certificate from the Interactive Advertising Bureau of (IAB) Canada.
With Tim McLauglin, Brand Manager at Steam Whistle. Working at Steam Whistle since 2004 Tim has played a key role in Steam Whistle's growth from a small Toronto community-based brewery to its positon now as the largest single craft beer brand in Canada. Known for their "Do one thing really, really well" philosophy Steam Whistle has been able to achieve success in an ultra competitive industry through their focus and commitment to only ever producing one style of beer, a Pilsner. Tim is responsible for building and shaping Steam Whistle's brand through identifying and executing community-based sponsorships. Steam Whistle sponsors over 550 events a year, that run the gambit from small local art gallery openings to national properties like the JUNOs. Tim also leads Steam Whistle's media strategy and advertising activity. Working alongside Steam Whistle's senior team, Tim contributes brand strategy, business development and helping establish Steam Whistle as the most respected premium beer in Canada. When not working he can be found doting on his newborn son Leo.
3:00-3:30pm PANEL: A Peek Into Podcasting (Advertising, Sponsorship & Scale)
Sponsored by Triton
With Bob Kane, a veteran of Canada's media industry. He has been a publicist, an agent, writer/producer and marketer. In his current role as the Senior Manager of Content Marketing at CBC/Radio-Canada Media Solutions, Bob has been at the genesis of creating award-winning solutions for advertising partners around CBC properties such as Radio One Podcasts, CBC News and CBC Music. As CBC is the country's leading podcast publisher, his drive today comes from being able to help shape Canada's place in the burgeoning podcast market.
With Leslie Merklinger, Senior Director of Audio Innovation at CBC Radio and Audio. In this role, she leads the development of radio and podcast programming for CBC Radio One and CBC's original award winning podcast stream. Since joining CBC Radio in 2015, she has overseen the creation of over a dozen podcasts including Someone Knows Something, Sleepover, Love Me, and successful radio programs including Out it the Open, Because News and Podcast Playlist. Leslie is a media veteran with 35 years as a producer, director and commissioning editor in television, digital and radio. She has worked across many genres of programming including Current Affairs, Talk, Factual Entertainment, Arts, Lifestyle and Documentary. She produced programs for CTV, CHUM, TVO, Global Television, CBC, and oversaw Food Network Canada's original programming.
With Mike O'Neil, VP of Programmatic Partnerships at Triton. As VP, Programmatic Partnerships, Mike O'Neil oversees revenue creation for leading digital audio ad exchange, a2x® By Triton Digital. O'Neil works with Triton's Global Operating Partners, Publishers, and Agency set. Prior to joining Triton, O'Neil was the Regional VP of Sales & Ad Operations at Westwood One & Metro Traffic. While there, O'Neil oversaw the company's Network & Traffic Revenue across traditional and digital platforms. Prior to joining Westwood One & Metro Traffic, O'Neil held sales positions with leading software company PTC, and noted global financial service provider Deutsche Bank. O'Neil graduated from Trinity College and resides in Boston, Ma with his wife and two children.
With Matt Reed, Assistant 360 Planner at PHD Canada. Matt is a maverick to the ad industry. In his current role at PHD with over a year of professional experience. He has had experience working with both CBC and Spotify to help clients enter the growing digital audio space. As digital audio becomes a higher priority for clients Matt continues to grow his knowledge in the space connecting with both Canadian and American partners, finding opportunities for reach and measurement.
With Aashish Nathwani, Co-Founder & Marketing Director at Endy Sleep. Asshish is a digital marketing expert with nearly 10 years in the field, Aashish currently leads all marketing buying for Endy since its early stages – an e-commerce company selling Canada's most popular mattress. As Director of Marketing, Aashish is responsible for all media planning and purchasing, collaborating closely with the Endy creative team for all executions, including direct mail, out-of-home campaigns, customer communications, and retail partnerships. Prior to joining Endy, Aashish held a leadership role in digital marketing at Torstar. Passionate for developing new brands and growing existing ones, Aashish takes a digital-first approach to traditional retail products.
3:30pm-4:30pm Cocktails, Juice/Pop & Networking
Sponsored by AccuRadio & Steam Whistle Brewing
EVENT DETAILS:
JULY 11 1:00pm-4:30pm
The Spoke Club
600 King Street West, Toronto (King & Portland)
Venue: 416-368-8448
Event Questions: 647-202-9253