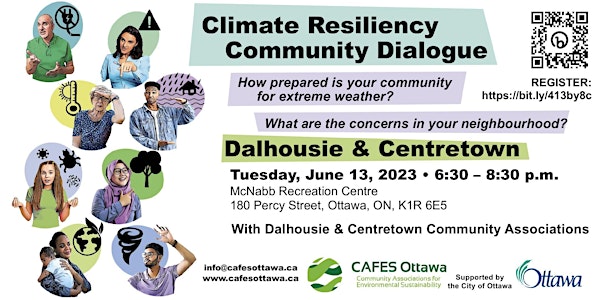 Dalhousie & Centretown Climate Resiliency Community Dialogue
A community dialogue to learn about and discuss climate impacts, climate resiliency and community preparedness!
Date and time
Tue, Jun 13, 2023 6:30 PM - 8:30 PM EDT
Location
McNabb Recreation Centre 180 Percy Street Ottawa, ON K1R 6E5 Canada
About this event
Are you interested in learning more about how climate change will affect Ottawa, and in discussing community preparedness for these impacts with other residents? Join Dalhousie and Centretown Community Associations and CAFES for a Community Dialogue on Climate Resiliency.
This dialogue will be an opportunity to learn about climate impacts and risks, and an opportunity to share how you see climate impacts affecting you and your community. It will also be a chance to discuss actions that individuals, communities and the city can take to prepare for climate impacts.
This event is part of a series of community dialogues co-organized by CAFES and partner Community Associations across Ottawa. The insights from the dialogues will be sent back to Community Associations, attendees, and to the city's Climate Change and Resiliency Unit to help inform their prospective Climate Resiliency Strategy.
** Please note that in order to keep the workshop focused on local topics and challenges only register if you live in the neighbourhood. Priority will be given to people who live in Ward 14.
Please note the following guidelines/ expectations for this event:
Be kind and respectful. There will be no tolerance for disruptive behaviour and we will be asking people to leave if necessary.
The purpose of the session is to share how climate change impacts are affecting you and your community; and to learn and share about how to respond at the individual, community and city level. Facilitators will be guiding participants to stay on this topic. CAFES is informed by the Intergovernmental Panel on Climate Change's (IPCC) Assessment Reports on the global state of climate change. The IPCC is the United Nations body that assesses the science behind climate change and has 195 member governments. Experts review thousands of scientific papers to create Assessment Reports which are in turn reviewed by governments.
We are not here to discuss the validity of the IPCC scientific and governmental consensus on the climate emergency.
The City is taking action on Climate Change based on direction from City Council and the Provincial Government
Council has declared a climate emergency and given staff direction to do this work
The province requires the City to consider and address climate change through the Planning Act and Asset Management Regulations.
Vous aimeriez connaître les effets du changement climatique sur Ottawa et discuter avec d'autres résidents des moyens de s'y préparer collectivement? Joignez-vous a l'association communautaire Dalhousie et CAFES pour un dialogue communautaire sur la résilience climatique.
Ces séances seront autant d'occasions d'en savoir davantage sur les effets du changement climatique et les risques qui y sont associés, et vous permettront de partager votre point de vue sur les effets du changement climatique sur votre vie et votre collectivité. Vous pourrez par ailleurs discuter des mesures à prendre pour y faire face à l'échelle individuelle, communautaire et municipale.
Cet événement s'inscrit dans une série d'échanges communautaires organisée conjointement par le réseau CAFES et diverses associations communautaires de partout à Ottawa. Les observations tirées des échanges seront partagées avec les associations communautaires, les participants et les membres de l'Unité des changements climatiques et de la résilience de la Ville, qui pourront ainsi mieux façonner leur future Stratégie de résilience climatique.
Afin que l'atelier demeure axé sur des sujets et des enjeux locaux, nous vous prions de ne vous y inscrire que si vous habitez dans le quartier. La priorité sera accordée aux résidents du quartier 14.
Veuillez prendre note des directives et des attentes suivantes pour cet événement :
Soyez aimable et respectueux. Aucun comportement perturbateur ne sera toléré; les personnes concernées seront priées de quitter les lieux, si cela s'avère nécessaire.
L'objectif de cette séance est de vous informer des répercussions du changement climatique sur vous-même et sur votre communauté, et de vous renseigner et d'échanger sur les solutions à apporter à l'échelle individuelle, communautaire et municipale. Les animateurs veilleront à ce que les participants ne s'éloignent pas du sujet. Le réseau CAFES s'appuie sur les rapports d'évaluation sur l'état global des changements climatiques du Groupe d'experts intergouvernemental sur l'évolution du climat (GIEC). Le GIEC est l'organe des Nations unies chargé d'évaluer la science du changement climatique et compte 195 gouvernements membres. Des experts examinent des milliers d'articles scientifiques pour rédiger les rapports d'évaluation, qui sont à leur tour examinés par les gouvernements.
Nous ne sommes pas ici pour discuter de la validité du consensus scientifique et gouvernemental du GIEC sur l'urgence climatique.
La Ville prend des mesures pour lutter contre le changement climatique, conformément aux directives du Conseil municipal et du gouvernement provincial.
Le Conseil a déclaré l'état d'urgence climatique et a chargé le personnel d'effectuer les travaux nécessaires.
La Province exige que la Ville prenne en compte le changement climatique et y réponde conformément à la Loi sur l'aménagement du territoire et aux règlements sur la gestion des actifs.