Dalitso Ruwe - Black Political Thought Speaker Series
Black Political Thought Speaker Series - Departments of Political Studies and Philosophy
About this event
" Human Rights, George Floyd, and the Eugenic Caricatures of Black Male Death"
Dalitso Ruwe
Wednesday, June 9, 2021 | 10:00 am - 12:00 pm
ABSTRACT | The public display of State violence by Minnesota Police officers that led to the death of George Floyd on May 25th, 2020, led to a global movement that called for the re-evaluation of U.S policing practices and enforcement of human rights. With respects to the enforcement of human rights, UN Council Committee Members from Burkina Faso, Iran, and Palestine, on June 17, 2020, passed the resolution A/HRC/RES/43/1, which aims at addressing "systemic racism, violations of international human rights law against Africans and people of African descent by law enforcement agencies, especially those incidents that resulted in the death of George Floyd and other Africans and of people of African descent." This resolution is in accord with the UN's mandate A/RES/68/237, which was passed in 2013 as a "Proclamation of the International Decade for People of African Descent," which began on January 1, 2015, and is set to end on December 31, 2024. The theme of the decade is "People of African Descent: Recognition, Justice and Development." While the U. N's adoption of specific resolutions that seek justice for people of African descent from police violence is a recent development in the organization's history. There exists a long tradition of Black political thought that has called attention to the systematic violence Black people face as forms of human rights violations. Drawing on anti-colonial and Black male studies literature, this talk will highlight the contemporary forms of violence that undergird the caricatures of Black males as criminals that led to the global politicizing of George Floyd's death as a symbol of human rights violation.
BIOGRAPHY | Dr. Dalitso Ruwe is currently a Post-Doc Fellow with the Extending New Narratives in the History of Philosophy at the University of Guelph. He is currently working on a monograph titled "Ontological Sovereignty: Black Philosophy & the Quest of Freedom in the Age of Slavery." The monograph gives an account of the intellectual history of 17th-21st centuries Black thought on the injustices of African enslavement in the western world. Dr. Ruwe's research focuses on the Intellectual History of Africana Philosophy, Anti-colonialism, Africana Legal History, Hip Hop Philosophy, Black Male Studies and Black Philosophies of Education.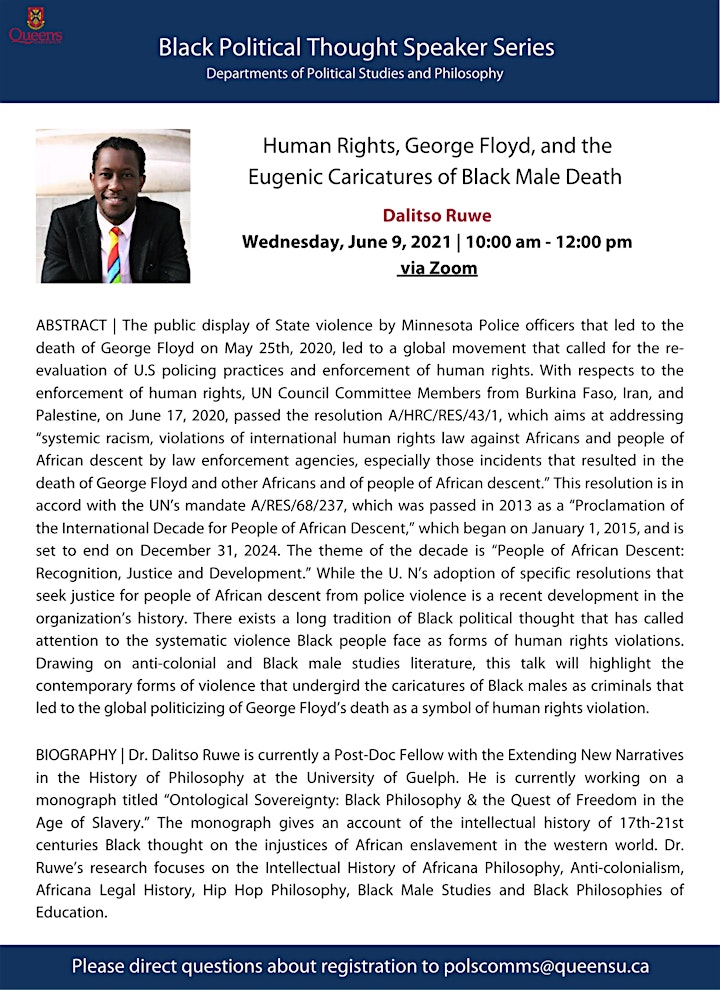 Organizer of Dalitso Ruwe - Black Political Thought Speaker Series