Sales Have Ended
Ticket sales have ended
Tickets will be available at the door $20 CASH ONLY
Sales Have Ended
Ticket sales have ended
Tickets will be available at the door $20 CASH ONLY
Description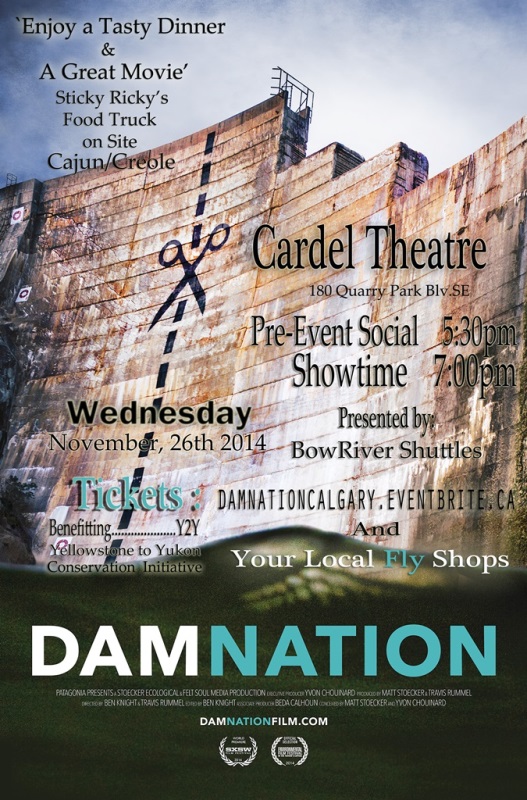 The 'Calgary Premiere' of "DamNation" will happen on Wednesday November 26, 2014.

Presented by Patagonia,"DamNation" is a Stoecker Ecological & Felt Soul Media Production.

This exciting event is being organized and presented by Michelle Magotiaux, owner/operator of Bow River Shuttles.

Net proceeds will be donated to Yellowstone to Yukon Conservation Initiative Y2Y

Dam removal has gone beyond the Monkey Wrench Gang and gone mainstream. Where obsolete dams come down, rivers bound back to life, giving salmon and other fish the right to return to spawning grounds.

DamNation's majestic cinematography moves through rivers and landscapes altered by dams. It also captures a metamorphosis in values, from conquest of the natural world to knowing ourselves as part of nature.
_______________________________________________________________________

2014 | Audience Choice - Documentary Spotlight | SXSW
2014 | Environmental Advocacy Award | Environmental Film Festival in the Nation's Capital
2014 | Official Selection | Full Frame Documentary Film Festival
2014 | Audience Award | MountainFILM, Teluride
2014 | Best Conservation Film | International Wildlife Film Festival
2014 | Audience Choice & Grand Jury Prize | Environmental Film Festival at Yale
2014 | Best of Festival | 5Point Film Festival
2014 | Nigel Moore Award | DOXA
2014 | Peoples Choice & Best Feature Film | Green Film Festival in Seoul
2014 | Best Feature Award | San Francisco Green Film Festival
2014 | Best Documentary | Destiny City Film Festival
2014 | Official Selection | Banff Mountain Film Festival
"Visually stunning...magnificently captures the natural beauty of unencumbered rivers to provide a perfect contrast with the hulking man-made obstacles that dams represent to nature's free will." - Geoff Berkshire, Variety
"A fleet movie with a convincing argument for systemic dam removal (some of which is caught thrillingly on film) and arresting nature-drenched cinematography." - Robert Abele, Los Angeles Times
"A quick, smart documentary about the havoc one country can create in its native fish populations by building 75,000 dams over an 80- or 90-year span." - Chris Packham, Village Voice
"DamNation is a movie that matters...With a blend of history, face-melting nature cinematography, and a dash of Edward Abbey-style criminal mischief, DamNation lays bare this truth in a way that is educational, entertaining, and, perhaps most importantly, inspirational." - The Santa Barbara Independent
"DamNation rolls along like a free-flowing river, powerful and inspiring. This informative film pays eloquent homage to rivers that are seemingly lost behind massive dams and then offers a compelling call-to-arms to restore these rivers by removing the dams. It is thus both educational and moving." - William Lowry, Professor of Political Science, Washington University, Author, Dam Politics: Restoring America's Rivers
Bring some extra coin for our raffles! You might leave with more than you came, thanks to our supporters and sponsors!
Doors open: 5:30 pm Please come early for a pre-event social gathering
Enjoy a tasty dinner and a great movie! Sticky Ricky's food truck on site. Cajun/Creole food!

Showtime: 7:00 pm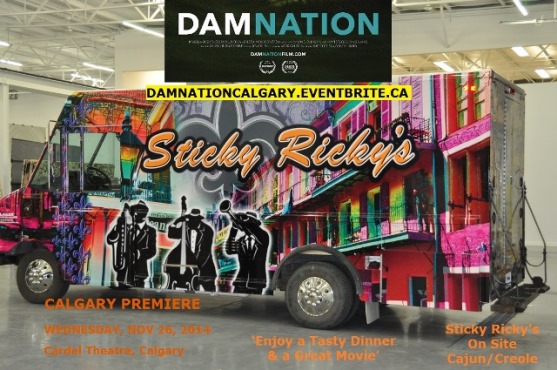 If trailer video does not appear above, please click this link: DamNation Trailer

The Cardel Theatre, the home of Michelle's 'Back Cast Fly Fishing Film Festival', is providing their beautiful theatre free of charge, as they do for similar not-for-profit events.

Cardel Theatre provides their facility free of charge for such events, in return for attendees contributing to the Calgary Food Back. Please bring a food bank donation. We strongly recommend the Safeway $5 or $10 'Care Package' or the $10 Calgary Coop 'Food Bank Bag'.

We will also be accepting donations (cash or cheque) for both the Yellowstone to Yukon Conservation Initiative Y2Y and the Calgary Food Bank.

Tickets:

At the door: $20 (cash only)
In Advance: $17 (online only, VISA/MC)

Limited Number of DISCOUNT Tickets ($15 CASH ONLY) available at:

Fish Tales Fly Shop
Country Pleasures Fly Shop
West Winds Fly Shop
Bow River Troutfitters Fly Shop
The Fishin' Hole
Iron Bow Fly Shop
Hanson's Fly Fishing Outfitters

SUPPORT YOUR LOCAL FLY SHOP
Limited seating

Previous Bow River Shuttles film screenings have sold out!
Don't be disappointed. Order your tickets today!

1. "Will Call" table for tickets will be just inside the lobby of the Cardel Theatre.
2. Valid photo ID is required for ticket pickup at "Will Call" table.
3. If you fail to pick up your tickets we shall not be responsible for this and your money will not be refunded.
4. Please arrive EARLY for best seat selection, and especially for "Will Call" tickets.
5. As a courtesy to other attendees, latecomers will be seated at the end of the first film.