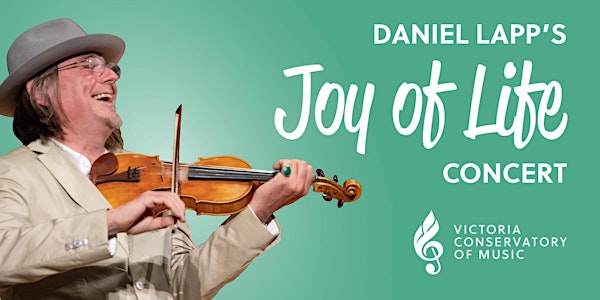 Dan Lapp's Joy of Life Concert
Victoria Conservatory of Music
Location
Alix Goolden Hall - Victoria Conservatory Of Music
900 Johnson St
Victoria, BC V8V 3N4
Canada
We're overjoyed to welcome you back to Alix Goolden Performance Hall on April 16 for Daniel Lapp's annual Joy of Life Concert.
About this event
After 2 years of an in-person hiatus, we're overjoyed to welcome you back to Alix Goolden Performance Hall for Daniel Lapp's annual Joy of Life Concert. This local event has a 20+ year history celebrating the best our city has to offer in toe-tapping folk, jazz and fiddle music with an array of special guests and Daniel's wide variety of student ensembles. 
These student ensembles include the Joy of Life Choir, the BC Fiddle Orchestra, and Folkestra with over 100 performers eager to perform onstage in front of a live audience. For this concert they'll be celebrating some BC and Canadian Folk Music and Songs including 'Wayward Heart' by Newfoundland's, Pamela Morgan, 'Counting Mercies' written by Calgary's Jann Arden (along with the VCM's own piano instructor, Darcy Phillips) and 'From This Moment On' by Shania Twain. As well, the choir will perform iconic songs by Peter Gabriel & Otis Redding. 
"All the students and our house band of local musical legends are thrilled to be launching this year's Joy of Life Concert in front of a live audience on the Alix Goolden Hall stage! We are putting together a lively show of upbeat music that we hope will fill our audience's hearts and remind everyone of the thrill of live music!"
Special Student Performances 
Every year the Joy of Life Concert celebrates members of the BC Fiddle Orchestra who are graduating high school and thereby ending their tenure with the BCFO. This year we will feature 3 grads who are thrilled to have the opportunity to perform live in front of an Alix Goolden Hall audience.  
Cohan Lynne 
Jasper MacLennan 
Willa Herwig 
Special Guest 
We're delighted to have Canadian Indie Rock musician/singersongwriter, Kathryn Calder join us as this year's special guest. Kathryn has released 3 albums as a solo artist on her own label, most recently with a self-titled album in 2015. She also tours the world as a member of the iconic Canadian band, The New Pornographers after having replaced Neko Case in 2006.  In 2018, she formed the band, Frontperson with Mark Andrew Hamilton (AKA Woodpigeon). Billboard claimed the duo to be "Musical love at first sight." Now after a short pandemic-pause, the duo will release their sophomore album Parade on April 29, 2022 digitally and on limited edition CD and LP via Oscar St. Records. 
Please Note: Entrance for this event will be at the Victoria Conservatory of Music Main Entrance- 900 Johnson Street.