Dance of Breath ~ 1-day Women's Retreat

Saturday, 26 May 2018 from 9:00 AM to 5:00 PM (PDT)
Event Details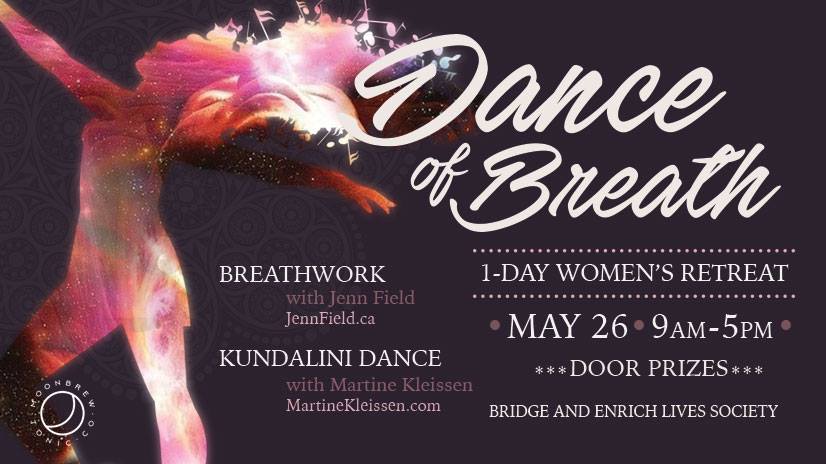 Join us for a 1 Day Women's Retreat to experience the Dance of Breath!
Jennifer Field and Martine Kleissen have teamed up to create an incredible opportunity to be able to experience deep personal exploration and transformation through the Dance of Breath.
In this retreat we will begin with a warm welcome and delicious chai tea before we open in introduction and celebration. We will explore and experience the benefits of Kundalini Dance and Conscious Connected Breathing, in a safe and supported way. We dive deep into our personal transformation, while being an important part of the collective co-creation.

Our sponsors will help to nourish us with Moonbrew Tonics, DoTerra essential oils, and other yummy door prizes. Tickets also include a hot catered lunch by food alchemist, Zain Jamal.
We will end in a closing circle before departing with our new tools, closer connections and all the goodness of the day.
Saturday May 26, 2018 
9am – 5pm
At the Bridge and Enrich Lives Society, Vancouver.
SCHEDULE OF EVENTS: 
*9am – Arrival & Chai
*9:30- Opening Circle
Kundalini Dance
Catered Lunch & Door Prizes
Breath Ceremony
*3:30 – Closing Circle
*4:30 – 5pm – Hugs & Goodbyes
REGISTRATION DETAILS:
**The first 25 women who register will be entered into a draw to win one of two gift certificates for distant sessions with Jenn or Martine (over $200 in value), and get an additional $10 off the ticket price!**
Registration closes May 22nd at 12pm (noon) so we can prepare for our catered lunch.
First 25 Tickets – $140 + entrance into draw
Last 15 Tickets – $150
You can register in 1 ways:
1. E-transfer to claim your spot. Please also Email your first and last name, email and password of e-transfer to: Love@MartineKleissen.com.
2. Pay with creditcard through Eventbrite
We are excited to have you in circle.
Find your flow, increase your glow, Discover your Dance of Breath!
---
ABOUT YOUR FACILITATORS: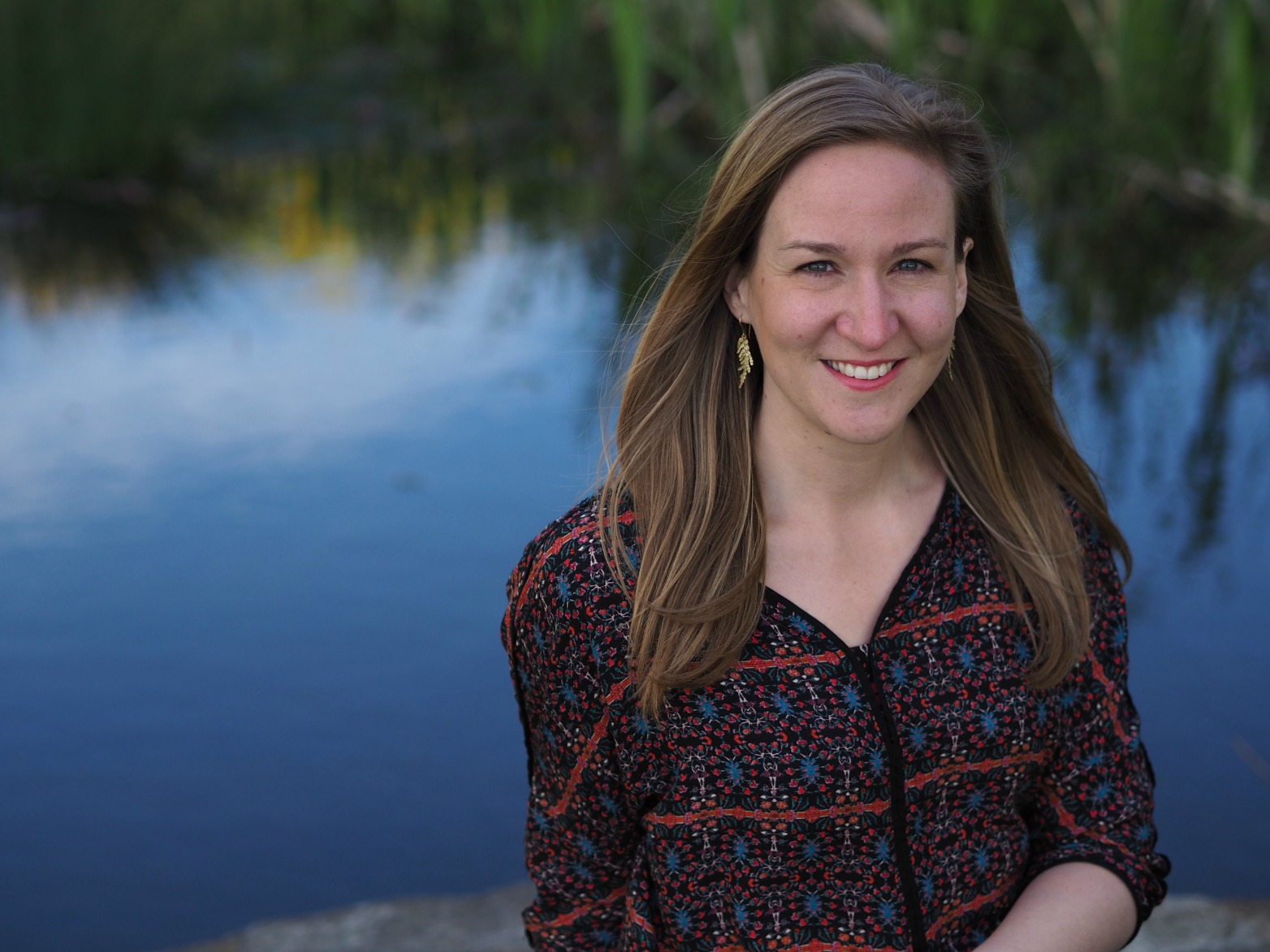 Martine passionately creates opportunities for people to feel the power and wisdom of their heart and its ability to be a catalyst to thrive in life and feel more connection, transformation, vibrancy, abundance and freedom. She finds her inspiration in helping others remap and heal their mind, body and spirit and thus amplify their health, wealth and joy through a holistic approach to wellness and freedom-living. First introduced to Kundalini Dance™ in 2009, she transformed her life though the sacred practices and connection to her inner dancer through the alchemical breath keys and shamanic healing. She travelled to Australia in 2013 to become a certified facilitator and loves creating sacred spaces for women to dance their divinity in sisterhood and inspire transformation and connection within. Connecting and embodying inspiration, wonder and joy in her daily life, Martine is also  'heartpreneur' and believes self-love, heart-centered connection and transformational-growth flourish when in union with sacred connection and authentic expression. www.martinekleissen.com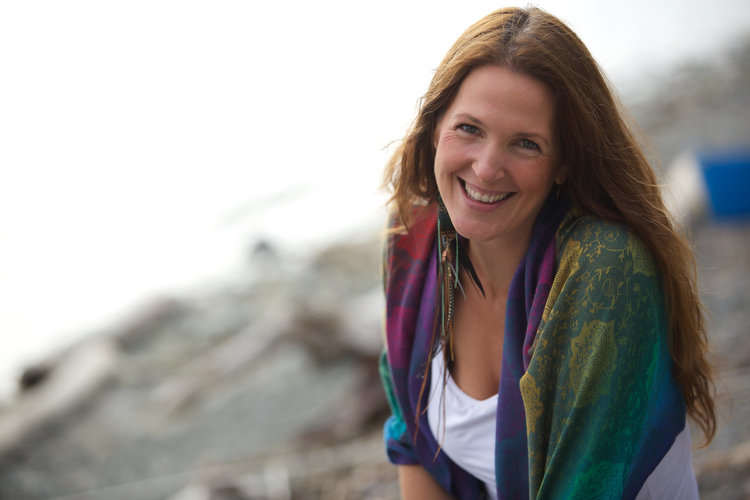 Jenn walks between two worlds and appreciates the polarity as the balance of unity. With a rich and extensive background in both mainstream and holistic healthcare, she offers a whole person perspective and unique approach to the services and facilitation that she provides. Her intent is to allow for the miraculous, using divine inspiration to draw upon the practical tools that are most needed at any given moment, adapting them to meet the person, group or situation being served. The use of radical intuition, extensive varied experience, and a passion for being of service is a natural formula to assist others in unlocking the keys to embody their Divine Presence and Souls Purpose by overcoming personal challenge or trauma and finding deep inner peace. www.jennfield.ca
---


TESTIMONIALS:

"This process allowed me to grow with ease through both the challenges and blessings that surfaced. I'm grateful for Martine's beautiful facilitation and her ability to hold the space of transformation. If you're feeling the pull to attend, trust it. You'll be amazed at what possibility awaits you." Cara Halber | Registered Holistic Nutritionist

"Kundalini Dance with Martine has allowed me to experience a deeper form of ecstasy and wisdom of my true potential. With every movement in my body I have discovered the transformation of my divine self expressing in its true nature. This dance is sacred and a beautiful way to embody freedom within yourself. Thank you Martine." Baljit R | Lotus Destiny

"The combination of breath work, dance, and guidance made for a euphoric ride. It feels like I am at a rave but on a spiritual, self-induced high…the best kind! I see my life clearer, my ego surrenders, and I released energy blockages. It helped me through my fear and anxiety. Not sure what I would have done without it." Gertie




By signing up for this series you will be added to both Jenn's and Martine's newsletter. Cancellation Policy: Registered seats are non-refundable and cannot be used as credits.
When & Where

Bridge & Enrich Society
718 East 20th Avenue
Vancouver, BC V5V 1N3
Canada

Saturday, 26 May 2018 from 9:00 AM to 5:00 PM (PDT)
Add to my calendar