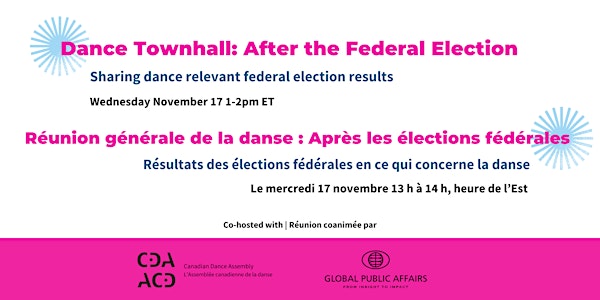 Dance Townhall | Réunion générale de la danse
Dance Townhall: After the Federal Election | Réunion générale de la danse: Après les élections fédérales
Refund Policy
Contact the organizer to request a refund.
Eventbrite's fee is nonrefundable.
About this event
Sharing dance relevant federal election results
Canadian Dance Assembly hosts with guests Global Public Affairs
Wednesday November 17, 2021 | on Zoom
10:00-11:00am Pacific
1:00-2:00pm Eastern
2:00-3:00pm Atlantic
Join us and the Global Public Affairs' Cultural Industries team for a breakdown of the 2021 federal election results and what they mean for the dance sector. This post-election webinar will provide insights on upcoming government priorities, COVID-19 recovery funding, other supports available to Canada's arts and culture sector, and opportunities to engage in this post-election context. The presentation will be followed by a question-and-answer period, and an open discussion on how to ensure that you have the right information to support your work.
Featuring Tara Mazurk, Director, Cultural Industries and Abby Tait, Associate Consultant from Global Public Affairs.
This 1-hour meeting will include:
What the election results mean for dance organizations & individuals across Canada.
A presentation of dance sector specific opportunities by Global Public Affairs.
Other pertinent dance sector information; vaccine roll out, benefit programs and Covid-19 related updates.
Open floor discussion to support your questions.
All dance organizations and individuals, members and non-members are welcome. Attendance is free, pre-registration is required.
ACCESS:
ASL Interpretation available
This is an English language event. Questions can be asked in French to the moderator and will be answered publicly in English.
This meeting will not be recorded.
Auto-captions available.
This is a caregiver friendly meeting; we realize the complexities of our living situations and welcome you to show up as you need.
Email Oriana at oriana@cda-acd.ca if you have any questions or access requests - we will do our best to accommodate.
Résultats des élections fédérales en ce qui concerne la danse
L'Assemblée canadienne de la danse anime la réunion avec des invités de Global Public Affairs
Le mercredi 17 novembre 2021 | Zoom
10 h à 11 h, heure du Pacifique
13 h à 14 h, heure de l'Est
14 h à 15 h, heure de l'Atlantique
Joignez-vous à nous et à l'équipe du secteur culturel de Global Public Affairs pour analyser les résultats des élections fédérales de 2021 et ce qu'ils signifient pour le secteur de la danse. Ce webinaire postélectoral donnera un aperçu des priorités gouvernementales à venir, des fonds de relance liés à la COVID-19, des autres soutiens disponibles pour le secteur des arts et de la culture au Canada ainsi que des possibilités à saisir dans ce contexte postélectoral. La présentation sera suivie d'une période de questions-réponses et d'une discussion ouverte sur la manière de s'assurer que vous avez la bonne information pour soutenir votre travail.
Avec la participation de Tara Mazurk, directrice du secteur culturel, et d'Abby Tait, conseillère associée de Global Public Affairs.
Cette réunion d'une heure comprendra :
● Ce que les résultats des élections signifient pour les organismes et les professionnel.le.s du secteur de la danse dans l'ensemble du Canada.
● Une présentation des possibilités propres au secteur de la danse par Global Public Affairs.
● D'autres renseignements pertinents concernant le secteur de la danse : campagne de vaccination, programmes d'avantages sociaux et mises à jour relatives à la COVID-19.
● Une discussion ouverte pour répondre à vos questions.
Tout le monde est bienvenu : organismes et professionnel.le.s du secteur de la danse, membres et non membres. La participation est gratuite; l'inscription préalable est requise.
ACCÈS :
La langue ASL (langue des signes américaine)
L'événement se déroulera en anglais. Il sera possible de poser des questions en français à la modératrice, qui y répondra publiquement en anglais.
Cette réunion sera enregistrée.
Le sous-titrage automatique est disponible.
Il s'agit d'un événement convivial pour les aidants et les parents. Nous sommes conscients de la complexité des situations de vie et nous vous invitons à vous présenter selon vos besoins.
Pour toute question ou demande d'accès, communiquez avec Oriana à oriana@cda-acd.ca. Nous ferons notre possible pour répondre à vos besoins.