Dances for a Small Stage 29

Daily Event: 8:00 PM to 10:00 PM (PDT)
Event Details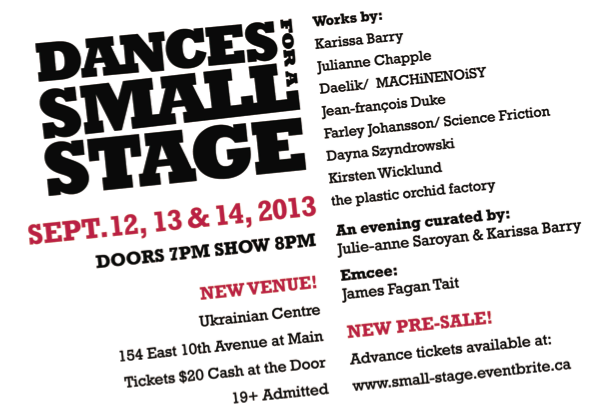 About Dances for a Small Stage:
Since its inception in 2002, Dances for a Small Stage has wowed audiences by tearing down formalities and creating intimate, raw scenarios in which to experience dance. The popular series is renowned for bringing unique and innovative contemporary dance, inclusive of all disciplines, to a rough–and–tumble cabaret setting.
Over the years, more than 200 artists have performed on its 10-by-13-foot stage to packed crowds who enjoy the series' raucous celebratory atmosphere and cutting–edge choreography. Urban, dynamic and full of imaginative and diverse programming, the Small Stage series has become a mainstay of the Vancouver arts scene with its inventive approach to live dance-theatre. For more information, visit www.movent.ca.
About MovEnt:
Founded in 2001, MovEnt is a Vancouver based, charitable non-profit dance society devoted to producing new contemporary dance work, supporting dance artists and developing an audience for contemporary dance. MovEnt produces dance that encourages high expectations and produces accessible, engaging art.
Where

Ukrainian Centre
154 E 10th Ave
Vancouver, BC V5T 3E5
Canada

Daily Event: 8:00 PM to 10:00 PM (PDT)
Add to my calendar
Organizer
vision | mission
small stage is a platform to share with and connect people through dance.

we bring artists and audiences together through dance works that everyone can enjoy and appreciate.

we engage and encourage innovative interdisciplinary and trans-cultural works that strive for artistic excellence.

we mix musicians, theatre practitioners and technologists with dance and movement at its foundation.