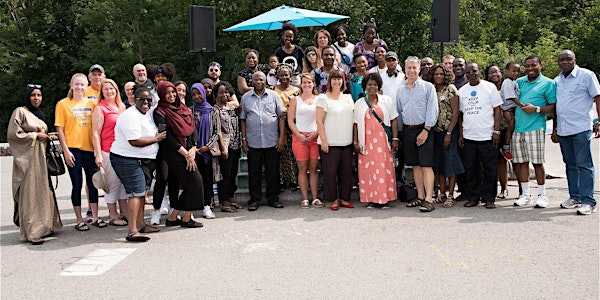 DAPO AGORO SYMPOSIUM 2022 : Resilience
2022 THEME: RESILIENCE The Dapo Agoro Foundation for Peace embraces Dr. Martin Luther King Jr.'s vision of a world where nonviolence is a w
About this event
The Dapo Agoro Foundation for Peace embraces Dr. Martin Luther King Jr.'s vision of a world where nonviolence is a way of life. Dr King pointed out that nonviolence means more than the absence of physical violence. Nonviolence is not passive, but a courageous, active resistance to injustice. It is a way of life reflected in thought and deed, a method of conducting yourself in all of your affairs. The Dapo Agoro Foundation for Peace seeks to create a forum for the community to address the problem of youth violence in our communities and a support group for families that are victimized as result of youth violence.
Our commitment is to launch innovative projects and programs that promote non violence among our youths through the use of positive re-enforcement by awarding an annual peace award to a student at Lester B. Pearson High School who demonstrates these traits. We aim to promote ideas against youth violence through the use of state-of-the-art communications technology.
We seek new partnerships with organizations and individuals who demonstrate commitment to help educate people all over the world in Nonviolence. We will continue to support organizations that have missions similar to that of the Dapo Agoro Foundation for Peace.
Things you should know... http://www.dapoagorofoundation.org/aboutus.html
Road to Resilience Panelist
TOPIC
The Dapo Agoro Foundation will be celebrating the 20th anniversary of Dapo Fun Day on Saturday August 20th with a virtual panel discussion around The Road to Resilience.
A little background, 20 years ago, our son, brother, and friend Dapo Agoro lost his life due to knife violence. But sadly, his story is not an isolated incident; we are still hearing reports of our young men & women hurt and even killed by knives. To not only honour Dapo's memory but to give back to the community, the foundation was started.
The Dapo Agoro Foundation is a non-profit organization aimed to promote non-violent conflict resolution. We could not let this year go by without having meaningful discussion around the importance of building up resilience. As people, we all face trauma, adversity and stress on a daily basis and the ability to recognize and recover is a tool that we all need in our wheelhouse. We are continuing our discussion from last year around building a healthier, stronger community to support our youth as they navigate their lives.
Buuma Maisha
Buuma Maisha is an Assistant Professor of psychotherapy and counselling at Saint Paul University, Ottawa, Canada. He is a member in good standing with the College of Registered Psychotherapists of Ontario. In the past decade, he has been practicing individual, couple and family therapy, and working as consultant with different organizations providing counselling services to sexual and war related trauma survivors in Canada and abroad. As a researcher, Professor Maisha is interested in socio-cultural norms and their implication in the relational life of sexual trauma survivors; he also studies cultural contextualization and modeling of psychotherapy. One of his most recent publications proposes a relationship-based therapeutic approach: R-STO ; an approach focusing mainly on healing the effects of social marginalization of survivors of sexual violence in the context of sexual taboos.
City Fidelia
Luigi Fidelia (March 10, 1990) known professionally as City Fidelia, is a Canadian rapper, community builder, and entrepreneur emerging from Ottawa, Ontario. Having performed at sold-out shows in North America, Asia, and Europe, City Fidelia often considers himself as an artist from a small city with big dreams. He has previously collaborated and gained recognition from artists like Malik Yusef of G.O.O.D Music, Timbaland and Vic Mensa.
Also known for his entrepreneurship, Fidelia founded the Real House of Ensemble, which he along with partners Stan Lukoki, the head of the agency, Abe Abadi and his brother Jeff Sanon in 2020. He also worked as a program director position at the CHUO radio station.
From the age of nine, Fidelia's mother was a strong support for kids in their community by bailing them out of jail and providing a space for the young homeless to stay. Fidelia credits these actions for inspiring him to become a community builder with an entrepreneurial spirit.
Myriam Georges-Estigène
Myriam Georges-Estigène holds a master's in counselling psychology from the University of Ottawa and is a Registered Psychotherapist (Qualifying) in the province of Ontario. As a young Haitian-Canadian woman, she understands the social and cultural constraints that impact one's ability to fully explore and express themselves. Through her academic, professional, and personal experience, she aims to combine her expertise in mental health with community building. She currently co-hosts a bi-weekly podcast called Shades of Black, a platform where she converses and sheds light on the Black experience and its mental health aspects. Myriam wishes to empower her community through self-exploration and self-healing, in a manner that respects all sociocultural identities and contributes to communal well-being.
Toni Jacob
Anthonette Jacob, born in St-Vincent and The Grenadines, immigrated to Canada at the age of eight with both her mother and father. She obtained a diploma in Business Administration and Events Planning and has sat on multiple boards aimed at serving Ottawa's Black communities.
Her experience in working and living in the community for over 40 years, has allowed her to create the first and only Black-led holistic community centre in Ottawa: The African, Caribbean & Black Wellness Resource Centre. This centre, a VISION that she had since her adolescence, is a safe space for Black community members living in Ottawa to learn, connect, and development their skills in a manner that contributes to their wellbeing and the socioeconomic advancement of Ottawa's Black communities.
Cancer While Black a short docuseries, also featured in the Ottawa Black film Festival this year is a testimony to her own journey as a Black woman diagnosed with breast cancer. Finding the lump in her right breast, in the year 2021, set her on a new path to self-discovery and self-mastery. Her intention with this first docuseries is to highlight some of the challenges Black community members, including herself, have faced throughout their own personal encounters with Cancer. Although many studies in the United States and United Kingdom have shown high rates of cancer amongst Black communities, Canadian research and data of this nature are rare; thus, increasing Black Canadians chances of getting diagnosed with cancer. Anthonette created this short film to highlight the impact of this disease in Black communities, as well as the strength and resilience that can arise as black women learn to heal themselves.