Learn about career opportunities and the journeys of STEM Women at the Department of Defense. What makes them extraordinary?
About this Event
DARE TO BE EXTRAORDINARY: Defence Women in STEM
Defence is a place for women.
If you're intrigued, allow us to demystify and highlight some of the extraordinary careers of Defence women in STEM.
In recognition of Women's History Month, the Department of National Defence and the Society for Canadian Women in Science and Technology are pleased to present "Dare to be Extraordinary: Defence Women in STEM". We will hear from some of the pioneers, innovators, and front-runners in the Department of National Defence and the Canadian Armed Forces – trailblazers in STEM who are successes in their own right and inspirations for the women leaders of tomorrow.
Learn about the pivotal role of women in Defence, and especially about the women who are making history today. Meet the panelists, who have not only navigated the difficulties of being a woman in STEM, but have excelled in their medical, aerospace, and engineering fields – all within the Defence team.
We invite you to join us in celebrating the achievements of women in Defence, and their truly extraordinary STEM careers!
SPEAKERS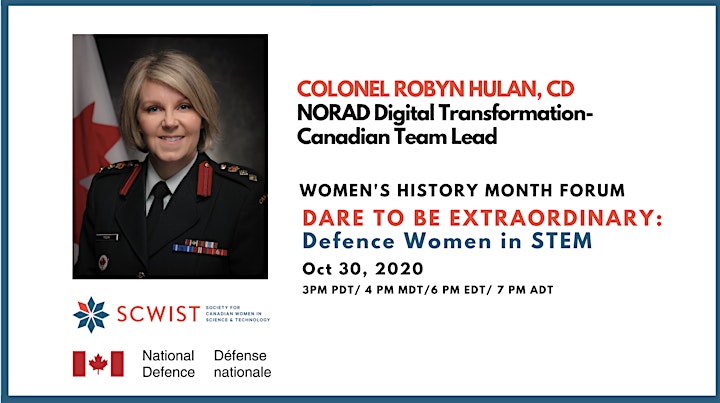 Born and raised in Labrador City, Newfoundland, Colonel Robyn Hulan enrolled in the Canadian Armed Forces in 1992 and graduated from the Royal Military College in 1997 with a Baccalaureate in Civil Engineering, and has successfully completed her Masters in Defence Studies. Her profession has spanned Signals Intelligence, Electronic Warfare and Information Technology.
Career highlights include deployments to Bosnia and Afghanistan, commanding 21 Electronic Warfare Regiment, a four-year exchange posting at the National Security Agency in the United States and serving as Executive Staff to multiple 3-Star Generals within the Canadian Armed Forces.
Colonel Hulan is currently serving as the Canadian Team Lead for the Digital Innovation initiative at North American Aerospace Defence Command (NORAD) in Colorado Springs, Colorado.
She is married to Colonel Corey Crosby, and they have a 6-year old son, Brody. Avid travelers, they have experienced the history of the Incas in Machu Picchu, trekked to the summit of Kilimanjaro, and have holidayed in paradise in Bora-Bora. Whatever the new normal, their passports will be ready!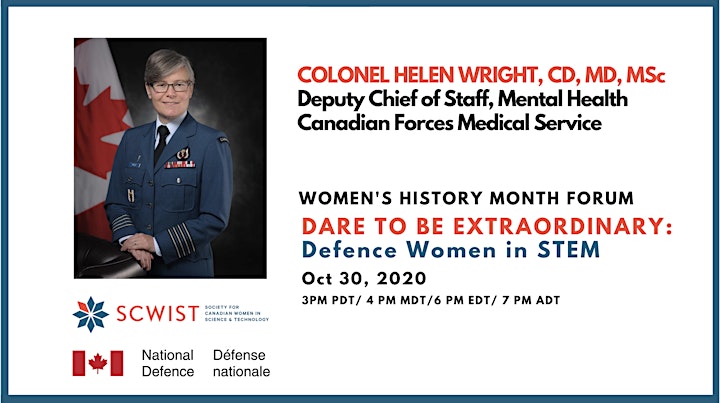 Colonel Helen Wright is a physician with training in Family Medicine, Aerospace Medicine, Public Health and Flight Safety. She has worked in a variety of positions including Brigade Surgeon in Petawawa and Base Surgeon in Halifax. She built on early career experience supporting the RCAF as a bioscience officer, which among other activities included providing human factors expertise to DFS and research on G forces, when she completed a second medical residency in Aerospace medicine in Pensacola Florida with the US Navy. She was delighted to assume roles as 1 CAD Surgeon in Winnipeg in July 2014 and subsequently RCAF Surgeon in Aug 2017. Col Wright`s deployments include Pakistan on a humanitarian mission, Afghanistan at the NATO Multinational Role 3 hospital, and a year in Iraq working with the Iraq military and police to improve their medical systems.
Col Wright assumed the role as DCOS Mental Health in July 2019.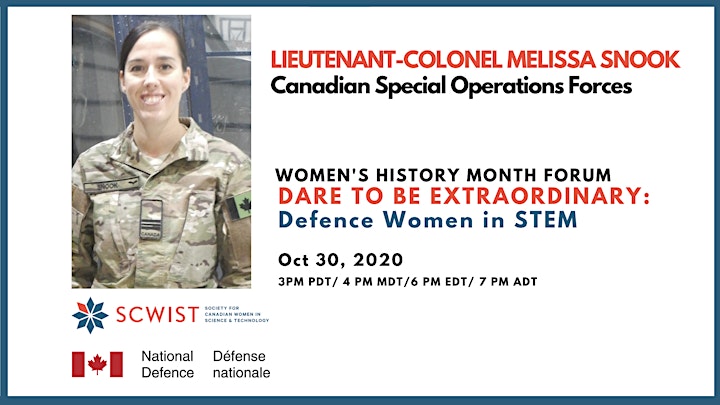 Melissa Snook is originally from Conception Bay, south Newfoundland, and she enrolled in the Canadian Armed Forces in 2001 to go to the Royal Military College of Canada. After a preparatory year in St. Jean, Quebec, she spent the next four years in Kingston where she graduated with a double major in Physics and Space Science in 2006.
After being trained as an Aerospace Engineer, Lieutenant-Colonel (LCol) Snook was posted to 408 Tactical Helicopter Squadron in Edmonton. While at 408 Squadron, she had the opportunity to deploy to Afghanistan as a maintenance manager for the CH-146 Griffon and CH-147 Chinook helicopters.
LCol Snook has also served at the Tactical Aviation Headquarters in Kingston and was then an aide for the Chief of the Defence Staff (CDS), General Lawson in Ottawa for two years. In this job, she planned events for the CDS and travelled with his team internationally. Some of the places she visited include Iraq, Saudi Arabia, Brunei, Singapore, and the Canadian Arctic.
Following her time with the Chief of the Defence Staff, LCol Snook wanted a new challenge and therefore applied to work in our Canadian Special Operations Forces. She was selected to be the Maintenance and Engineering officer at 427 Special Operations Aviation Squadron (427 SOAS) in Petawawa in 2015. This was a career highlight for her because she worked with an incredible team. She was subsequently posted to Toronto for a year to attend Staff College, where she earned a Masters Degree in Defence Studies, and completed an internship at Air Canada. Her other academic accomplishments include a Masters in Business Administration from the University of the Arts in London, UK.
After Toronto, LCol Snook was selected to go back to 427 SOAS as the Deputy Commanding Officer. To her surprise, after one year, she was asked to deploy overseas as a detachment commander and recently returned in April. LCol Snook was recently promoted and took on a new role in September overseeing aviation requirements for Canadian Special Operations Forces. For hobbies, she enjoys snowboarding, stand-up-paddle boarding, running, and travelling.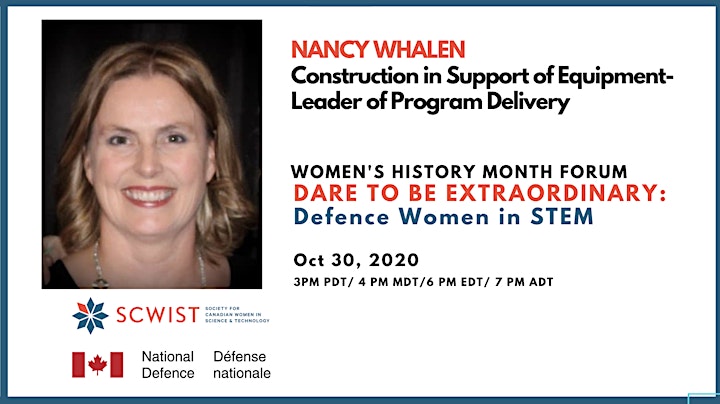 Nancy Whalen graduated from the Royal Military College in Kingston with an engineering degree. She spent over 20 years in the Royale Canadian Air Forces (RCAF) as a Military Engineer commonly known as a Construction Engineer where she occupied various positions with the Real Property Operations group. For the last 15 years, Nancy has been working in the Directorate Construction Project Delivery in ADM(IE) delivering many infrastructure projects both in uniform and then as a civilian with the public service.
Nancy is now responsible for the Construction in Support of Equipment (CISOE) projects including delivering the infrastructure for the Future Fighter Capability Project, Remotely Piloted Aircraft System, Strategic Tanker Transport Capability and Canadian Ship Combatant. He role include being the main point of contact and working with the equipment project to plan the delivery of the infrastructure program.
Nancy holds a Master of Business in Complex Project Leadership from Telfer University of Ottawa, has achieved PM 3 level from DND and is a member of the Project Management Professional. Nancy is married to an Air Combat System Officer with the RCAF and her daughter, Jacqueline, will graduate as a civil engineer from the University of Ottawa in May 2021. Her spare time is usually spend reading, travelling and riding her horse Maya.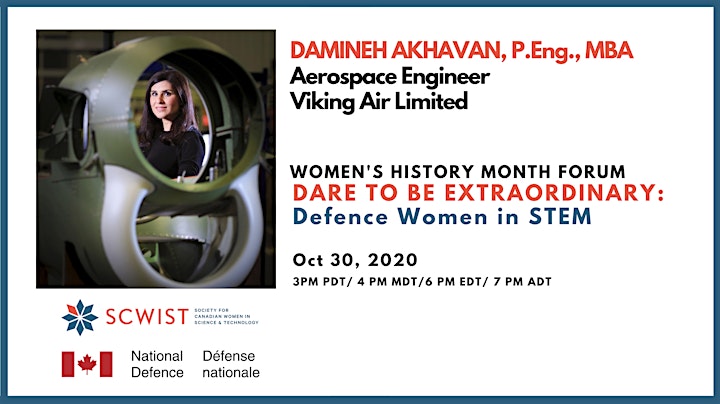 MODERATOR
I was three when I watched the Space Shuttle Challenger take off with Sally Ride, the first American woman in space, on board. By the age of eight, I knew I wanted to be an astronomer to discover a planet on which humans could survive, an engineer to build a spacecraft, and an astronaut to fly all underprivileged people on Earth on the spacecraft I had built to the planet I had discovered. It was this goal that resulted in my parents moving to Canada when I was a teenager, and which paved the way for my endeavours as a professional.
I hold a Bachelor of Engineering in Mechanical Engineering with specialty in Aerospace and a Bachelor of Science in Physics as well as an MBA in International Business. I am a Senior Engineer at Viking Air, where I have worked for the past 15 years, and a Transport Canada Designated Engineer supporting the world's 1500 de Havilland legacy and CL waterbomber aircraft. I have been an advocate for women and children in STEM for the past 15 years, a passion that has grown over the years especially after becoming a mother; it is for this reason that I am involved with SCWIST and the great committees it supports.
PHOTO AND VIDEO CONSENT
By registering for the event, you understand that the session may be video recorded and/ or photos will be taken for use in SCWIST and/or Department of Defence digital communication platforms, including but not limited to: the SCWIST/ Department of Defence website, e-newsletter, Twitter, Facebook, Instagram, Youtube, and others. You therefore are providing consent for your image and voice to be used by SCWIST and the Department of Defence for free and in perpetuity.
If you do not want your image to be captured in video or photographically, please ensure that your camera is off during the session.
QUESTIONS AND FEEDBACK
For questions about the event, or to sign up as a speaker, please contact Khristine Carino, Director for Events, by email at director-events(at)scwist.ca.