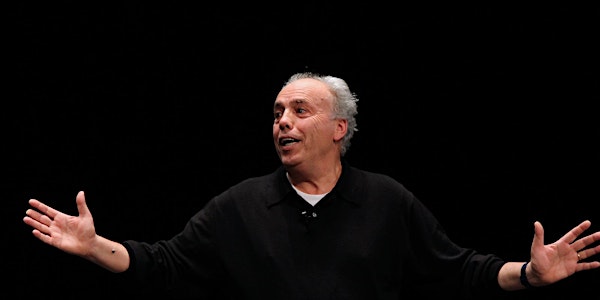 Dario Fo's "Francis, the Holy Jester" performed by Mario Pirovano
Mario Pirovano will be performing in the Canadian premiere of Dario Fo's, "Francis the Holy Jester"
When and where
Location
Robert Gill Theatre 214 College Street Toronto, ON M5T 2Z9 Canada
About this event
Francis the Holy Jester is a one man show, a play which relies on the considerable skill of a highly experienced performer and the imagination of the audience. This is a show without props, without scenery and with the simplest of costume where the bond between the audience and the performer, and thus the material and subject is tangible, visceral. A whole range of characters from 13th Century Italy are brought to life before us: Popes and Cardinals, Dukes and Duchesses, soldiers on the battle field, traders in the marketplace and St Francis himself.
"Mario Pirovano is a self-taught actor of great expressive quality. For years he came to listen to my performances and attended the lessons and demonstrations I gave to young actors. Eventually, he had absorbed, like a sump pump all of the tricks and "know-how" of the trade to the extent that he was capable of performing alone with great success. I personally attended a performance of his at the University of Florence, in the Faculty of Arts. I found him exceptional. Above all he didn't parody me, he didn't imitate me. He demonstrated an energy that was all his own, and the drive of an incredibly talented storyteller."
(Dario Fo, Florence, June 1991)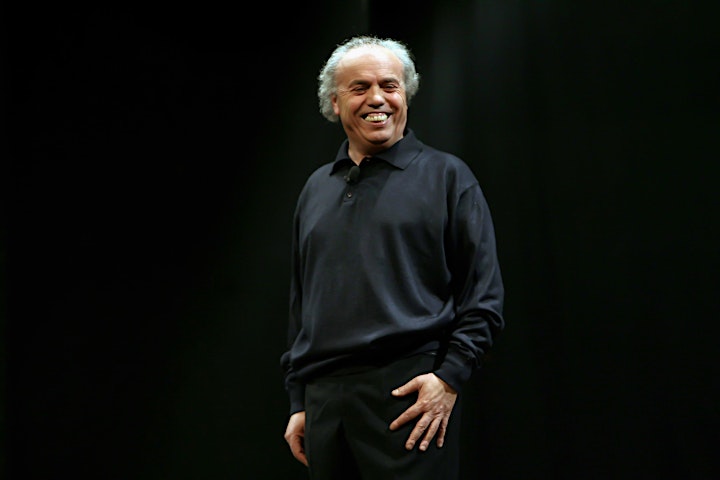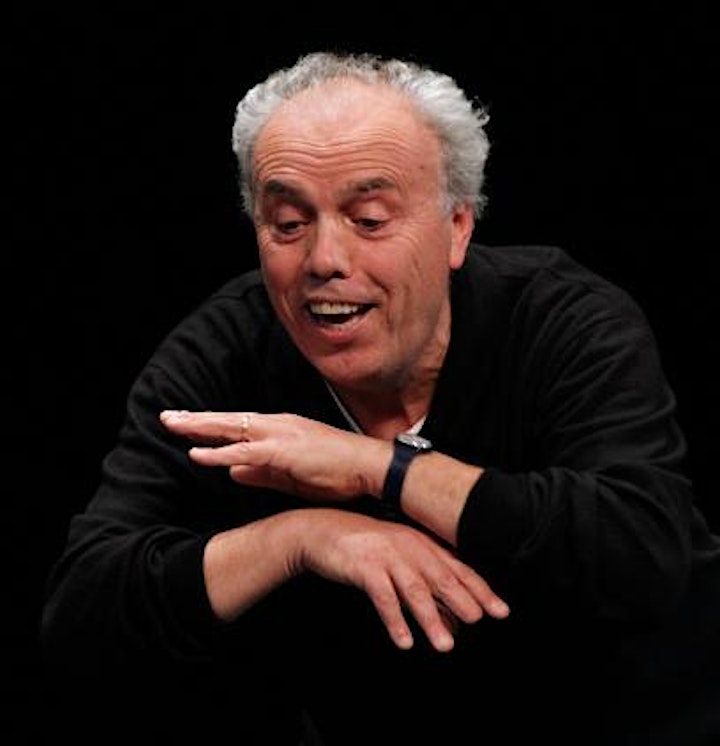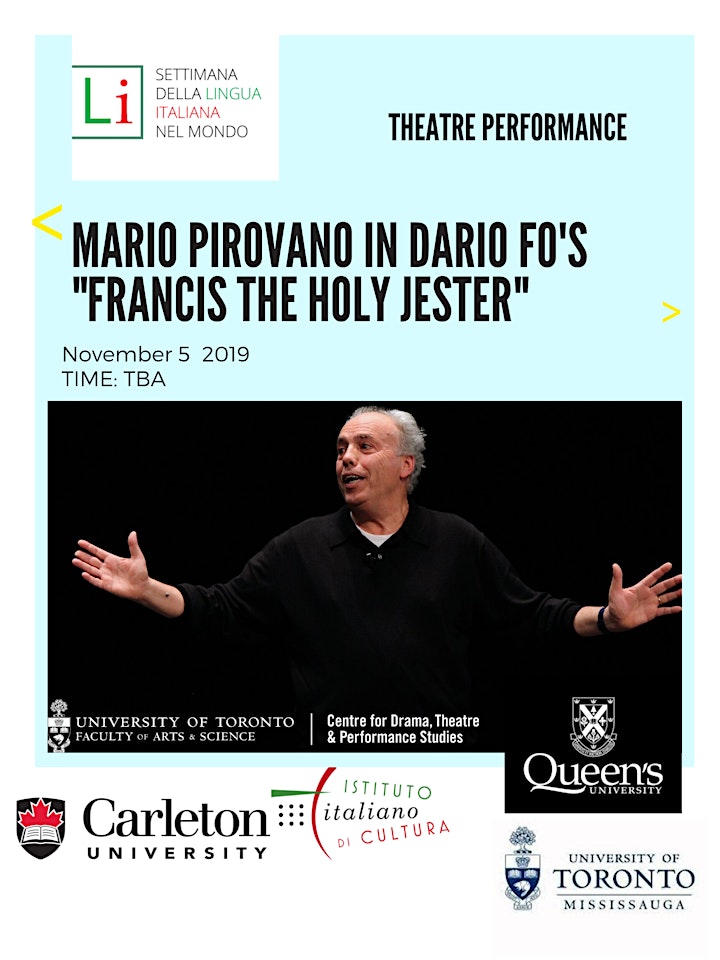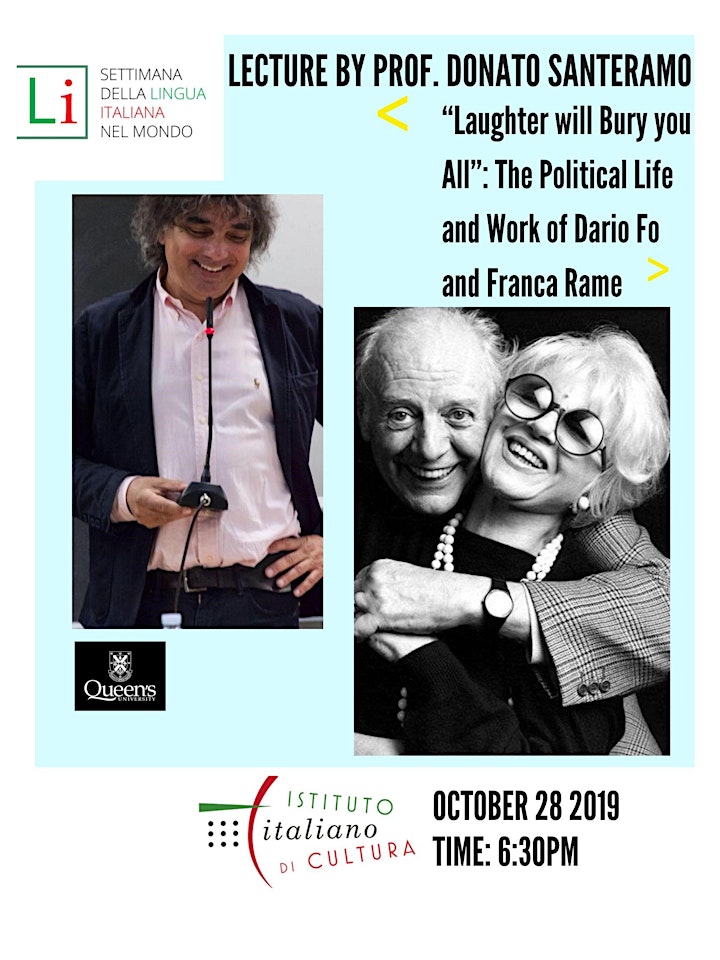 OCTOBER 28 | 496 Huron Str. 6.30pm (Registration NOT required)
Lecture: "Laughter will Bury you All": The Political Life and Work of Dario Fo and Franca Rame
On the occasion of the upcoming theatrical performances by Mario Pirovano of "Francis the Holy Jester", celebrating the 19th Edition of the Week of Italian Language in the World, Prof. Donato Santeramo will present the lecture titled: "Laughter will Bury you All": The Political Life and Work of Dario Fo and Franca Rame.
Dario Fo and Franca Rame's essential element of dramaturgy is ideology, actually it is political, as theater is considered to be a thorough investigation of society. In fact, for Fo, its primary function is to scrutinize the powerful and, thus, subvert official culture. He pursued this objective through his performative texts with his own idiosyncratic use of voice, oral language (grammelot) and body language and by the unique and courageous production politics he adopted over the years while relying heavily on the Commedia dell'Arte tradition. Dr. Santeramo's talk will explore the intrinsic connections of his work and life and the essential contributions made by his companion, Franca Rame, to his opus.
Dario Fo, together with Franca Rame, is conceivably one of the most performed playwrights in the world. The 1997 Nobel Prize recipient wrote dozens of successful plays, theoretical and literary texts. He was also a world-renowned painter. However, more than anything else, he thought of himself as an actor/playwright. This said, Fo cannot be fitted into any of the contemporary existing artistic categories as he belonged to a theatrical "counter tradition". In fact, the essential element of his dramaturgy is ideological. The talk will take a close look at the intertwining of Fo's work with his life and times while emphasizing the international breadth of his opus and the major role Rame played in the transcription/elaboration of the plays.
Donato Santeramo is Head of the Department of Languages, Literatures and Cultures at Queen's University. He has published extensively on theatre and literature. His most recent endeavors include a monograph Il laboratorio teatrale pubblico di Edward Gordon Craig (2018), a co-edition with Marisa Pizza and Donatella Gavrilovich, Franca Rame: Una vita mille Avventure (2016), Pirandello e la fede: Tra immanenza e mito (2019) and Gordon Craig: Carlo Goldoni e la scomparsa dell'attore creativo (2019). In 2017, Prof. Santeramo was commissioned by the Stratford Festival to write a literal translation of Edoardo DeFilippo's Napoli milionaria!, which was staged as part of Stratford's 2018 season. He is presently working on Twentieth-Century Italian Filmmakers, with Manuela Gieri (3 volumes).
The lecture will be presented in English.