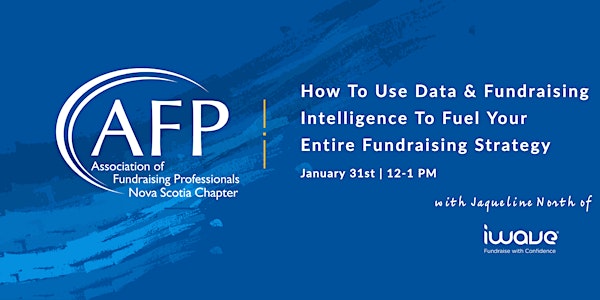 Data and Fundraising Intelligence: Fuel Your Entire Fundraising Strategy
TBD
By Association of Fundraising Professionals (AFP) - Nova Scotia Chapter
When and where
Date and time
Tue, Jan 31, 2023 8:00 AM - 9:15 AM PST
About this event
Virtual Online Session
Tuesday, January 31, 2023 - 12:00 p.m. to 1:15 p.m.
Registration is free!
Full participation in this session is applicable for 1.25 points in Category 1.B – Education of the CFRE International application for initial certification and/or recertification.
Course description:
The philanthropic landscape has changed over the past couple years, creating urgency for nonprofit fundraisers to work smarter and faster in what is now a more competitive environment. Data and technology are must-haves to achieve your fundraising goals. Are you using technology to hyper-segment and hyper-personalize how you identify and engage donors?
The way your nonprofit approaches this shift in the industry and other increasingly important fundraising strategies can set your team up to hit and exceed targets. Join us as we discuss how technology can innovate and boost your strategies forward for planned giving, foundation giving, and corporate fundraising.
You'll learn how to:
● Use Fundraising Intelligence to find top gift prospects who have the capacity to give, proven philanthropy and an affinity to your cause
● Search multiple wealth and philanthropic datasets simultaneously or do individual look-ups within 41 datasets to find donor information
● Prioritize prospects using customizable scores and easy-to-understand analytics that provide actionable next steps
Jacqueline North will be presenting:
Jacqueline North is a Client Success Manager with iWave. Jacqueline joined the team in June of 2019 and has been thriving in her role helping nonprofits achieve their goals since.
In her spare time, Jacqueline loves to hang out with her super cute and super smart kiddo, Liv! Jacq's personal mantra is "A problem shared is a problem halved"
About the organizer
The Association of Fundraising Professionals (AFP) is the professional association of individuals responsible for generating philanthropic support for a wide variety of nonprofit, charitable organizations. Founded in 1960, AFP advances philanthropy through its more than 31,000 members in 207 chapters throughout the world. For nearly five decades, AFP has been working to advance ethical and effective fundraising and support charities around the world that provide critical services to their communities.