Location
LOCO Space Lounge
15 Wellesley Street West
#unit 201
Toronto, ON M4Y 0G7
Canada
Refund policy
Contact the organizer to request a refund.
Eventbrite's fee is nonrefundable.
DATA-DAO Hackathon Meetup helps with web3 networking and get started with Hackathon Tracks. It's a Mentoring + Networking event.
About this event
Welcome to DATA-DAO Hackathon Meetup 2022. With DATA-DAO Hackathon, you now have access to educators, mentors, and rewards for the builders! 🎉
This event is FREE for people who have filled hackathon registration form. If you have not please follow the link below:
https://fil-toronto.com/data-dao-hackathon-registration-form/
(Register for a FREE PROMO code)
We offer
Networking
Mentorship
Coffee, pizza and more.
PoP NFTs
This event is for:
Hackathon participants
University students
Startups
Web3 curious
Network Building
Date: Aug 12th, 2022
Time: 17:00 - 19:00 EDT
Location: LOCO Space Lounge, 15 Wellesley Street West #Unit 201, Toronto, ON M4Y 0G7
(NOTE: We will send you the access door code on the event ticket)
(Please have your tickets for the entry)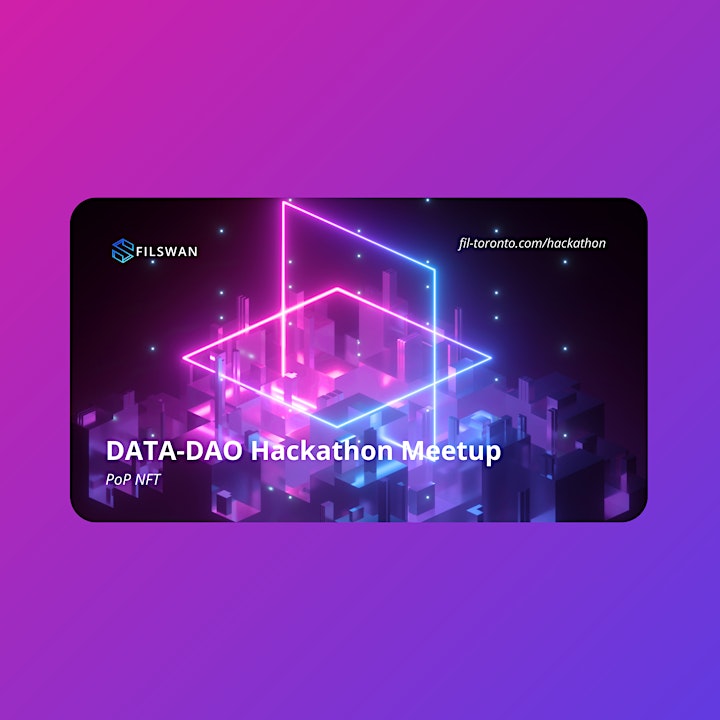 ** More about DATA-DAO Hackathon 2022:**
With DATA-DAO Hackathon, you now have access to educators, mentors, and rewards for the builders!🎉 Join thousands of fellow devs taking part in our hackathon through Discord, Mint free Proof of Knowledge NFTs, make new friends, and more to grow.
What's in it for you?
1. Rewards of $50,000
2. Mint free Proof of Knowledge NFTs after registration, submission and winning.
3. Make new friends on Discord
4. 24/7 support as you learn, build and grow
5. Mentors for the team.
Next steps! 📚
1. Join our fast-growing community on Discord. (Strongly Recommended)
2. Mint FREE Registration NFT using MintKudos. (For registered hackers)
3. Look out for follow-up emails 🔥
Here's how to claim yours:
Go on mintKudos.xyz
Log in with your wallet.
Click on your profile picture.
Click on Claim kudos
Go on Opensea.com
Login with the same wallet
Click on your profile image
Click on the "hidden" tab (by default, all Polygon NFTs are hidden on OpenSea).
(If you don't see any kudo to redeem, please contact us on Discord.)
In the meantime, follow us on Twitter (@0xFilSwan) for the latest web3 alpha and have look on tracks you could build.
Tracks:
1. Network Drive - Best use of IPFS/Filecoin for file storage - $12,500
2. Multi-Chain Storage with Filecoin Network - $20,000
3. Computing Over Data - $10,000
4. Community Choice - $2,500
5. Forest - $500 CAD
Ready to hit the road? Let's get hacking!
https://fil-toronto.com/hackathon/
Talk to you soon,
FilSwan Engineering Team
DATA-DAO Hackathon 2022