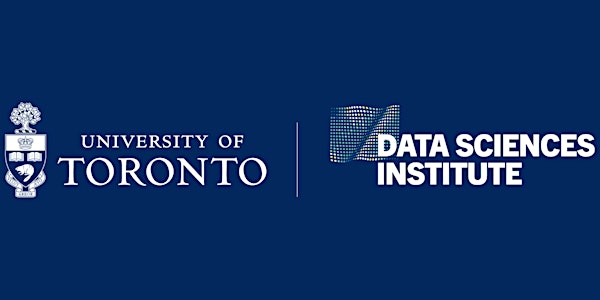 Data Sciences Speaker Series: Molly Roberts
Data Science Speaker Series
About this event
Professor Molly Roberts from the Department of Political Science and the Halıcıoğlu Data Science Institute, University of California, San Diego, joins the Data Sciences Speaker Series (DSSS).
The DSSS is intended as a collaborative marquee series, whose focus is data science and its intersection with other fields. Together, we seek to advance knowledge in the field of data science by featuring world-class speakers from academic, healthcare, industry, finance, technology, and other sectors and industries. In doing so, we hope to facilitate the exchange of ideas, information, and knowledge among researchers, practitioners, and other professionals, and to enhance educational opportunities for students and trainees.
This talk is co-sponsored by the Data Sciences Institute and University of Toronto Scarborough.
Talk Title: Strengthening Propaganda and the Limits of Media Commercialization in China: Evidence from Millions of Newspaper Articles (with Brandon Stewart, Hannah Waight, and Yin Yuan)
Abstract: A defining feature of the information environment in contemporary China is scripted government propaganda—the government directing newspapers to use specific language when reporting on particular events. Yet due to the mix of syndication and scripting, it is difficult to tell if any given article is explicitly government-directed news. Using a newly-collected database of six million newspaper articles from major domestic newspapers in China and linking them to leaked propaganda directives, we identify scripted propaganda coordinated by China's Central Publicity Department from 2012-2021 by examining patterns of text re-use across papers published on the same day. We demonstrate that over the past 10 years, scripting in official party newspapers shows increasing constraint and more focus on explicitly ideological content. While media commercialization has long been touted as a mechanism for government oversight in China, our results indicate that commercial papers do not compensate for changes in official newspapers and follow official scripting at similar rates on topics about domestic politics. Using case studies of the media coverage around earthquakes and the outbreak of COVID-19, we show how the coercive nature of scripted propaganda shapes, constrains, and delays reporting on events of vital importance.
Date: Monday, December 19,2022
Time: 4 pm – 5 pm EDT
Format: Virtual