Sales Have Ended
Registrations are closed
Thank you for registering. You will be able to access the Zoom link on the day of the event. Keep an eye on your email.
Tuesday, April 5, the Data Visionaries Series presents: Investing in a Low Carbon Future. This will be a virtual event.
About this event
Can you keep organizations accountable for their social and environmental impact?
Organizations play an important role in our sustainability efforts. ESG (Environmental, Social, Governance) investing and sustainable finance have grown in popularity in the past few years as companies realize the importance of setting long-term sustainability targets. To demonstrate their commitments, they are publishing ESG reports and stakeholders are using this information to compare peer groups and make financial and non-financial decisions.
Proponents point to ESG reports as a positive trend that improves transparency and allows for better informed strategies on addressing climate change. Critics are quick to point out that the data used to measure ESG can be opaque, that there is a lack of consistency in the terminology, and that this can lead to the risk of green washing. Emerging scholarship and practice suggest that a systemic approach to climate change is required for reporting on reducing anticipated climate risks and emissions and advancing climate action goals across all areas of business including social and cultural environments, governance, asset and infrastructure, resources, operations, and investment planning and reporting.
This panel will focus on the role that data can play to keep organizations accountable to their climate change and sustainability goals and targets, and how the future of ESG will impact you.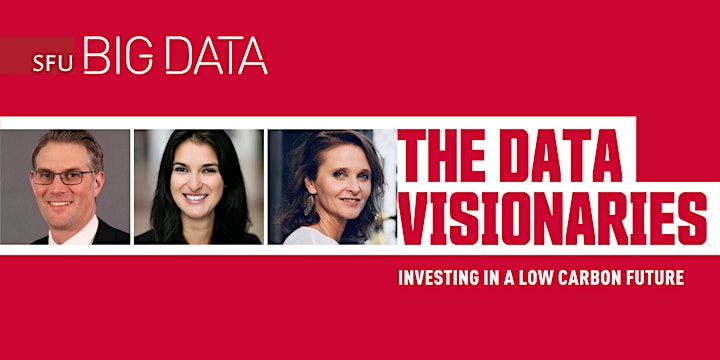 Speakers:
Andrew Hall, Director, Sustainable Finance, TMX Group
Angie Hall, Head of Sustainable Finance, Commercial Banking, HSBC | Chair, Board of Governors, Simon Fraser University
Alison Shaw, Executive Director, Action Climate Team, Simon Fraser University
Moderator:
Fred Popowich, Scientific Director, SFU's Big Data Hub
ABOUT THE SPEAKERS:
Angie Hall is the Head of Sustainable Finance, Commercial Banking at HSBC Bank Canada. In this role, Angie is responsible for leading the sustainable finance proposition in Canada and executing on HSBC's global commitment to provide at least USD 750 billion in sustainable finance by 2030. Angie completed her Bachelor of Arts at SFU in International Security & Conflict and her Master of Arts at SFU in International Development. Angie previously served as a Director on the SFU Alumni Association Board, including terms as Treasurer and Vice President. Outside of SFU, Angie has served as a member of the Education and Finance Committees for Ocean Wise and in 2019 was selected as one of the Top 100 Most Powerful Women in Canada by the Women's Executive Network (WXN). She is an active Mentor in the WXN's Wisdom Mentoring Program.
Alison Shaw is a scientist and practitioner with over 20 years of experience in pioneering climate change and sustainability research-to-practice approaches. She was the first authorized research observer in the 2001 Intergovernmental Panel on Climate Change process and has since been designing ways to integrate climate and sustainability strategy into policy and practice at all scales. As Executive Director of ACT – the Action on Climate Team at Simon Fraser University, Alison aims to advance pioneering research to practice approaches and partnerships. She and her team continue to mobilize low carbon resilience approaches and nature-based solutions to ensure that climate action that multi-solves is mainstreamed into policy, planning, strategy, and operational decisions in the public and private sectors.
Andrew Hall has been involved in the sustainable finance and carbon markets for over 15 years. Most recently, as the Director, Sustainable Finance at TMX Group, he was responsible for developing sustainable finance products, carbon offset trading platforms and executing its net-zero strategy. Prior to this he worked in commodity trading where he built and managed one of the largest carbon and renewable trading desks in North America. He began his career working in FX trading at Lloyds Bank. His market involvement includes being a member of the CSA Transition Finance Technical Committee, World Bank Carbon Markets Working Group and the Sustainable Finance Institute Advisory Group. Andrew holds an MBA in finance from the University of Toronto's Rotman School of Management and a BSc from the University of Lethbridge.
ABOUT THE MODERATOR:
Fred Popowich is the scientific director of SFU's Big Data Hub, which is a university-wide initiative that empowers people to unlock data for research, education and community impact. His work connects industry and communities with SFU partners and experts to address challenges and opportunities around data. He was the 2017 recipient of the Distinguished Service Award from the Canadian Artificial Intelligence Association (CAIAC), recognizing his outstanding service to the artificial intelligence (AI) community in Canada. He regularly talks about the role of AI in society and has published an Op-Ed in Business in Vancouver entitled, "The importance of the 'human factor' in relation to smart-city data".
Presented by: