Description
This presentation is free and open to the public.
Doors open at 5:30pm. Please enter through the main doors of the Sony Centre on Front Street.
Presentation runs 6:00pm-7:00pm.
Nova Bhattacharya, Artistic Director of Nova Dance, is a luminous presence on the Toronto dance scene. Date with Dance is a fun way to spend an evening with this talented artist; you'll get to see her dance classical bharatanatyam as well as two exciting works created in collaboration with tabla virtuoso Ed Hanley, which demonstrate her use of the form in a contemporary aesthetic.
This special presentation gives the audience an opportunity to discover how dances from other parts of the world are becoming very much a part of dance in Canada. Audience members are invited to share their own thoughts, feelings and questions about their experiences with the art form.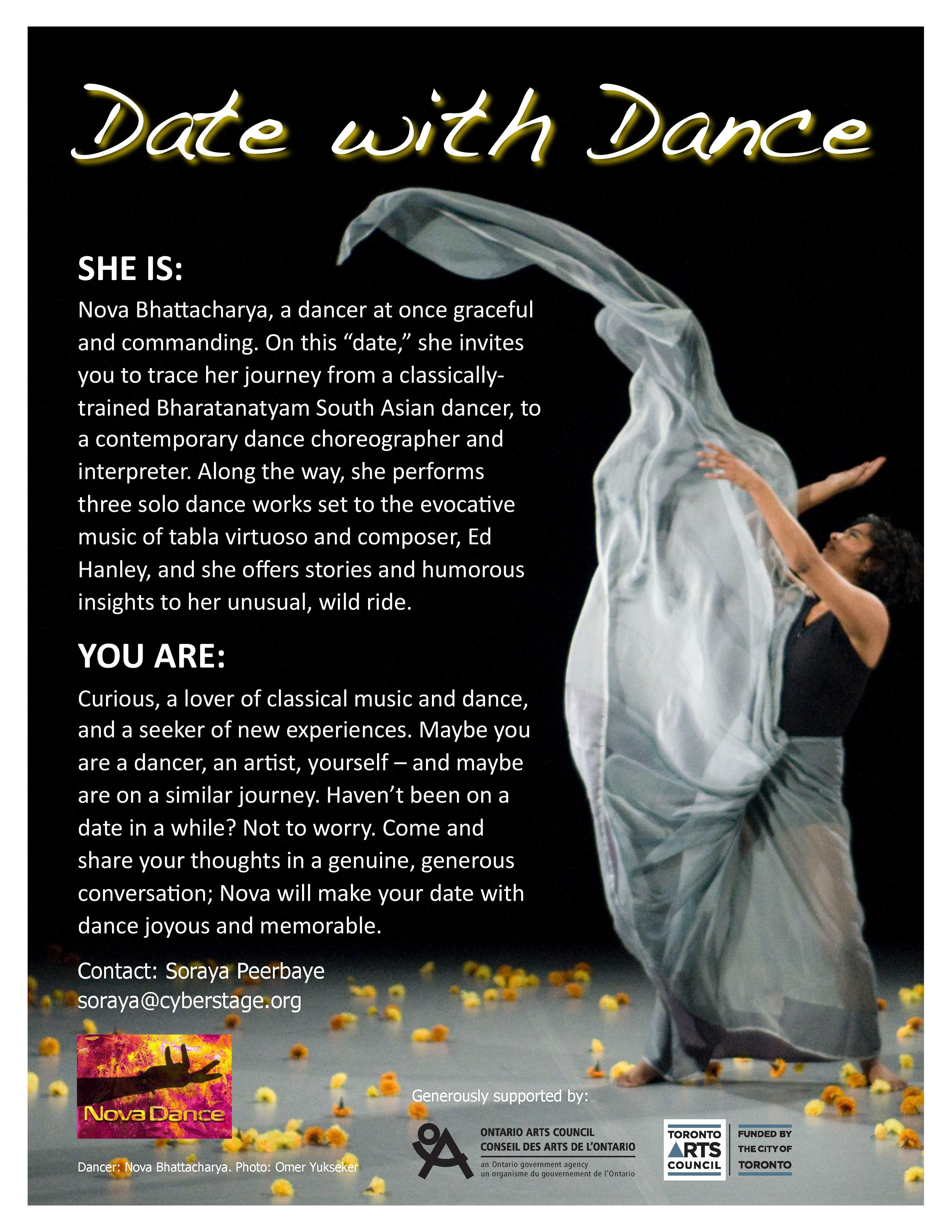 Nova Bhattacharya is an award-winning dancer and choreographer whose works for dance and theatre companies have been gracing Canadian stages for more than two decades. Trained in the classical Indian dance style of bharatnatyam, she brings her dance, and personal cultural background into contemporary expression with elegance, authority and humour. She has shared the stage with Peggy Baker & Louis Laberge-Cote; she has danced the dances of Karen Kaeja, Menaka Thakkar, and Laurence Lemieux; and this summer her new work Broken Lines (a duet for Neena Jayarajan & Atri Nundy) garnered her Summerwork's Canadian Stage Award for Direction. On January 26-29, 2017, she will premiere Infinite Storms a work featuring five women that ecstatically embraces all the joys and hurts life has to offer - as part of The Theatre Centre's Dance Card Series. WWW.NOVADANCE.CA