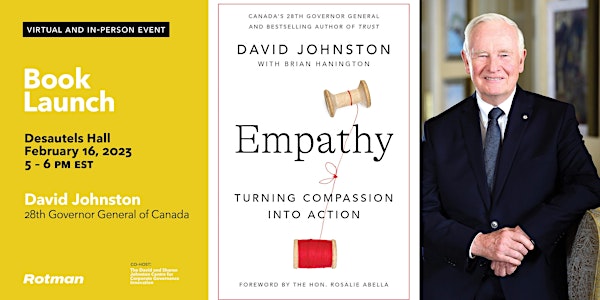 David Johnston on Empathy and Turning Compassion Into Action
The Right Honorable David Johnston discusses his new book "Empathy: Turning Compassion Into Action" with David R. Beatty, C.M., O.B.E.
When and where
Location
Rotman School of Management + Livestream 105 St. George Street Toronto, ON M5S 3E6 Canada
Refund Policy
Refunds up to 1 day before event
About this event
Following the conversation, we invite you to join us for a meet-and-greet with the author, book signing, and light refreshments.
Topic:
Empathy: Turning Compassion Into Action (McClelland & Stewart)
Written by David Johnston
Speakers:
The Right Honourable David Johnston, 28th Governor General of Canada; Chair, Rideau Hall Foundation; author
David R. Beatty, C.M., O.B.E., Academic Director, The David and Sharon Johnston Centre for Corporate Governance Innovation, University of Toronto
Book Synopsis:
The 28th Governor General's most personal and timely book to date: a passionate and practical guide for turning empathy into action.
As the world stumbles through the most severe pandemic of the last century, threatened by teetering economies, torn by political division, separated by unequal access to resources, and wrestling with issues as diverse as racism, gender, cybercrime, and climate change, the nations that best adapt and prosper are those in which empathy is fully alive and widely active. Written for a post-pandemic world, Empathy is a book about learning to be empathetic and then turning that empathy into action. Based on the personal experiences of author David Johnston, the book explores how awakening to the transformative power of listening and caring permanently changes individuals, families, communities, and nations.
A how-to manual for a world craving kindness, Empathy offers proof of the inherent goodness of people, and shows how exercising the instinct for kindness creates societies that are both smart and caring. Through poignant stories and crisp observations, David contends that, "Everyone has power over some things that other people don't. When they learn ways to turn that power into action, they change the future dramatically."
With clear and practical focus, Empathy looks at a host of issues that demand our attention, from education and immigration, to healthcare, the law, policing, business ethics, and criminal justice. In each of these areas, Johnston highlights the deeper understandings that have arisen during the COVID-19 crisis, with sharp emphasis on the positive and negative lessons now in crisp focus. Convinced that empathy is the fastest route to peace and progress in all their forms, David ends each short chapter with a set of practical steps the reader can take to make the world better, one deliberate action at a time.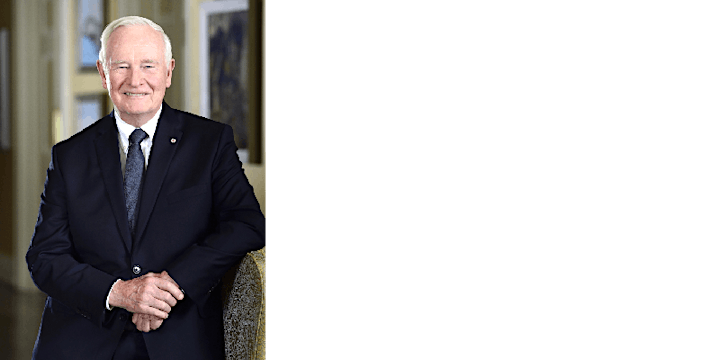 David Johnston is Canada's 28th Governor General, chair of the Rideau Hall Foundation, and advisor at Deloitte and at Fairfax Financial Holdings.
A graduate of Harvard, Cambridge, and Queen's universities, he was president of the University of Waterloo, principal of McGill University, and dean of Law at Western University. He is the author or co-author of more than thirty books and holds honorary doctorates from thirty-six universities. His most recent book, TRUST, was a national bestseller.
A Companion of the Order of Canada, he was born in Sudbury, Ontario, raised in Sault Ste. Marie, Ontario, and now lives with his wife, Sharon Johnston, near Ottawa.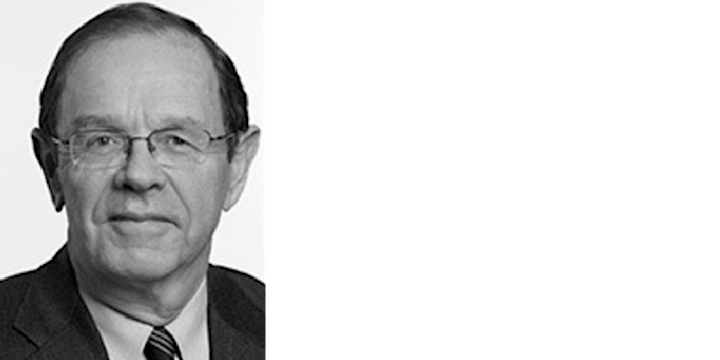 David Beatty is Academic Director of the David and Sharon Johnston Centre for Corporate Governance Innovation. Currently, he serves as a Director of FirstService Corporation, Walter Energy and Canada Steamships Lines.
Over his career he has served on over 35 Boards of directors and been Chair of 8 publicly traded companies. He was the founding Managing Director of the Canadian Coalition for Good Governance (2003-2008). David served on Peter Drucker's Foundation Board in the United States for over a decade, the last few years as Vice Chairman and was Chair of Upper Canada College from 1992-97.
Event Logistics:
This event is available to attend in-person or virtually via livestream.
Rotman Events is committed to accessibility for all people. If you have any access needs or if there are any ways we can support your full participation in this session, please email Mandi Gosling [events@rotman.utoronto.ca] no later than 2 weeks in advance of the event and we will be glad to work with you to make the appropriate arrangements.
General Admission: In-Person Ticket Details
The event will be hosted in Desautels Hall at the Rotman School of Management (105 St. George St., Toronto, ON M5S 3E6). Your registration fee includes a copy of the book, meet-and-greet with book signing by the author, light refreshments and access to a video replay of the session for 30 days.
General Admission: Livestream Ticket Details
Rotman Events will email registrants a link to the livestream. Your registration fee includes access to the livestream, video replay for 30 days, a hardcover copy of the book and shipping fees. The book will be shipped to registrants after the event. Please allow 3 - 4 weeks for delivery.
30-day Catch-up Viewing
Unable to attend the event due to scheduling conflicts? Not to worry. All registrants (in-person or livestream) can access the full recording on-demand for one month after the live event.
Cancellation & Refund Policy
Refunds will only be issued for cancellations received in writing NO LATER than 24 hours prior to the event. Please email events@rotman.utoronto.ca for processing.
In-person registrants who do not pick up their book at the event will have 5 business days to request postal delivery by emailing us at events@rotman.utoronto.ca. All unclaimed books will be returned to the publisher after that time.
Questions: events@rotman.utoronto.ca, Mandi Gosling
Agenda
5:00 PM - 6:00 PM
Conversation
6:00 PM - 6:30 PM
Meet-and-Greet, book signing & light refreshments