Description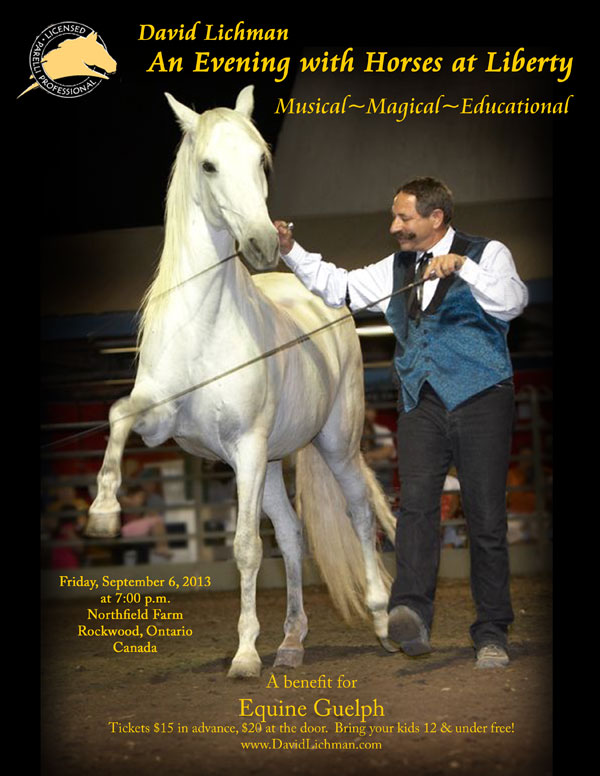 Horses at Liberty
Musical ~ Magical ~ Educational
2013 North American Tour
a benefit for Equine Guelph
Tickets $15 in advance, $20 at the door (children 12 and under free)
Master Horse Trainer David Lichman is coming to town to perform with his three personally-trained horses for the first time in his 25-year career of helping people achieve extraordinary results with their horses.
Lichman's show is improvisational. Although there are specific things the horses know, the horses have a say in what happens, depending on how they are feeling. The result is a display of affection, bonding and respect.
Music is a big part of the show. It establishes the "Rhythm of the Ride," a concept developed by Lichman and Grammy-nominated singer-songwriter, Mary Ann Kennedy, to help a rider or dancer synchronize with a horse's natural motion.
"I don't see them as horses," says Lichman, "I see them as friends. They have names, desires and needs - as do I. Friends help fulfill each other's needs and desires."
"Horsemanship can be achieved naturally with communication and understanding instead of force, fear and intimidation," says Pat Parelli, Lichman's mentor, who founded the Parelli Natural Horsemanship program in 1981.
Lichman became part of the first group of certified Parelli instructors in 1994 and was among the first three students to rise to the rank of 5-Star Master Parelli Professional.
Lichman has traveled over a million miles helping ordinary people get extraordinary results with their horses. He tells his students, "You can find your dream horse inside the horse you already own."
"I try to help people connect with horses so that it's fun for both the human and the horse," said Lichman.
Organizer of David Lichman: An Evening with Horses at Liberty - a benefit for Equine Guelph