Dawes at the Phoenix Concert Theatre
About this event
From the first downbeat, Good Luck With Whatever, the seventh studio Album
by the Los Angeles based rock band Dawes, sets a tone all its own. The album
unfurls with the crunchy chordal cadence of what could only be Goldsmith's
guitar. As the band quickly hop their way aboard this rhythmic rail car, we find
ourselves thinking "Hey, these guys are pretty good. I'm so glad you dragged
me to see some live music!" — "Still Feel Like A Kid" serves as a reminder
that we all love a good filet, but there's no shame in still ordering off the kids
menu from time to time. You can hear the eye contact in the room, you can see
the lyrics as they fly from Goldsmith's mouth straight into your ears, you'll find
yourself singing along to a song you're hearing for the first time. It's fresh, it's
raw, it's a four tiered seafood tower of all American ear candy. Think "I Don't
Wanna Grow Up, I'm A Toys R Us Kid" meets "I Wanna Be Sedated".
Recorded at the historic RCA studios in Nashville Tennessee, the boys teamed
up with six time Grammy award winning producer Dave "Corn On The" Cobb
(Brandi, Jasi, Chrisi, Stergi, etc) and just decided to LET IT RIP. "We were out
in Nashville for just under 730 hours, or 1 human month" says bass player and
resident 'problem child' Wylie Gelber. "We wanted that sloth like urgency, that
cold heat, that all knowing curiosity. And me thinks that's what we got." The
arrangements are as lively as they are lovely, from the rapidly ruckus "Who Do
You Think You're Talking To" to the robustly restrained "St. Augustine at Night".
A culmination of their entire catalogue and career all wrapped up in nine tracks.
If you don't know Dawes by now, you will never never never know them...
Far from apathetic, Good Luck With Whatever is Dawes at their most
unapologetic. It's sympathetic and magnetic, 50% genetic and highly kinetic.
Songs like "Didn't Fix Me" and "Me Especially" showcase Goldsmith's poetic
prowess perfectly; a historian of the human condition, transforming turmoil into
motor oil. Drop the tone arm down, turn the volume up, unplug the phone and
if you still feel nothing... call a doctor.
Having self-released their music for the last 1/20 of a century, Dawes has now
joined forces with their former legal council now president of Rounder Records,
John P. Strohm. Attorney client privilege has been lifted. Finally without the
constraints of the fat cats up on Capitol Hill and their ever flowing spools of
bureaucratic red tape, Dawes and their beloved ex-ambulance chaser are
together again. Court is in session and they're prepared to tell the truth, the
whole truth and nothing but the truth.
"We've learned so much over the years about what it means to be A BAND"
says drummer/free range dog farmer Griffin Goldsmith, "I used to want all our
records to be ONLY drums, but I'm finally starting to realize, maybe a lil' bass,
keys, guitars and vocals ain't so bad after all." How right he is, the ballet of
interplay between these four is nothing short of breathtaking. Where Griffin
dives, Wylie ducks. Where Taylor weaves, Lee is sure to bob.
Dawes began their journey in the San Fernando Valley back in 2009, it was
the year of the Ox, but don't be fooled, these guys are No Bulls#$t. Having
played with, for, and against some of rock'n roll's most illustrious icons, the
merry men have picked up more than a few things when it comes to sticking
around and what it means to be a true BAND. "Sometimes I wish I did hate my
brother", explains frontman/stuntman Taylor Goldsmith, "might sell us a few
more books... but the reality is, I can't get enough of the guy! Scariest part
bout' it all is, knowing we're gonna be playing music together for a long, long
time."
"We're a living breathing organism," says keyboardist/San Jose's 15th most
famous man, Lee Pardini. "People love to say, 'this record sounds so THIS' and
'that record sounds so THAT,' but to us, it just sounds like Dawes. We make
records to document where we are at that time, but every time I check, it just
sounds like Griff, Taylor, Wylie and me."
Good Luck With Whatever is an unfiltered photograph of a band doing what
they do best. A moment in the timeline of 10 year old band who still possess
the wonderment and fearlessness of a 10 year old man. These guys learned to
rock before they could crawl and now it's time to let em' run. Ask any scientist
and they'll tell you one thing... you can't fake chemistry.
Dawes
Dawes is an American folk rock band from Los Angeles, California. Dawes is composed of brothers Taylor (guitars and vocals) and Griffin Goldsmith (drums), along with Wylie Gelber (bass) and Lee Pardini (keyboards). Dawes was formed from the band Simon Dawes after the departure of co-songwriter Blake Mills, subsequently abandoning a post-punk sound in favor of folk rock. Dawes has been described as having a Laurel Canyon sound derived from artists such as Crosby, Stills, and Nash, Joni Mitchell and Neil Young. At the invitation of producer Jonathan Wilson, the band joined a local informal jam session that included Conor Oberst, The Black Crowes's Chris Robinson, and Benmont Tench.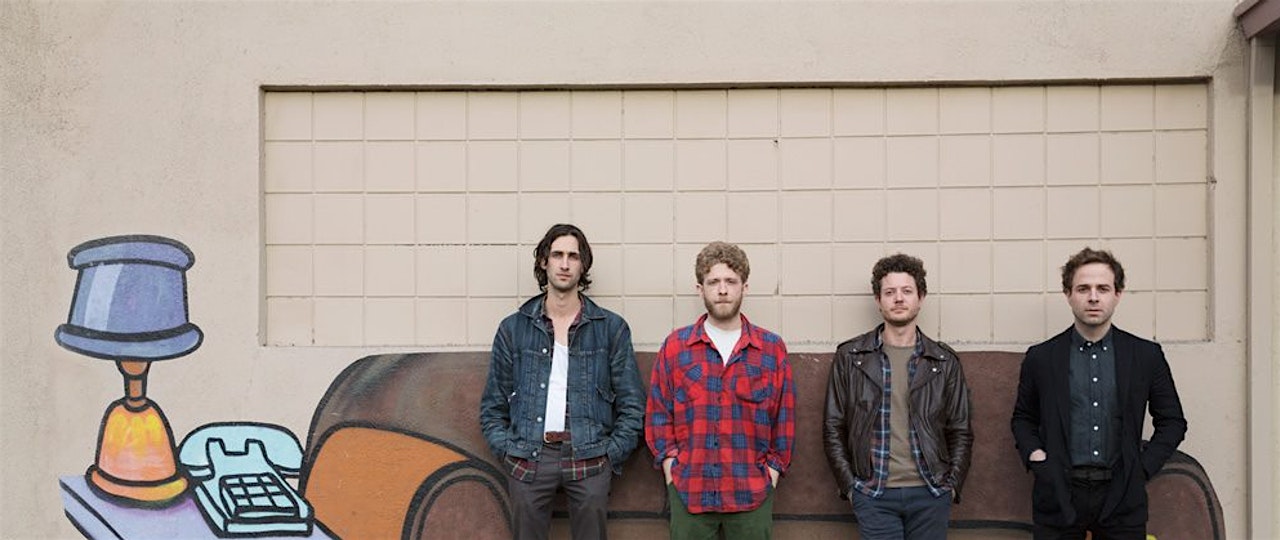 Erin Rae
American folk singer and songwriter