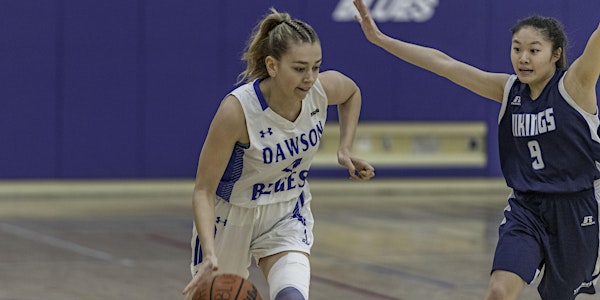 Dawson Blues Women's Division 2 Basketball vs Vieux-Montréal Spartiates
The Division 2 Blues Women's team is hosting the Vieux-Montréal Spartiates for a Thursday night matchup.
About this event
Limite de 500 billets disponibles — premier arrivé, premier servi. Les protocoles COVID-19 seront en place :
Les billets seront disponibles en ligne. Aucun achat en personne à la porte.
Tous les partisans doivent fournir une preuve de vaccination et une pièce d'identité avec photo avant d'être autorisés à entrer au gymnase, comme l'exige le plan de passeport de vaccination du gouvernement du Québec.
Les masques faciaux procéduraux DOIVENT être portés en tout temps par tous les spectateurs lorsqu'ils sont au collège et lorsqu'ils sont assis dans les gradins.
Aucun siège assigné. La distanciation est fortement encouragée si possible.
En raison des restrictions COVID, tous les spectateurs devront être assis — aucune position debout n'est autorisée.
Limit of 500 tickets available - first-come, first served. COVID-19 protocols will be in place:Tickets will be available online. No in-person purchases at the gate.
All fans must provide proof of vaccination and photo ID before being permitted entry to the gym as required by the Quebec government's vaccination passport plan.
Procedural face masks MUST be worn at all times by all spectators while in the college and while they are seated in the bleachers.
No assigned seating. Distancing is strongly encouraged if possible.
Due to COVID restrictions, all spectators will be required to be seated - no standing permitted.
Organizer of Dawson Blues Women's Division 2 Basketball vs Vieux-Montréal Spartiates