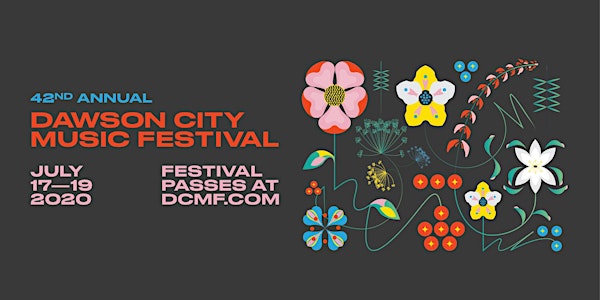 DAWSON CITY MUSIC FESTIVAL
-
When and where
Location
Dawson City Music Festival Minto Park, Palace Grand Theatre & various locations. Dawson City, YT Y0B1G0 Canada
About this event
IMPORTANT NOTICE
It is with heavy hearts that we announce the cancellation of the 2020 Dawson City Music Festival, for the first time in its 42-year history, due to the ongoing COVID-19 pandemic.
It is tough to imagine a summer without our beloved Festival-goers gracing Minto Park and lining up at the gorgeous Palace Grand Theatre, but the health and wellbeing of patrons, performers, volunteers, staff, and our community is our top priority. We know 2020 would have been a year to remember – Begonia, Cartel Madras, and Zaki Ibrahim are just a few artists who were looking forward to heading north.
Due to our unique northern location, many critical logistics must come together now, and several of our production needs come with strict timelines. Currently, gatherings are limited to 10 people, and folks arriving in Yukon must self-isolate for 14 days. Yukon's Chief Medical Officer of Health has strongly recommended against non-essential travel to or from rural communities such as Dawson City, and we respect these essential measures. There is no clear timeline regarding when these restrictions will be lifted, and at this time it is not possible to gather under the midnight sun as we have done for 41 years.
We can't wait to be reunited with you in Dawson City and dance the nights away in Dawson City under the midnight sun once more. We look forward to seeing you.
All our love,
The Dawson City Music Festival Association
Please visit www.dcmf.com for the full cancellation statement.
REGARDING REFUNDS
To 2020 DCMF ticket-holders, we present the following options:
1) A full refund via Eventbrite's refund system.
To request a refund, please review your ticket order and click the "Request Refund" button. A step-by-step guide is available here if you are having difficulty or require more detailed information. Refund requests will be processed in the order they come in. Thank you for your patience and understanding.
2) Donate the value of your ticket back to the DCMF Association.
To donate, please reply to this email and let us know this is your preferred option before May 30th, 2020.
DCMF is a registered charity and non-profit organization. We humbly encourage those who are able to do so, to consider this option - a tax-deductible donation. As with many arts organisations across Canada, we have a very difficult year ahead of us - any and all support is deeply appreciated.
On May 30th, any remaining orders will be refunded.
Tune in to our social media pages and website for news! See you at #dcmf2021
W: dcmf.com