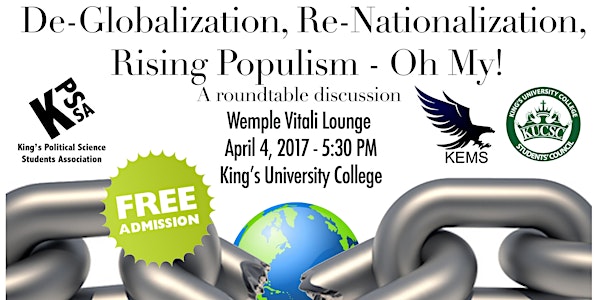 De-Globalization, Re-nationalization, Rising-populism - Oh My!
When and where
Location
King's University College 266 Epworth Avenue London, ON N6A 2M3 Canada
Description
This event will be held in the Wemple Vitali Lounge at King's University College in London, Ontario.
Recent developments in the global political economy have called into question the current trajectory of neoliberal globalization. Against the backdrop of rising inequality and growing frustration over the impact of austerity, stagnant wages and slow economic growth, we have witnessed the emergence of three main trends: the rise of protectionist/renationalization policy and rhetoric, most obviously exemplified by Brexit and Donald Trump's presidential election; a surge in mega-regional trade agreements like CETA, TPP, and TTIP, as a means to bypass the multilateral system; and, the (re)emergence of anti-trade and alter-globalization movements against austerity, trade liberalization, and regulatory chill. These trends leave us with pressing questions about the future of global trade and the resilience of neoliberal globalization.
What does this mean for global cooperation?

Will protectionism win out over multilateralism?

How will global production networks be impacted?

What role is there for transnational NGOs and social movements in shaping the future trajectory of global cooperation?

And in turn, what do all these developments mean for democracy, welfare, security, and social justice?

Our panel will feature:
Adam Harmes
Associate Professor
University of Western Ontario
Erin Hannah
Associate Professor and Chair of Political Science
King's University College at the University of Western Ontario
Eric Hellenier
Professor of Political Science
Faculty of Arts Chair in International Political Economy
University of Waterloo
Silke Trommer
Lecturer in Politics
University of Manchester
Louis W. Pauly
Canada Research Chair in Globalization and Governance
Professor and Chair of Political Science
University of Toronto
Amy Wood
King's Alumnus
Trade Researcher, Council of Canadians
PhD Student in Political Science
University of Toronto
We are very excited to be hosting this panel, and will see you all on April 4!
** A physical copy of your ticket is not required for the event as it is free, but please do confirm your attendance so we know the number of people coming!