De l'Innovation à l'Investissement: Let's Bridge the Gap for your Startup S...
Description
Français ci-dessous - veuillez noter que la conférence sera majoritairement en français
Si les billets dispnibles ci-dessous sont "sold-out", veuillez vous diriger vers nos amis de Poly-TEA sur polytea2018.com qui en ont encore! :)
What better way to start the year than having Poly-TEA collaborate with Montreal NewTech once more to bring you a third year of fantastic speakers, intimate discussion and opportunity for creative collisions to help you launch and sustain your startup success!
As the global startup ecosystem continues to grow, so does the need for resources and community support. Many startups struggle to find the mentorship, financing and guidance needed for growth and acceleration. Therefore this third edition will focus on the different stages, challenges and obstacles individuals face when creating and financing a startup, and the lessons learnt from entrepreneurs, institutional investors and VCs to lead you to success!
We will then all have food, wine and non-alcoholic drinks to network and celebrate together this afternoon of learnings!
Please note that while all the speakers are bilingual and will be able to answer questions in both languages, the panels will be mainly in French. Also, tickets are limited as we are trying to keep the audience diverse enough to increase the depth of the discussions, while small enough to make them more meaningful, so grab your tickets now!
A huge thanks to our partners and sponsors who helped make this unique conference happen, merci Desjardins Lab, and big thanks to Morgan Stanley for your invaluable support!!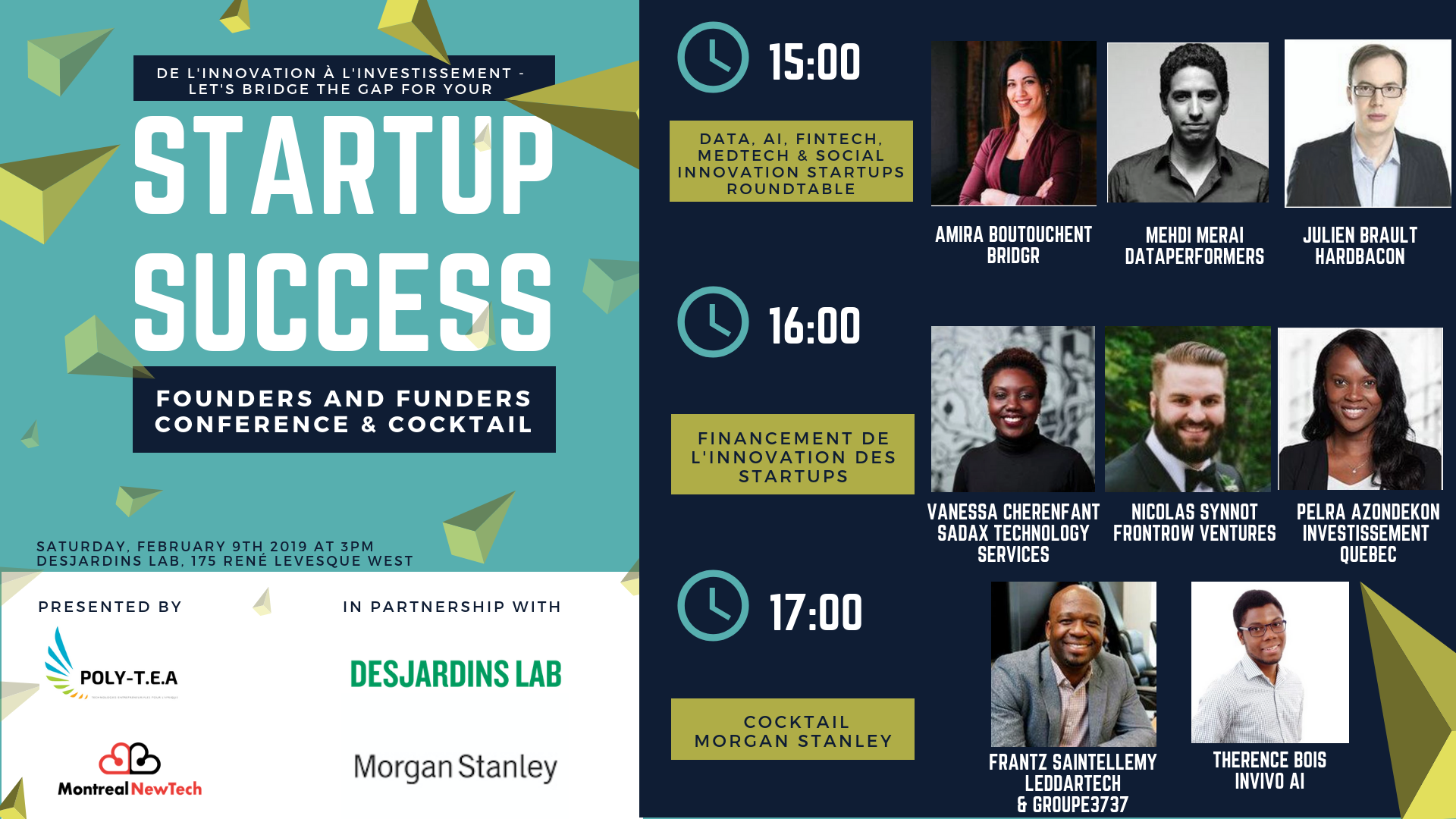 Pour bien entamer 2019, et vous aider dans vos bonnes résolutions, nous avons le plaisir de vous inviter à la conférence annuelle de Poly-TEA, en collaboration avec Montréal NewTech. Nous aurons 8 invités de renom, alliant panels d'entrepreneurs et d'investisseurs pour vous offrir les clefs du succès tant en termes d'innovations technologiques que pour le financement de votre startup!
Bien que l'entrepreneuriat technologique soit sur toutes les lèvres nombre de jeunes entrepreneurs vivent des défis fondamentaux tant pour le lancement, financement, mentorat, vente, et bien d'autres, en particulier dans le domaine technologiques. Nous avons la chance d'avoir des entrepreneurs et investisseurs d'expériences qui vont venir présenter et échanger avec vous pour que vous puissiez tirer partie de leurs expériences, de l'idée à la mise en marché, du développement au financement, en passant par le mentorat et le bon coaching, afin de s'assurer que vous puissiez tirer les leçons de leurs apprentissages et assurer le succès de votre startup!
Nous aurons par la suite un cocktail dinatoire avec bouchées, vin et liqueurs pour continuer la discussions, approfondir les relations entre les participants, et célébrer cette après-midi d'apprentissages!
Veuillez noter que bien que les intervenants soient parfaitement bilingue et pourrons répondre aux questions dans les deux langues, les panels seront en bonne partie en français. Aussi, les billets sont limités car nous essayons de créer une audience assez variée pour augmenter la diversité des échanges, tout en la gardant assez restreinte pour en maintenir la qualité et la profondeur.
Un énorme merci à nos partenaires qui ont permi la réalisation de cette conférence unique en son genre! Merci beaucoup au Desjardins Lab & Morgan Stanley pour votre incroyable support!!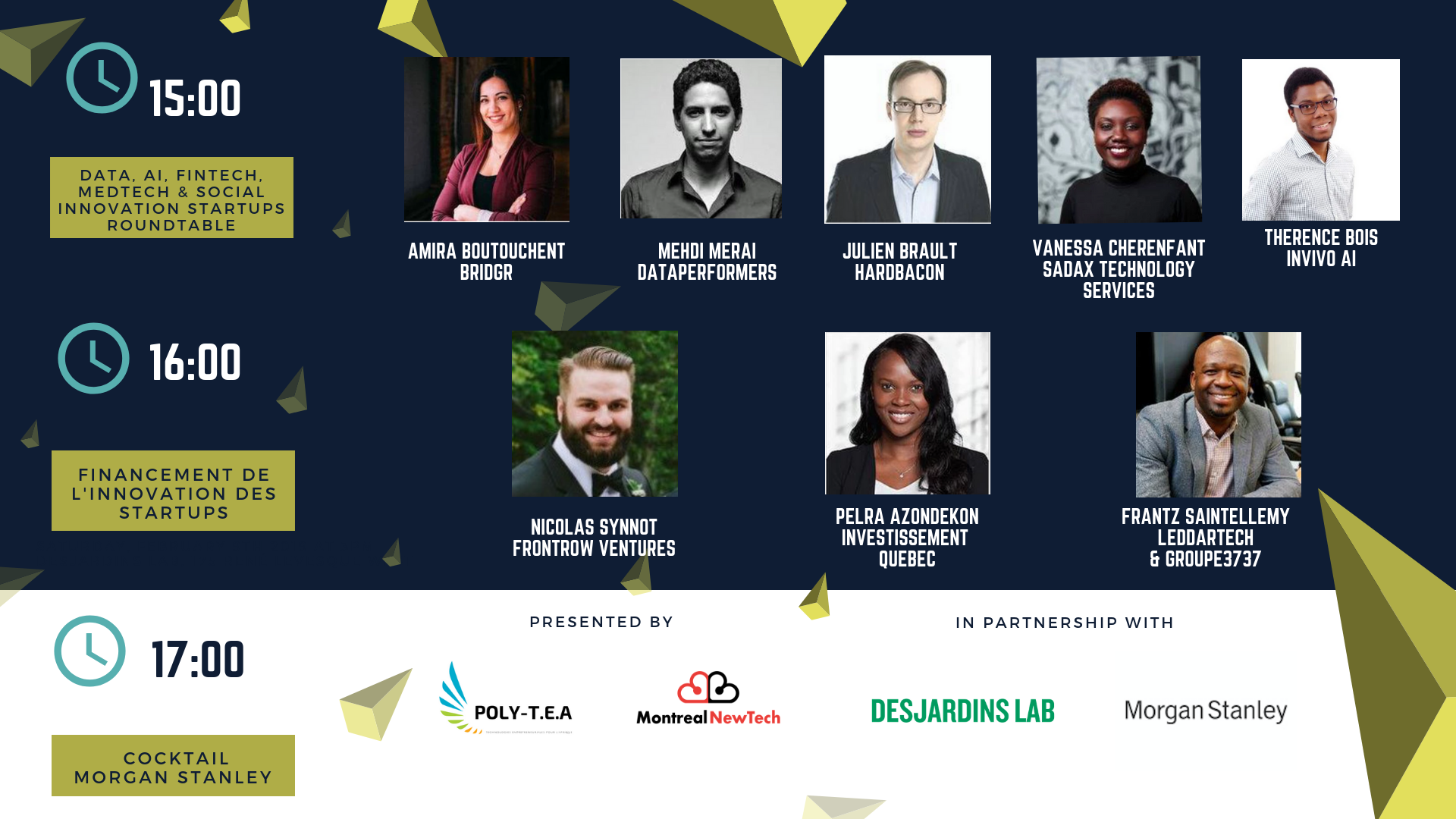 Panelistes Invités:
- Vanessa Cherenfant - Managing director, SADAX Technology Services
Entrepreneure, Ingénieure et Militante pour l'avancement des femmes en STEM (Science Technology, Engineering, Mathematics), Vanessa Cherenfant possède à la fois l'expérience et la passion pour poussuivre ses objectifs.
Elle est particulièrement tournée vers la technologie des affaires et a favorisé la mise en place du programme entrepreneurs `la jeune chambre de Commerce de Montréal.
- Julien Brault - CEO de Hardbacon
Journaliste de formation avec une carrière fructueuse au journal Les Affaires, Julien Brault est de cette branche d'homme qui veut changer le monde. Il a aujourd'hui changé de casquette pour créer une application financière qui veut démocratiser le milieu des finances. Julien Brault, maintenant âgé de 30 ans, a fondé l'entreprise Hardbacon, qui aide les Canadiens à comparer les courtiers à escompte et les robots-conseillers grâce à ses comparateurs. L'organisation publie également du contenu engageant lié à l'investissement.
Il partagera avec nous son expérience sur le chemin de l'entrepreneuriat en passant par la campagne de sociofinancement et la constitution d'une équipe compétente et engagée.
- Therence Bois - CSO InVivo Ai
Il est l'un des trois fondateurs d'Invivo AI, une start-up portée par des étudiants dont l'idée motrice est d'utiliser l'intelligence artificielle pour révolutionner la découverte et le développement de médicaments. Therence Bois et ses paires ont remporté le prix du Startupfest de Montreal in Technology et la cagnotte de 100.000 $.
Therence Bois prépare un doctorat en médecine cellulaire et moléculaire à l'Institut des recherches cliniques de Montréal (IRCM) et nous conduira, fort de son exérience, des sciences naturelles à l'intélligence artificielle.
- Amira Boutouchent - CEO BRIDGR
Co-fondatrice de BRIDGR, une start-up en technologies qui aide les PME manufacturières à trouver des experts qualifiés pour numériser leurs opérations.
Dotée de la fibre entrepreunariale et de connaissances techniques, Amira est titulaire d'un baccalauréat en systèmes informatiques et une maîtrise en gestion et administration des affaires à HEC. Elle a reçu en 2018 le prix 30 Under 30: Future Leaders of Manufacturing.
- Mehdi Merai - CEO Dataperformers
Co-fondateur et CEO de Dataperformers, Mehdi Merai est à la tête d'une société de recherches appliquées qui fournit des solutions d'IA pratiques. Il met ses compétences pointues en informatique au services de la société. Son intention est de vulgariser l'intelligence artificielle.
En 2017, il reçoit le prix du AI Leader de l'année par le Digital Finance Institute lors de la 3e édition du Canadian Finetech and AI Awards.
- Pelra Azondekon - VC Investissement Québec
Directrice des investissements à Investment Québec, Pelra gère un portfolio de plusieurs dizaines de millions de dollars. Après une dizaine d'année de pratique en finance coopérative et en fusion-acquisition, son expérience lui a permis de cerner les enjeux liés au financement des start-ups.
Pelra a nourri une passion pour l'entrepreunariat et joue un rôle de mentor pour de nombreux jeunes à travers le monde. Elle a reçu en 2015 le prix Caron Bélanger d'EY Montréal.
- Nicolas Synott - Front Row Ventures
Il est le co-fondateur et directeur d'investissement de Front Row Ventures, le premier fonds d'investissement à capital risque pour les étudiants au Canada. Il accompagne de nombreux projets des idées à la création d'entreprise et s'enrichit de la diversité.
Il a reçu en 2017 le prix d'Excellence de l'Association Canadienne des Nations Unies pour son statut de chef de délégation de HEC Montréal au National Model United Nations de 2015 à 2017.
- Frantz Saintellemy - CEO Groupe3737
Ingénieur électrique, détenteur d'une maîtrise en gestion de l'énergie du Massachusetts Institute of Technology (MIT), Frantz Saintellemy est le président et COO de Leddartech, une entreprise québécoise dans le domaine des voitures autonomes qui a soulevé plus de 160M $.
Avec plus de 20 années d'expérience dans le domaine de la technologie de pointe et un parcours professionnel exceptionnel, Frantz Saintellemy est reconnu à l'échelle internationnale pour ses innovations, ses brevets et les start-ups qu'il a encadrés.
Un énorme merci à nos partenaires!