"Dead Donkeys Fear No Hyenas" Film Screening & Ethiopian Vegetarian Dinner
Description
Join CELADA for dinner and a screening of "Dead Donkeys Fear No Hyenas," an eye-opening film that explores the worldwide commercial rush for farmland and its impacts on people's lives in the context of Ethiopia—a country experiencing one of the most massive forced evictions in modern history. The film examines the contradition in the fact that Ethiopia is a nation known for chronic food aid dependence while at the same time earning billions of dollars from exporting food and other agricultural products.
Proceeds will support the work of CELADA, an international coalition based in Ottawa seeking to end social injustice and promote equitable agricultural development for the African people.
Arrival Time:
The screening will begin sharp at 7PM so we encourage people to arrive by 6:45. The movie is approximately 1.5 hrs. At the end of the film there will be brief discussion to be facilitated by experts in the field. The optional dinner portion will be available between 5PM and 6:45PM.
Ticket :
Ttickets can also be purchased from Hareg Cafe, 587 Bank Street, Ottawa and by making a reservation via info@celada.ca
General admission $10.00;
Dinner and movie $20.00
Ethiopian vegetarian dinner will be catered by Hareg Cafe, 587 Bank Street, Ottawa
http://www.haregcafeottawa.com/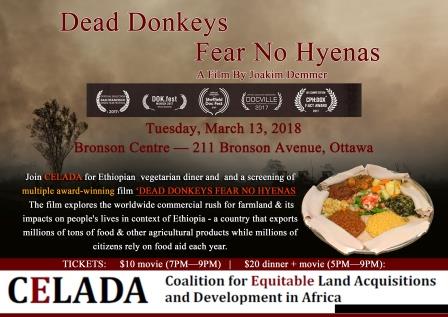 Film details:
Trailer: https://vimeo.com/ondemand/deaddonkeysfearnohyenas/205362161
Around the globe, there is a massive commercial rush for farmland – the new green gold. One of the most profitable new spots for farming is Ethiopia. Hoping for export revenues, the Ethiopian government leases millions of hectares of allegedly unused land to foreign investors. But the dream of prosperity has a dark side – the most massive forced evictions in modern history, lost livelihoods of small farmers, harsh repression and a vicious spiral of violence. Contributing to this disaster are the EU, the World Bank and DFID, providing billions of dollars in development money that has been proved to be used in part to finance vilagization.
Dead Donkeys Fear No Hyenas investigates these foreign land-investments and exposes their impact on people's lives. In the pursuit of truth, we meet investors, development bureaucrats, persecuted journalists, struggling environmentalists and small farmers deprived of their land.
Organizer of "Dead Donkeys Fear No Hyenas" Film Screening & Ethiopian Vegetarian Dinner
The Coalition for Equitable Land Acquisitions and Development in Africa (CELADA) is an international campaign to end the indiscriminate alienation of African land to external and domestic commercial interests; to restore, reform and ensure sustainable land rights; and to promote equitable agricultural development, including land access, management and ownership for the African people.
To learn more, visit our website: www.celada.ca