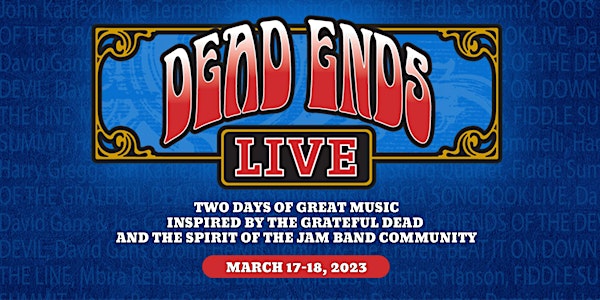 Dead Ends Live- A Music Festival Weekend Pass
Weekend Passes will give you access to both venues to saunter back and forth between McDougall United Church and Chateau Lacombe Ballroom.
Date and time
Fri, Mar 17, 2023 7:00 PM - Sat, Mar 18, 2023 2:00 AM MDT
Location
Chateau Lacombe Hotel Ballroom & McDougall United Church 10111 Bellamy Hill Road Northwest Edmonton, AB T5J 1N7 Canada
Refund Policy
Contact the organizer to request a refund.
About this event
The inaugural Dead Ends Live weekend allowed fans of both electric and acoustic music to saunter back and forth between McDougall Church and the Chateau Lacombe Ballroom with ease as the two venues are situated side by side on 101 street and Bellamy Hill.
Enjoy the stunning acoustics in MacDougall for one show and then dance your butt off to the sounds of The McGowans Family Band, Mbira Renaissance Band, and all-star blues, Dead and Roots jams with our house band as led by Dave Babcock, with our headliners David Gans, John Kadlecik, MonkeyJunk's Tony D and other fine players.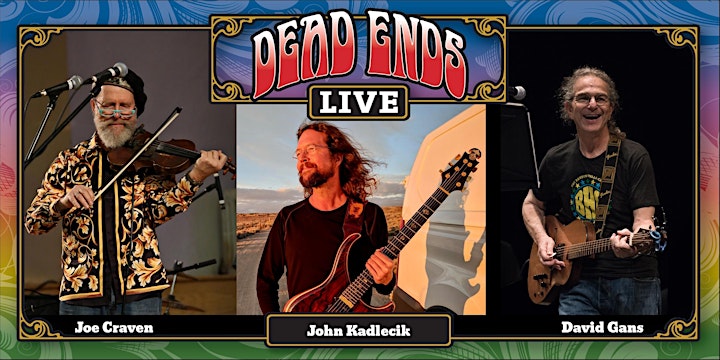 John Kadlecik is a singer, songwriter, and musician who can play most string instruments, but is primarily known for being a guitar-slinging sideman and vocalist to Grateful Dead members Phil Lesh and Bob Weir in the band Furthur.
Also, an original co-founder of the group Dark Star Orchestra, John has been performing improvisational-oriented shows regularly since the late 1980's and has performed worldwide for the better part of the last 30+ years.
After performing with Hammond B3 master Melvin Seals many times over the years, John became a full-time member of Melvin Seals & JGB in 2019 and continues to play with JGB to excited audiences nationwide.
His work also includes several studio releases of original music, and he is currently active with his solo Acousti'Lectric show, Melvin Seals & JGB, The John Kadlecik Band, Keller Williams Grateful Gospel, and "supergroup" the Golden Gate Wingmen.
Joe Craven: is a Freestyle folk, world and roots music multi-instrumentalist, singer and award-winning educator. He plays fiddle, mandolin, ukulele, tres, cavaquinio, balaliaka, as well as a world of percussion. Craven is a well-known sight at acoustic music festivals and, for many years, was violinist and percussionist for the Jerry Garcia/David Grisman Band and the David Grisman Quintet, and he recorded extensively with both groups. Joe was also a member of the acoustic super-group Psychograss with other Grisman alumni, Todd Phillips, Darol Anger and Mike Marshall. He's played and recorded with many other greats including, Stephane Grappelli, Alison Brown, Rob Ickes and David Lindley and his discography includes such critically acclaimed titles as Camptown, Django Latino and The Garcia Songbook which has been called, "the best Grateful Dead / Garcia cover album yet."
joecraven.com
David Gans: is a musician, songwriter and journalist. He is a guitarist known for incisive, literate song-writing. He is also noted for his music loop work, often creating spontaneous compositions in performance. David has also co-written songs with Robert Hunter, Peter Rowan and Tim Carbone of Railroad Earth, while members of RatDog, Phil Lesh & Friends, as well as David Grisman, and Darol Anger have played on David's solo albums.
He is the co-author and author of many books including Playing in the Band: An Oral and Visual Portrait of the Grateful Dead, and Conversations With The Dead. He's host of the weekly syndicated radio show The Grateful Dead Hour and co-hosts Sirius XM's Tales from the Golden Road, a call-in show about the Grateful Dead. David's has been involved in many facets of Dead compilations and re-issues, too many to name here, but he was one of the producers of the brilliant So Many Roads (1965-1995) Grateful Dead box set and the Jerry Garcia box, All Good Things. He has also co-written songs with Robert Hunter, Peter Rowan and Tim Carbone of Railroad Earth and members of RatDog, Phil Lesh & Friends, David Grisman, and Darol Anger have played on David's albums.
dgans.com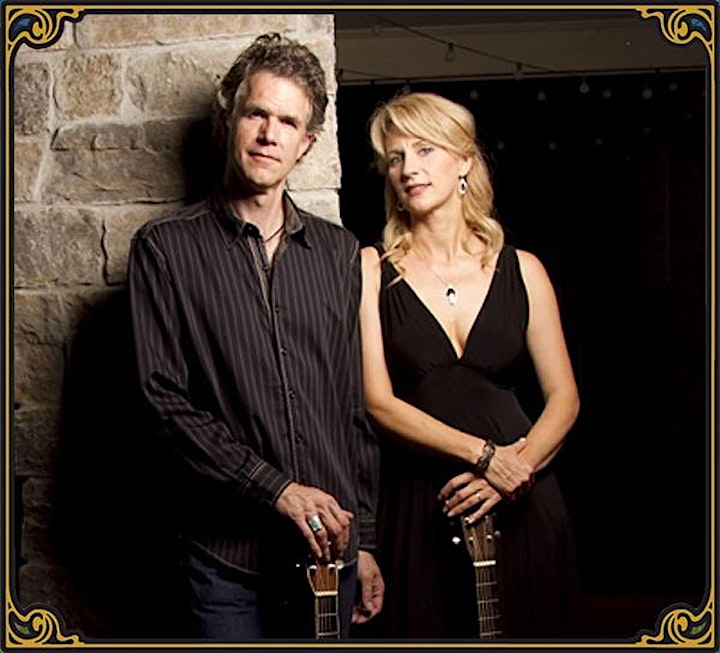 Chris and Sally Jones
New Yorker Chris Jones's interest in bluegrass was sparked when he lived in Albuquerque with his father and stepmother who listened to country and bluegrass. He took up guitar at age 12 and by age 18 was playing with New York's Horse Country as lead singer and guitarist. After four years with Chicago's The Special Consensus, he played with Whetstone Run, the Lynn Morris Band, the McCarters, and Dave Evans.
Jones moved to Nashville in 1989 as a member of the band Weary Hearts, and formed Chris Jones and the Night Drivers in 1995 and has been recording and touring since. He has performed with the Chieftains, Vassar Clements, Tom T Hall and Earl Scruggs.
Albertan Sally Jones began her musical career as a background singer for Marie Osmond. She was a member of Petticoat Junction from 1994 to 1997, then joined Harley Allen's band. Sally recorded her first solo project and formed her own band in 2000. She appears at Dead Ends Live with husband Chris Jones.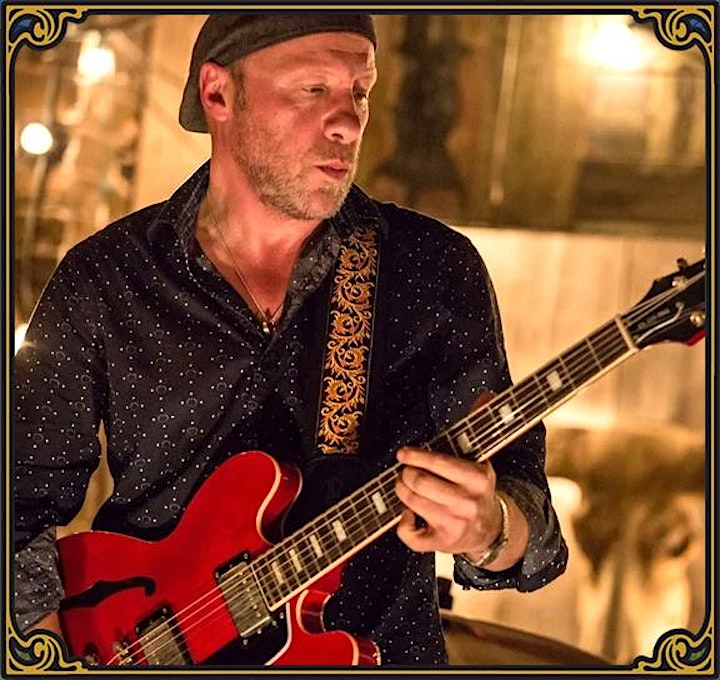 Tony D
Guitarist, songwriter and singer Tony D is best know for his role in the award-winning trio MonkeyJunk which he formed 15 years ago with Steve Marriner and Matt Sobb.
Tony D is a ferocious guitar player who has a style uniquely his own, but one that is informed by many sources, both contemporary and traditional.
This Ottawa-native is a Juno, Maple Blues and American Blues Music Award winner who has created a deep resume that includes 7 solo albums, his MonkeyJunk catalogue, and appearances on albums and/or tours with Susie Vinnick, Dutch Mason, Paul Reddick and David Gogo.
For Dead Ends Live, Tony D will be bringing his cool tones, ability to improvise and jam and his good time spirit to the ballroom setting with the Dave Babcock Band. On the acoustic front Tony will peel off some acoustic blues tunes from Grateful Dead favorites like blues legends Lightnin' Hopkins and Rev. Gary Davis in a solo acoustic setting for the Roots of the Grateful Dead workshop, Saturday afternoon at McDougall United Church.
tonyguitarro.com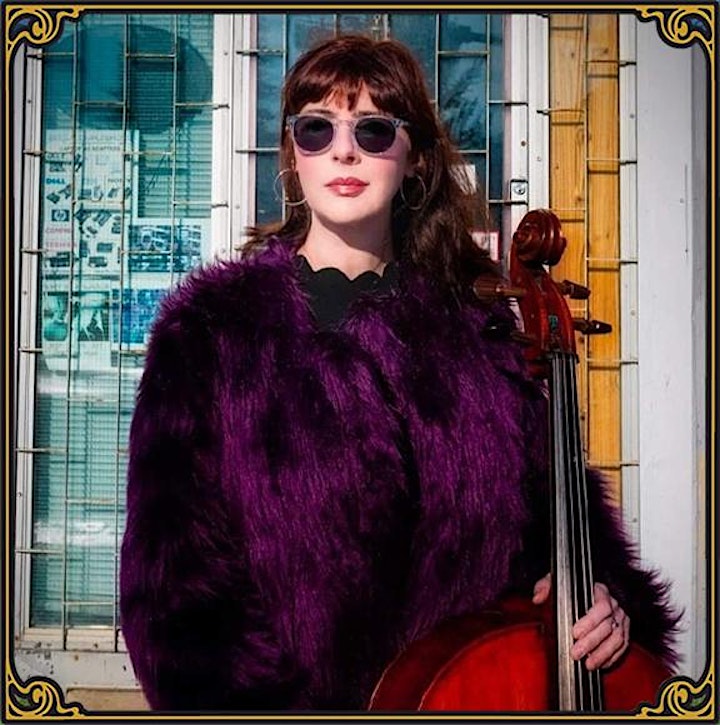 Christine Hanson
Music has taken Christine and her cello from touring Canada's High Arctic with a tango trio, to playing traditional music in the Outer Hebrides of Scotland.
While classically trained, In her roles as a cellist, composer and sound designer, Christine is eclectic in her musical explorations.
Her experience includes compositional commissions, arranging, studio, theatre, television, film composition, and performing as an ensemble musician with a variety of groups that play classical, folk, pop-jazz, and experimental music.
Hanson's original compositions are featured in her compelling multi-media production "The Cremation of Sam McGee"- taking the audience in tandem across the snowy landscape on a magical journey!
She is also an experienced instructor, teaching professional master classes, and workshops on both sides of the Atlantic. Christine won CBC's Galaxie Award for Best New Artist at Canada's JUNOfest 2006.
During Dead Ends Live Christine will be guesting with some of the featured performers and adding her own interpretations of Grateful Dead and Dead related material to the program.
christinehanson.com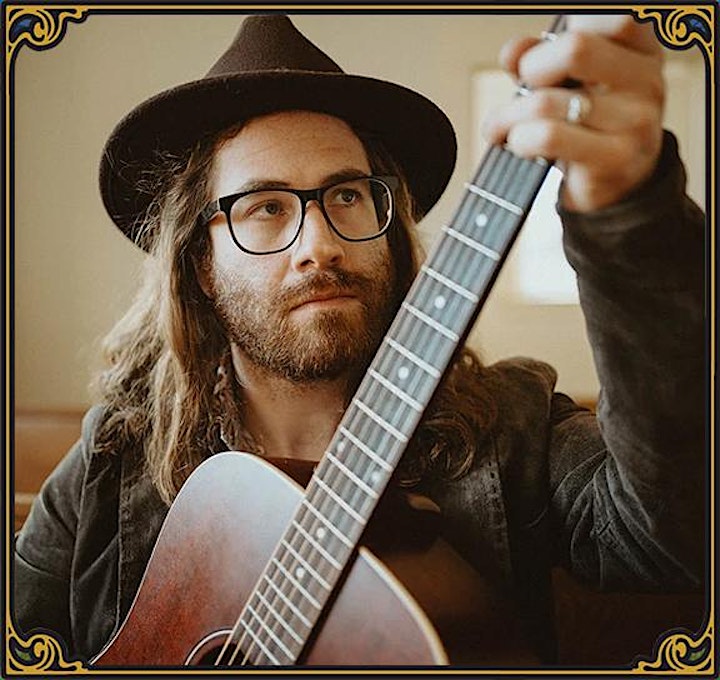 John Hewitt
John Hewitt is a singer/songwriter, multi-instrumentalist, producer and filmmaker based out of Edmonton Alberta. In March of 2020 John's Alberta debut was set to be released titled "American Hotel" but the pandemic brought all motion to a halt. Focussing on the studio and songwriting he continued to produce, write and record throughout 2021. coming up with material for 2021's "Dead Lovers" and "Hollywood Reality" and 2022's "Life Blood & Tears".
In that time he produced in his studio local Edmonton acts including Will Ryan's "Way on Down the Mountainside" and Angie Klein's "Made in Alberta". 2022 saw the return to the road where John performed across Alberta, British Columbia, Saskatchewan, Montana, Utah and Colorado. Highlights include the Canmore Folk Festival, Wild Oats & Notes, Waynestock, the Whitefish Songwriter Festival (Montana), Black Rose Acoustic Society (Colorado), Millwoods Canada Day Celebrations, Waterton Opera House, Gallery House Concerts, the New Moon Folk Club, Northern Lights Folk Club, Lethbridge Folk Club and Nickelodeon Folk Club.
John continues to tour and between tours he continues to produce local Edmonton acts including his own works. Life Blood and Tears: Volume II and Chaos and Conversation set to be released in 2023.
https://www.johnhewittmusic.com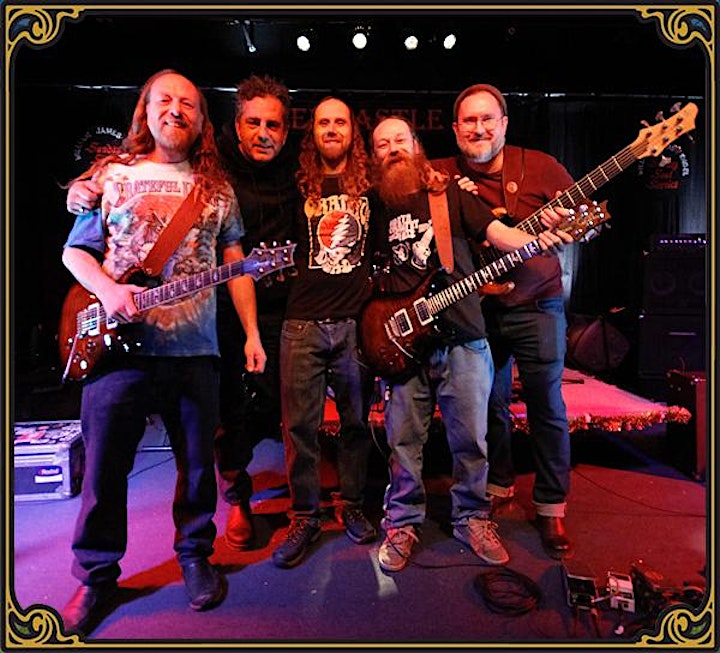 The McGowan Family Band is an Edmonton based musical ensemble dedicated to producing innovative music and high energy shows that are accessible to a wide audience of all musical tastes and ages. With musical influences that include rock, folk, reggae and blues, The McGowan Family Band is looking to take their music on a career path by playing to new audiences on a regular basis. Between their original songs and familiar cover tunes, they are able to perform at any event. The McGowan Family Band's nucleus consists of brothers Paul McGowan (guitar, vocals), Mark McGowan (drums, percussion, vocals, guitar) and Sean McGowan (guitar, vocals, bass). Playing and creating music was a large part of their up-bringing and continues to be a collective passion. The current McGowan Family Band line-up is rounded out by Ryan Holmes (bass, guitar, vocals), Sean Brewer (guitar, bass, vocals, banjo), and Jason Kodie (keyboards, vocals). In February of 1999, The McGowan Family Band played their debut show to an appreciative crowd in Edmonton. Since then, the band has made numerous public appearances at clubs, fundraisers and outdoor festivals.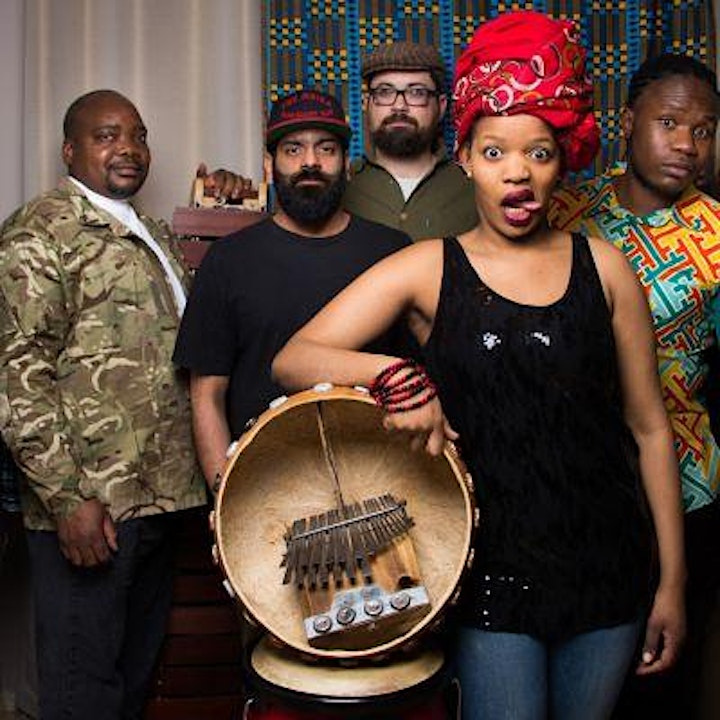 The Mbira Renaissance Band: will have any audience on its feet and dancing! Based in Edmonton, Alberta, Canada, the band delivers an afro-fusion, Thomas Mapfumo, Andy Brown and Bhundu Boys inspired sound that pays homage to the rich, ancient, musical genre of mbira music which has its roots in Zimbabwe. The members make up an eclectic group; drawing on their musical backgrounds in jazz, rock, Mediterranean, traditional Zimbabwean, and reggae music.
Upbeat, hypnotic songs weave elements of traditional mbira, jazz, reggae and afro-pop. The lyrics are sung predominantly in Shona and tell stories of love, migration, African – Canadian connections and a love of culture and tradition. The band features Geo Koufogiannakis on guitar, Vinay Jhass on drums, James Stuart on bass and Munya Vialy on keyboards. The Mbira Renaissance Band experience is a blend of visually appealing traditional and contemporary dancing by lead vocalist and mbira player Chaka Zinyemba and vocalist Chiedza Zinyemba.
mbirarennaissance.com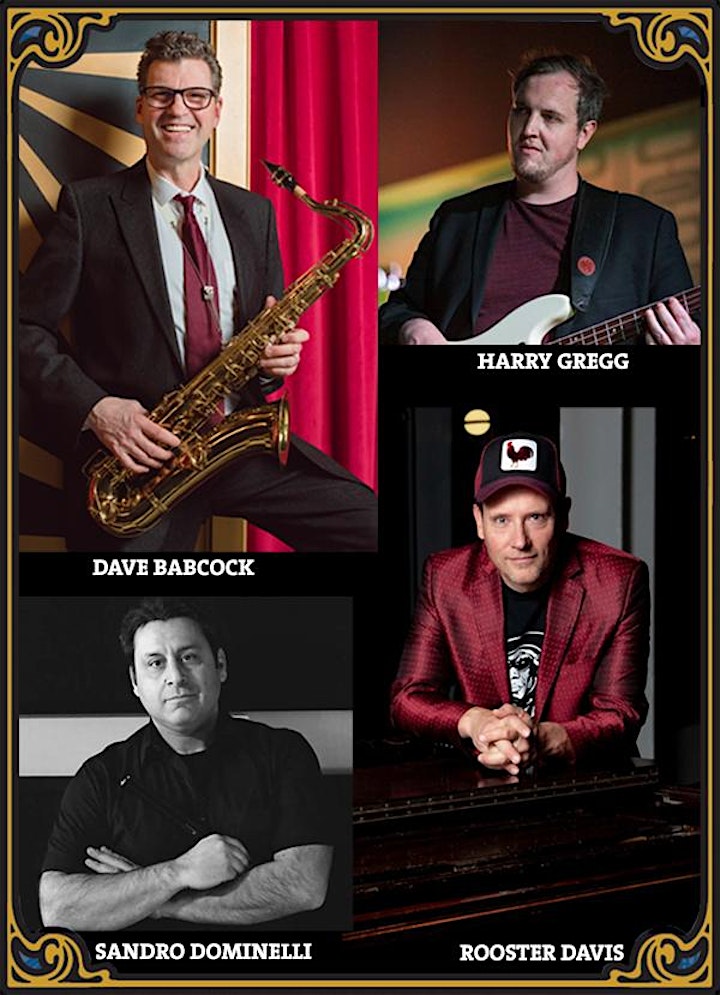 Dave Babcock Band
Dave Babcock is simply one of Edmonton's finest and best known musicians who has also been one of our busiest musicians for the last four decades.
The sax and flute playing bandleader, session ace and sideman has been one of the key pieces of the Edmonton Folk Music Festival House Band for decades where he's backed blues legends Jimmy Witherspoon, Solomon Burke, Floyd Dixon, Rosco Gordon, Wanda Jackson, Taj Mahal, and Mike Farris.
Throughout his long association with Stony Plain Records, Dave has recorded with Long John Baldry, Amos Garrett, Jay McShann, Maria Muldaur, Duke Robillard, The Rockin' Highliners, and Kenny 'Blues Boss' Wayne. His playing is heard on Long John Baldry's "Right To Sing The Blues" and on the Amos Garrett, Doug Sahm and Gene Taylor album "The Return Of The Formerly Brothers", both of which won Juno Awards.
Dave also regularly appears with Canadian bluesmen Jack De Keyzer, Colin James, Brent Parkin, and Jack Semple.
For Dead Ends Live Dave will be working with long-time associates Rooster Davis (keys/vocals), Harry Gregg (bass) and Sandro Dominelli (drums) and the quartet will be working with our headliner John Kadlecik, Tony D, Joe Craven and others as the weekend unfolds.
davebabcock.com
Roots of the Grateful Dead (Workshop)
Tracing the roots of musical influences of members of the Grateful Dead has been the subject of many research papers, music magazine articles and even the odd thesis as well as the theme of a few recordings. For many of us, albums like Bear's Choice (History of the Grateful Dead) really began shining the light on what the members of The Dead were tuned into as did recordings like Reckoning. The album The Music Never Stopped, which compiled tunes from sources that included Merle Haggard, Cannons Jug Stompers, Woody Guthrie, Henry Thomas, Howlin' Wolf, Marty Robbins and Bonnie Dobson, was called "The Genetic Code of the Grateful Dead," by our friend and Dead Ends Live artist David Gans.
Garcia was a bluegrass devote, Pigpen was a hardcore bluesman, Bob Weir dove into fifties and sixties country classics and Robert Hunter was tuned into the oral folk tradition and classic writers of the 18th and 19th centuries. There's a lot of territory to cover.
For this workshop, the Dead Ends Live audience will hear a superb group of musicians offer up everything from acoustic country blues to bluegrass classics to New Orleans piano romps to Appalachian ballads.
Edmonton's John Hewitt will host this workshop that will wind its way through all those aforementioned genres and more.
The Roots of the Grateful Dead will feature appearances by pianist/vocalist Rooster Davis, bluegrass greats Chris and Sally Jones, bluesman Tony D, cellist Christine Hanson, and singer-songwriter David Gans.
Fiddle Summit
Edmonton and surrounding area is home to a great number of fiddle/violin players and some of these terrific instrumentalists will be featured in a Fiddle Summit at MacDougall United Church on Saturday afternoon.
Renowned American fiddle players like Matt Glaser and Darol Anger have long kept a tradition of hosting Fiddle Summit's alive at festivals and roots music events around North America, so we thought we'd use their inspiration to put together a similar event.
For Dead Ends Live 2023, the gifted Edmonton fiddle player Daniel Gervais will host our Fiddle Summit with an all-star cast that will include Calvin Vollrath, Jeremiah McDade (?) and Shannon Johnson.
The Dead Ends audience is guaranteed to hear some magical interplay on tunes that will run from swing to Celtic, to east coast traditional tunes thru gypsy jazz and more. Incidentally Daniel is the only Albertan to have won the Canadian Grand Master Fiddle Competition and all the participants in our Fiddle Summit are critically acclaimed artists in their own right.
danielgervais.cacalvinvollrath.com
About the organizer
We would like to acknowledge our presenting sponsor - Dept. 9 Studios