Description
Carpenter Hospice and The End Game are pleased to invite you to Burlington's Death Cafe!
Death Cafe is an international movement where people, often strangers, gather to eat cake, drink tea and discuss death. Our objective is 'to increase awareness of death with a view to helping people make the most of their (finite) lives'.
At Death Cafe, you can expect a group directed discussion of death with no agenda, objectives or themes. It is a discussion group rather than a grief support or counselling session. It is a respectful, open-air public event where people of all communities and belief systems are welcome to have discussions about death.
This event is apart of the week long launch for the Compassioante City Chater to raise awareness for residents of Burlington.
What is this charter you ask?
Our vision is to see Burlington become a more compassionate city where people recognize and take action to care for one another at times of crisis and loss.
The Compassionate City Charter is a community initiative that focuses on increasing awareness and utilization of both existing and new palliative care resources.
Through community events, we hope to normalize the death, dying and grief processes and enable Burlington residents to feel more comfortable talking about and planning for these guaranteed life events.
Our goal is to improve patient and caregiver quality of life by supporting our medical system to provide a more seamless journey.
For more launch week events see https://www.facebook.com/3CBurlington/
Interesting conversation is guaranteed!

Death Cafes are always offered:
1. On a not for profit basis
2. In an accessible, respectful and confidential space
3. With no intention of leading people to any conclusion, product or course of action
4. With coffee, tea and cake!
The Death Cafe model was developed by Jon Underwood and Sue Barsky Reid, based on the ideas of Bernard Crettaz. See more at: http://www.deathcafe.com
Please RSVP by October 3rd as limited seating is available.
For further information please contact:
(905) 631 9994 ext.138
Carpenter Hospice: Bonnie Tompkins commhlthcoord@thecarpenterhospice.com
The End Game: Roxanne Torbiak roxanne@theendgame.ca
Presented by:
&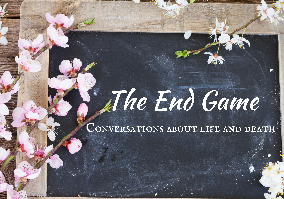 For any reason you cannot make it to the event, please provide a 24 hour cancellation notice so we can fill your spot with someone on the waitlist, as seats for this Death Cafe is limited and in demand.

Steps on how to cancel your order:
1. Log in to Eventbrite
2. Go to the Tickets page, and locate your order
3. Click your order to view order details
4. Select "Cancel Order"