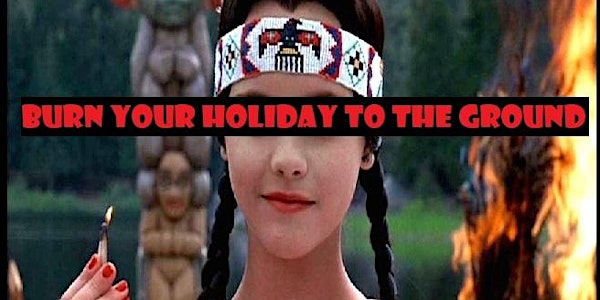 Death Disco - Burn Your Holiday To The Ground
October edition of Death Disco with Pete Shredz, Quake, Sbass Alien, and Mimsey Demon
When and where
Location
Dekcuf 221 Rideau Street Ottawa, ON K1N 9M2 Canada
Refund Policy
Contact the organizer to request a refund.
Eventbrite's fee is nonrefundable.
About this event
No Thanksgiving dinner to go to? Hate Thanksgiving? Good news! Death Disco is here with four DJs ready to provide hard turkey free beats to stomp to!
Pete Shredz -
Pushing the badmon sounds of Jungle/Drum & Bass in and out of Canada's Capital (Ottawa, ON) is DJ, Pete Shredz. Pete's love for bass music started at a young age getting early exposure to Jungle music from travelling to the UK and hearing the birth of the genre. Not emerged into the rave scene as a youngster he started listening to Toronto DJ Chris Shepard while growing up in Toronto and loving the early sounds of Goldie & other early jungle producers solidified his love for the genre. Shredz started Capital Jungle in 2019 when he saw the need for a strictly Jungle & DnB Crew in Ottawa. Since then he has added DJ's Chimo, Kartik, Trace C and Kilobyte to the roster. Check out his recent mixes on Soundcloud Or MixCloud https://soundcloud.com/peteshredz
http://www.mixcloud.com/peteshredz/
Sbass Alien -
Ever since his first party Never End he has been in love with EDM and rave culture. He very quickly fell in love with Psytrance and has never looked back. In early 2009 he put his passion to the test when he started to DJ under the name Epileptic Bill spinning Darkpsy. That same year he got his first shot playing a DFF competition. After a brief hiatus he came back under the name Neurokinetic with a new love: high energy full on. Since then he has played at Ritual Nights, the local Ottawa Psytrance night, and other local EDM events.
His particular tastes come from Israeli style Full On Psytrance - lots of hard driving basslines combined elevating melodies. On occasion though he's been known to shake the earth with some dark, heavy, evil rhythms to bring out the beasts in the crowd. His major influences include Azax Syndrome, Mystical Complex, BLiSS, Mekkanikka, Shift, CPU, and A-Team.
Having performed with many artists such as Monkey Machine, DJ Cubed, DJ Mugz, and Saxon he has developed a balanced palette for all forms.
Brace yourself because this intergalactic space traveller really brings his passion for the music to the decks.
For contact and bookings go to:
https://www.facebook.com/sbassalien
Quake -
Veteran, Dj, Techno Gangster in all genres, Who loves to play real Oldschool breaks you'll never find with Shazam and all sorts of beautiful inspiring masterpieces of great electronic Music.
https://www.facebook.com/djquakefalardeau
https://www.mixcloud.com/quakefalardeau/
Mimsey Demon -
Death Disco resident/organizer, CKCU 93.1FM host. 25 years XP playing radio, clubs, bars, living rooms, festivals, and backwoods. Makes use of multiple genres including industrial, DnB, electro, trance and bass all with the same objective, make people merrily stomp their way straight down to Hell.
https://cod.ckcufm.com/programs/467/info.html
https://soundcloud.com/mimsey-demon-1/tracks
19+, no bigotry or bullshit
5$ in advance, 10$ at the door.